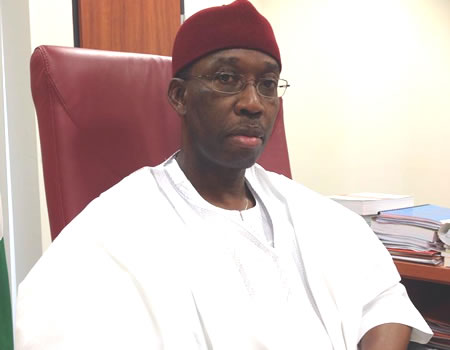 THE Chairman of the National Caretaker Committee (NCC) of the Peoples Democratic Party (PDP), Senator Ahmed Makarfi has prayed for quick recovery for ailing President Muhammadu Buhari, saying that the party wanted him to be the one it would defeat in 2019.
Speaking at the non-elective national convention of the party in Abuja on Saturday, he affirmed that PDP was already the government in waiting.
He said: "We mean well for our President. We continue to pray for his full recovery. We want him to be fit and on seat when we will defeat the APC government come 2019.
"We will continue to pray for him but that doesn't mean we will go to sleep. We will work hard to replace the APC government, come 2019 God willing."
Makarfi said not being an alliance but a party with strong bond among its members, the party has much experience and has much to offer the country.
He said the PDP was a truthful party to Nigerians which would not engage in deception, adding that Saturday's event was an affirmation that the PDP was poised to recapture power in 2019.
The party boss observed that the APC has brought hunger and starvation to the country while insecurity has increased many folds.
He told the delegate statement: "Nigerians may wonder, what has PDP got. Well, what are you getting now? Are you not hungry? Are you not jobless? Are you not insecure? My God! Pray for PDP to come back.
"Kidnapping is part of insecurity and it has spread across the length and breadth of this country and it's because of joblessness."
According to him, students were crying over hike in tuition fees even when money was scarce.
He therefore promised that when the PDP returns to power, it would consider a Students Loan Scheme to alleviate their sufferings.
"There will be no hunger because there will be plenty to eat. There may be plenty in the market but you have zero cash in your pocket. Under PDP, there will be cash in your pocket because you have earned the cash," Makarfi added.
He thanked the delegates for funding their ways to the convention and not expecting any refund of their money.
In his welcome address, the chairman of the convention planning committee and Governor of Delta State, Ifeanyi Okowa, noted that the prayers of Nigerians were answered when the Supreme Court judged in favour of the NCC in the protracted leadership crisis.
He said the PDP was now back with a bang and would not disappoint the people.
"Today, let it be known to all Nigerians who prayed for us during our time of travail that the PDP is back with a bang. We shall NOT disappoint you!" Okowa stated.
The convention chairman admonished that the party must now focus on rebuilding and sticking to the principles of fairness, equity and justice.
According to him, "On this day, we must understand that our nation is at a cross road. Therefore, our emphasis must be about building a party focused on fashioning a better society founded on the principles of fairness, equity and justice. We must commit to making the needs – and aspirations – of the Nigerian people the centre piece of our party's democratic agenda.
"On this day, we must call for a paradigm shift in our party leadership style. Too often, we have demanded service – and worship – from the very people we have been called to serve.
That must change.
"We need leaders, sincere leaders, strong leaders who understand that power is held in trust for the people and, therefore, must be administered for their good and advancement.
"Finally, on this day, we call on all true PDP faithful's to return home. It's time to forgive. It's time to heal the wounds of the past. It's time to get over the hurts of the past. It's time to embrace love and reconciliation. It's time, brothers and sisters, to come back home!"