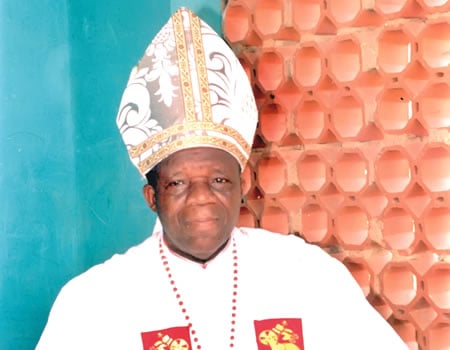 During active service in ministry, he was known for his spirit-filled sermons, without recourse to status or background, all with the aim of preaching the true gospel. Right Reverend John Adeleke Bamgboye, retired Bishop of the Methodist Church Nigeria (MCN), speaks on why he left his job at the Ministry of Agriculture for the church; his take on retirement for clerics, and what Nigeria must do to ensure true development, with Rita Okonoboh.
How did you receive the call to go into the ministry?
Before anybody can go into the ministry, you must be personally called unto salvation. If you go into the ministry without being saved first, you will make a mess of the ministry.  I was born at Agba, near Ikirun, in Osun State. My parents were Methodists. I thank God I met the Lord Jesus at Akure when I was in the School of Agriculture – that was in the 1970s. It was just like Paul's experience on the way to Damascus and I haven't looked back since. Afterwards, I was posted to the Ministry of Agriculture at Iseyin, which was my first station. I was in charge of the sale of fertilizer at the time. However, my conviction and commitment appeared to overshadow my job in the ministry. People can testify to the fact that I did my job very well and that my commitment as a Christian was total; I preached the gospel even in the ministry. After about five years, I resigned from the Ministry of Agriculture. My senior agric officer at the time expressed worry that I decided to resign at a young age. I, however, told him it was a divine call. I received a call from Brother Mike Oye, who was with the Scripture Union. He was with the Christian Rural Movement, which is a project of the MCN. I took over from him, and, afterwards I got married. I spent about 12 years there with the support of my wife, and was busy with missionary work before the Lord said I should go into the ministry through the MCN. I didn't want to go through the MCN because at the time, the MCN ran a diploma course, while I wanted to graduate with a degree. However, God had His plan in mind. I tried to take an exam with a theological college at Ilorin; it didn't work out. I tried at the Baptist Seminary at Ogbomoso, but it also didn't work out. I eventually came back to the MCN and dedicated myself to the ministry. As the Lord would have it, I entered into the ministry in 1984. I spent three years for the Diploma and in the third year, the Immanuel College of Theology was upgraded to a degree-awarding institution. So, immediately after my diploma, I went for a degree programme in the Immanuel College of Theology. Interestingly, I also spent six years lecturing at the Immanuel College of Theology as well.
You retired from active service in the ministry in 2014. How has life been in retirement?
As an active bishop, if one doesn't stand on solid ground, there are so many things that can take a person away from the calling, especially as far as church administration is concerned. I thank God that after retirement, I have enough time. Although, they call it retirement, God says 'occupy till I come.' Now, I can say I'm even busier. When I entered into the ministry, God told me the ministry was six-fold. I've done four parts of it while in active service in the ministry. The next step now is to continue with building and planting – to build the church of Christ and plant the work of God. I write for publications that are distributed on a monthly basis. Retirement has been very interesting. I have had invitations to preach in different places and administration doesn't hinder me as it would have been when I was in active service in the ministry.
With your experience in retirement, would you recommend retirement for non-orthodox church leaders?
Retirement is a biblical injunction. Prophet Samuel retired, as evident in his statement in the scripture. Also, our body construction, coupled with the work of church administration takes its toll with time. If you're truly a child of God, He will call you when it's time to take a back seat. See the Financial Regulations Council brouhaha that generated tension as regards retirement for church leaders at the time; I would say it had the hand of God in it somewhat. There are examples of non-orthodox pastors who retired. For those who choose not to retire, God has His way of doing things. In fact, when the time is right and a cleric retires, you still have the energy to continue with the spiritual work in other ways.
You talked about the body construction and how age reflects on one's activities with time. When you look at the case of President Muhammadu Buhari, would you suggest he steps down at this time?
We have a constitution; what does it say? The position he holds is not personal; it's for the whole country. The burden of the presidency is so heavy and to take it on is not easy. I would advise he takes decision as he sees fit, keeping his health in mind.
If you were not in the ministry, what other profession do you think you would have embraced?
The best thing is to allow God's choice, whether spiritual or secular. When one is born, there are some innate qualities. Before I joined the ministry, I had developed that fear of God. If I had chosen another profession outside the ministry, it wouldn't have worked out.
In the 30 years you were in active ministry, do you have regrets?
Regrets? I don't have regrets. There were challenges but I don't have regrets. As a cleric, it is your understanding that would determine your challenges. In the ministry, I have three models – Jesus Christ; Paul the Apostle and John Wesley. These three models help me through challenges and persecution. Even in persecution, there is inward joy that does not give room for regret. There have been instances I was attacked by armed robbers and hired assassins. I even lost my first daughter while in the ministry. However, Christ tells us to rejoice exceedingly when we are persecuted because our reward is great in heaven. There were many challenges, but through them all, I would say no regrets. It is sad that the kind of ministry the church is involved in today is nauseating, because people cannot speak the truth. I thank God there are no regrets.
There was a time I challenged Governor Rauf Aregbesola, on the decision relating to worship of idols. I went with representatives of the Christian Association of Nigeria (CAN) at the time to speak with him on the issue, as we told him the end of it would not be good. In fact, during that period, a traditional ruler also visited me to tell me that some persons in the political leadership of the state felt I hated the governor and the state. I told the traditional ruler that wasn't true. The issue was also presented before the prelate, but my prelate told those who came from the state that he knew me very well and that I would defend my faith. These are some of what I would say were major challenges, but I have no regrets.
You talked about the kind of faith people practise nowadays, especially as Christian leaders. What do you think the church is not doing right?
What has happened to the country has entered into the church – the love of money. It is a very terrible thing. In fact, it would appear that the doctrine of seeking God first has been turned on its head, as many people would rather seek other things before the kingdom of God, and that is the problem we have in the church today. That is why we have false clerics these days. That is not to say we don't have genuine clerics.
You have witnessed changes in administration at the various levels of the polity. Some people would say Nigeria is not where it should be, with the rich human and material resources available. What do you think is wrong?
There have been series of warnings by various clerics before now. The real cause of the problem can be traced to FESTAC '77, which is an affront of the highest order against divine injunction, and was a rebellion against God. There are also other instances. However, according to divine revelation, some steps should be taken. Firstly, all national programmes should be concluded with 'By the grace of God.' Secondly, all past presidents and heads of state should endeavour to come together for a two-day fast, which will be accompanied by prayers to plead for forgiveness for the nation. All religious institutions should say special prayers and fasting for the nation for God to look upon us as Nigerians.
At present, there have been calls for restructuring, and, in some cases, secession. What is your take on this?
I don't think things will be better if Nigeria disintegrates. If we look at restructuring honestly, bearing in mind that the decisions that will be taken will be in the overall interest of the welfare of the citizenry, things will be better. We can take a cue from the resolutions of the national conference held in 2014. Acting President Yemi Osinbajo has to be courageous to do the needful. God has given us the grace to stay for more than 100 years. With restructuring, states would also be able to contribute meaningfully to the polity, instead of depending on bail-outs from the Federal Government. Political leaders can learn from the example of Chief Obafemi Awolowo. Let there be restructuring of the country. It will keep us united. We will continue to pray for wisdom for our leaders.