Residents urged to clean debris, free water channels in Bayelsa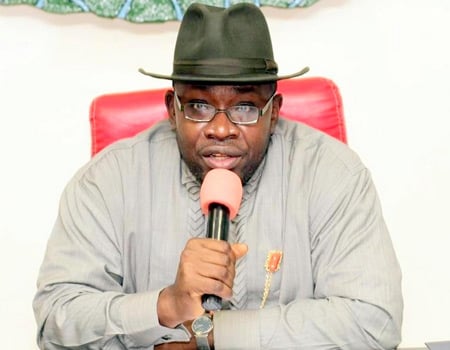 SEQUEL to the heavy down pour that left different suburbs and major roads flooded, the Bayelsa State Government has called on Bayelsans and non-indigents residing in the state to clean up debris impeding rain waters; and to also free water channels to allow unhindered flow into the central drains in different parts of the state.
This is coming on the heels of the torrent rainfall that saw residents bailing rain water from stores and their living rooms, some properties were almost submerged in the flood, while most internal roads could not be accessed by saloon cars in the state.
The Acting Governor of Bayelsa State, Retired Rear Admiral, Gboribiogha John Jonah, who inspected the Onopa suburb in the state capital, Yenagoa, reminded the people that the state is below sea level and that it is prone to experience flood during rainy season, hence the need for them to help themselves before calling on the state government intervention.
Jonah pointed that government cannot do everything for them because it is handling both capital and recurrent expenditure and such it behooves them to support the ministry of environment by ensuring that heaps of debris blocking the free flow of rain water are cleared on daily basis, to allow flood water empty into the central drain at different parts of the state.
He alluded that beyond natural flooding, indiscriminate refuse disposal culture also account for flood in parts of the state; and urged residents to turn a new leaf by imbibing a healthy refuse disposal culture.
According to him, beyond mitigating flooding, health refuse disposal also prevent health hazards, pollution and hygiene associated with dirty environment.
Regretting that most Bayelsans and non-indigents residing in the state do not clean their environment, Jonah charged them to take advantage of the monthly environmental sanitation exercise and spend at most three hours to remain indoor to clean their environment so that it (the environment) would become habitable and friendly.
The Acting Governor, however, reminded that the sanitation authority and health inspection team would monitor the exercise to ensure compliance, while defaulters would be tried at the sanitation court in the state.
To this end, Jonah reiterated that though government is doing everything to re-open up blocked canals to outlaw flood in parts of the state; even as he called on resident not to thwart government effort by blocking the canals and drains opened by unhealthy dumping habit of both liquid and solid waste into gutter, canal and drains in the state.