Residents raise concerns over cluster of homeless non-indigenes, Okada riders in uncompleted buildings in Ibadan
•We have recorded successes in arresting some of them even with short guns - Police
The clustering of homeless non-indigenes and Okada riders who are majorly northerners in some notable uncompleted buildings in Ibadan metropolis has increased lately. Members of the public have, however, raised security concerns over this development. FEMI OGUNTAYO and WEMIMO OGUNTADE report what the residents think and its security implications.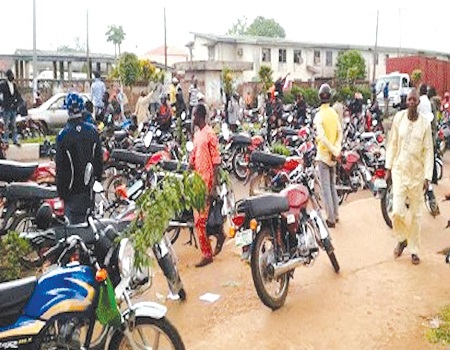 Crowded with loads of Okada riders, hawkers old and young beggars (popularly referred to as Almajirai), the street of Uncle Joe in Mokola, Ibadan looks more like a camp of abandoned refugees. Any passerby would quickly notice as these people who are non-indigenes and Okada riders feel relaxed on their bikes like they are not ready for business. Some others, especially towards the evening time, sleep on their mats in front of a dungeon-like building, directly facing Chicken Republic eatery in Mokola Roundabout area of Ibadan.
There are similar cases in several other areas of Ibadan where migrants from the north, majorly Okada riders, who are Hausas converge in uncompleted buildings, reside there, trade there and have, over the years, grown in their numbers. These are some of the findings when Saturday Tribune visited some of the areas, like an uncompleted building directly opposite Word Chambers Church International (WCCI) in Adesoji Avenue, another uncompleted building along Alao Akala Way, Elebu area and some areas of Agbaje in Orita area, Ibadan.
Some of these migrants as investigated by Saturday Tribune are from Niger, Sokoto, Zamfara, Jigawa, Kaduna and Kano states. They claimed that they migrated from their states to Ibadan in search of greener pastures. Some residents believe that it was the ban of Okada riders in Lagos that is responsible for the increasing numbers of these Okada riders in Ibadan metropolis.
'Landlords chased them away, but they are back there'
In the case of the uncompleted building directly facing the WCCI building at the Adesoji Avenue, the Hausas and the Fulanis living in the uncompleted building were said to have spent over three years there. One of the residents of that area, Michael (surname withheld), who worships at WCCI told Saturday Tribune, the landlords association in that area had at a time chased these immigrants away on the grounds of suspected illegal inhabitation.
"They were more than this; they were about 100 or 150, and the landlords in this area had to chase them away. Though they left a few of them there, like five, but, as you can see, they are regrouping. I don't know why the landlords chased them away, but since I have been coming to this area, I haven't heard that they caused any disorder here. They have been here before the Lagos ban of Okada and Keke. There is one of them repairing bikes, that's why you can see Okadas parked in front of the building," Michael said.
The same was the situation at Elebu area of the Alao Akala Way, in a tall uncompleted building by the roadside. The migrants can be seen flocking around the building, some of them parking their bikes outside the building, while some gathered inside, either chatting or sleeping. Outside the building too is a lady selling food to them. One of the people living around that area confirmed that migrants were mostly northerners, and that their number had continued to increase.
"That is how they have been coming around. They just come in their numbers to sleep in that place and in the morning they move out again. That is how they sleep around and before you know it, they will turn that place to 'Sabo' (a community of Hausa and Fulani migrants). They were not this much before, but I noticed they have been increasing lately," he said.
Ifeoma, a woman, trader close to the uncompleted building at Elebu told Saturday Tribune about how the people occupying the uncompleted building operate. According to her, "they will leave in the morning and come back at night to sleep there. The owner of the place is already attaching the burglary proof to the windows, which means he will chase them away soon. I have been in this shop for over six months now, when I moved to Ibadan to join my sister, so I have been noticing them. They were few before but I have noticed they have been increasing in their numbers all of a sudden."
Further investigations by Saturday Tribune about who the owner of this building was, showed that the owner was aware of the people living in the building. One of the workers on the site – a contractor, confirmed this and claimed the owner only allowed one of them to stay there, so as to secure the place, but said they had been increasing since then. "You know how these Abokis do now, it was just one of them that was allowed by the owner to stay here, at least to safe keep the building but it seems they have called their fellow Abokis to come and live here and that is why you can see them gathered in their numbers here", the contractor said.
Residents should notify us of suspicious gathering – Police
On the security implication of this unlawful occupancy of uncompleted buildings by non-indigenes, especially the Okada riders among them, the Police Public Relations Officer, Oyo State Police Command, Olugbenga Fagbemi speaking with Saturday Tribune said: "recently there was this influx of okada riders from neighboring states and even the state government gave their official statement on it, that they are going to make sure they beam their searchlights on it. Prior to that, even during the yuletide period last year, there was a directive from the commissioner of police that all patrol vehicles and all divisional police officers should beam their searchlights on the activities of Okada riders, especially those that are using it to commit crime.
"We have been doing that and we have recorded successes in arresting some of them even with short guns and the likes in Ibadan and we have sensitize the people on the need to be wary of these hoodlums that are using Okada to commit crimes, not forgetting that there are so many others as well who are going about doing their lawful businesses.
"When people see two or more people like that on Okada carrying bags and in some strategic areas, they should be wary of them, it is possible they are not really riders and they are having intentions to rob or cause problems. Like I said earlier, we have arrested some and also some after routine check and they are not found culpable, we allowed them to go".
The Police PRO however urged members of the public to make use of authorized parks, and should not just board commercial bikes anywhere, as those secluded areas are places where some of these people operate. "When they go to park, they can easily get a bike man that the authority can recognize. We have urged their leaders to give them identification tags and reflective jackets, so we will be able to identify their members who are going about their lawful businesses; we want to believe they are working on that.
"We are still beaming our searchlights on their activities and we want members of the public to give us credible information on any strange gathering or unlawful occupancy of people's property by anybody. Though as at now, I am not really having information as to reports that someone's property is unlawfully occupied by anybody, but we know some of them might just be parking in some areas or living there without taking permission from the owners and that can generate some kind of clash between them. So when people give us information like this on these issues, we will begin to work on them and ensure there is no breakdown of law and order," Mr. Olugbenga Fagbemi told Saturday Tribune.