Reps to hold special session on 13.2 million out-of-school children today
• Call for provisions of Braille for blind students in tertiary institutions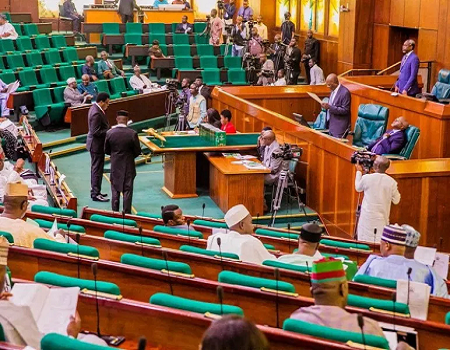 Speaker of the House of Representatives, Hon. Femi Gbajabiamila will, on Thursday, preside on the special session on the 13.2 million out-of-school children.
Hon. Gbajabiamila disclosed this after the debate on a motion which seeks to protect the interests of blind Students (Special Students) in the higher institutions of learning across the country, sponsored by Hon. Henry Nwawuba.
While urging his colleagues to attend the session, Hon. Gbajabiamila said: "Just to remind us that tomorrow (Thursday) we have our special session on out of school children. Honourable members should please be in attendance. We will be taking roll call as to where we are voting whether we are voting for whatever resolution or against, or abstain.
"Those votes will be published in the papers for our Constituents to know exactly what we are doing. Please be here tomorrow (Thursday) for the special session on out of school children, a very, very important issue that will comes up tomorrow (Thursday)," Hon. Gbajabiamila urged.
ALSO READ: Senate to strip State High Court from entertaining pre-election matters
In his lead debate on the motion which seeks to 'protect the interest of blind students (special students in the higher institutions of learning,' Hon. Nwawuba, who called for the House intervention with the view to alleviate various challenges facing the special students with deformity of sight, observed that the Nigerian educational system is largely structured in favour of the able-bodied men and women in tertiary institutions.
"The House also notes that the dearth of learning facilities for special students compounds the plight of visually impaired persons in schools across Nigeria.
"The House observes that it is a mirage for special students be expected to read their numerous textbooks in schools and at home without let or hindrance and they do not have specially structured learning facilities in tertiary institutions.
"The House is disturbed by the inability of special students to progress beyond secondary education as a of which they are unable to realize their full potentials, as books in the library and those recommended by lecturers are only available in print form and it is difficult to get them translated into Braille.
"The House is worried that the Federal and States Governments have turned a blind eye to the need of special students by not providing adequate facilities in schools such as braille, hand frame and stylus, Slate, Perkins Braille, Smart Braille, Braille embosser/Braille printer and Braille note taken to aid their learning.
"The House is also worried by the challenges of special are exceptionally brilliant and students who determined to become medical and legal practitioners but cannot be owing to the necessities associated with the study which has been harrowing and depressing for the special students."
To this end, the House mandated the joint Committees on Basic Education and Services, Tertiary Education and Services to liaise with the Ministry of Education towards having a forum in anticipation of a harmonised program for special students to enable them to attain higher education.