Reps summon Transport Minister, NNPC GMD over breach of cabotage law
• as NIMASA, Ship Owners decry exclusion of local ship owners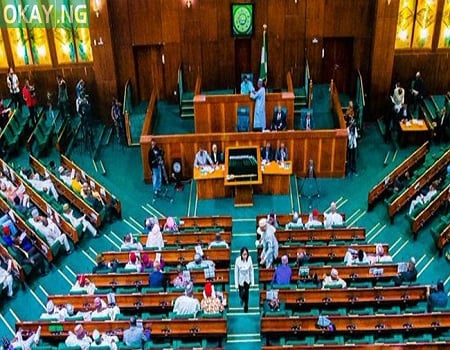 The House of Representatives on Wednesday issued a 7-day ultimatum to the Minister of Transportation. Hon. Rotimi Amaechi and Group Managing Director of Nigerian National Petroleum Corporation (NNPC), Mele Kyari over the award of multi-billion naira contract for coastal shipping of petroleum products in the downstream sector to an unregistered foreign shipping company in breach of Sabotage Act.
Chairman, House Committee on Nigerian Content Development and Monitoring, chaired by Hon. Legor Idagbo, who issued the notice at the end of the investigative hearing on the petition from Ship Owners Association of Nigeria (SOAN).
Chairman, Federal Inland Revenue Service (FIRS), Mohammed Nami in a letter addressed to the Committee, affirmed that the UNIBROS did not register in the Service's database and has not paid any tax to Federal Government.
On his part, Director General of Nigerian Maritime Administration and Safety Agency (NIMASA), Mr. Bashir Jamo who accused NNPC of frustrating indigenous shipping companies, disclosed a vessel must be owned by Nigerian, manned by Nigerians, registered and built in the country, adding that any vessel that does not comply with the provisions of the Cabotage Act violates the extant laws.
He observed that the Minister is empowered by Section 15(1) of the Cabotage Act to grant provisional licence to an indigenous shipping company by way of waiver for a year, in order to ensure that it does not cripple the nation's economy.
He maintained that "even if the indigenous shipping companies do not have the capacity, the provisions of the Cabotage law should be respected.
While stressing that NIMASA lacks the statutory powers to grant waiver, he affirmed that the Agency was saddled with the responsibility of processing the waiver as approved by the Minister.
Speaking at the investigative hearing, SOAN President, Dr. Mkgeorge Onyung alleged that NNPC which conducted a closed bid awarded the contract to 11 foreign flagged coastal tanker vessels belonging to the UNIBROS in breach of the Coastal and Inland Shipping (Cabotage) Act and the Presidential Executive Order No 5 signed by President Muhammadu Buhari.
While soliciting for the House intervention, Dr. Onyung who frowned at the breach of extant local content laws, also accused NNPC of abuse of Customs regulations to gain unfair advantage in the award of contracts to foreign vessel owners for coastal shipping of petroleum products in the downstream sector of Nigerian maritime industry.
According to him, Africa has market share of $1 trillion out of the $14 trillion global market share, which Nigeria is yet to benefit from.
He explained that 11 shipping companies in the world which are owned by the Norwegians and Chinese made about $50 billion half year profit, not minding their capacity but based on available opportunities.
The SOAN President further lamented that though Nigerian ship owners were willing to accept Naira denominated payment, NNPC gave the contract to a foreign ship owner in dollars.
He argued that the contract award will result in amplification of capital flight, valued in excess of $100 million annually to the detriment of our economy, adding that no Customs import duty has been paid for any of the 11 vessels in breach of our nation's fiscal and monetary policies.
While ruling, Hon. Idagbo said: This Committee should write to the NNPC to furnish it with every single detail of the contract that was awarded in 2020; every relevant information that is needed because this is an investigative hearing and without NNPC supplying us with this document, as we are now we do not have any documentation.
"It is only what the ship owners tell us that we have. So NNPC should furnish us with every single information in relation to this contract.
"The Ministry of Transport should also furnish us with every information they have too regarding the same contract. For us to move forward, we must have all the relevant information just like the DG also said.
"We are focused on the breach of our laws. Ours laws specifically state that our contracts must be awarded to indigenous ship owners according to the Cabotage Act. If you go ahead to award a contract without adhering to those four things as stipulated in our laws, it is in breach.
"From the submission of the Ship Owners Association, they have shown that they have capacity and they have made a case. We have heard from DG NIMASA. We would adjourn for today and we would invite NNPC in our next date, we would invite the honourable Minister for Transport, and also NCDMB.
"Let me state on record that this committee is totally displeased by the correspondence signed by one Garba Mohammed, Group Public Affairs Division from NNPC.
"We wrote a letter to the GMD NNPC on this investigative hearing and if for any reason, he could not be here present, he should have at least had the courtesy of himself responding to the communications that was issued by this Committee, so we discountenance this.
"We take it that we have not heard from NNPC and in our next adjourned date if NNPC does not appear on that date, we would not hesitate that to follow the process of the law and the powers given to the National Assembly, meeting adjourned for one week," Hon. Idagbo said.
YOU SHOULD NOT MISS THESE HEADLINES FROM NIGERIAN TRIBUNE
Buhari Urges MTN For Quality Service, Downward Price Review In Cost Of Data, Other Services
President Muhammadu Buhari Friday at State House Abuja urged the MTN Group to make the available top-of-the-range service to its Nigerian subscribers…  Reps summon Transport Minister, NNPC GMD over breach of cabotage law  Reps summon Transport Minister, NNPC GMD over breach of cabotage law  Reps summon Transport Minister, NNPC GMD over breach of cabotage law  Reps summon Transport Minister, NNPC GMD over breach of cabotage law.