Reps quiz Immigration over under-declaration of N11.2bn revenue
• Average passports issued is about 1.2m yearly ― Immigration boss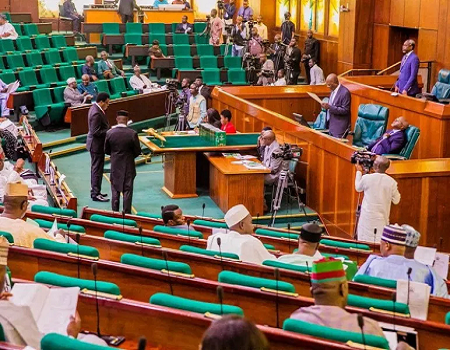 The House of Representatives, on Tuesday, quizzed the Comptroller General of Nigeria Immigration Service (NIS), Muhammad Babandede, over alleged under-remittance of N11.2 billion revenue generated from the issuance of passports between 2018 and 2019.
While speaking, Chairman House Committee on Finance, Hon. Faleke, queried the N8.987 billion realised in 2014 from the issuance of passports and other sources as well as the actual number of passports issued per year.
While responding, Mr Muhammad Babandede noted that the Service needs to provide additional tabulation to get the actual number of passports issued for the year in question.
He observed that the revenue for 2014 was realised from different categories; passport for a longer period, passports for children, assuring that it would be calculated.
Babandede who could not provide an actual record of the passports issued by the Service in 2014, however, argued that: "average passports we issue per year is usually one million two hundred, not more than that. But I can give you the details of the passports and types if you want the breakdown per each one.
ALSO READ: NASS invasion: Reps call for investigation, demand installation of CCTV cameras, others
He maintained that the 1.2 million passports have been the average constant.
The NIS Comptroller-General added that the sum of N55 million was also generated from the non-refundable admin fee collected from people who changed their data, adding that the indiscriminate change of data has become an embarrassment.
He maintained that the admin fee was imposed to serve as a deterrent to the growing demand for a change of data.
The NIS boss also added that every applicant pays N2,000 for address verification before, "but now we don't do that under the new passport regime."
"Last year somebody died with the cocaine and we have to eavesdrop his files, we checked his address, the one he gave the Service was not correct."
He added that CERPAC – Residence Permit done by CONTEC is paid for in dollar equivalent. In 2014 it was about $700 but now it has reached $2,000.
In 2014, there was also re-entry visa for those expatriate who left the country and returns.
He, however, noted that the re-entry visa has been scrapped, adding that "if you have to reside, you have the right to re-enter as it is done to us. If you have resident permit in the UK, you have the right to come back to Nigeria and go back."
He added that the sum of N55 million was realised from ECOWAS and Africa Affairs, while carrier liability under PPP paid by any airline who carried a passenger that is not admissible pays a liability, $1.052 million.
He added that the sum of $15.346,980 was paid directly into JP Morgan's account, adding that from January to December 2014, the profit was shared to various technical partners.
According to him, this sharing is based on the formula agreed and approved by the Federal Executive Council (FEC).
In his intervention, Hon. Faleke explained that the Committee is interested in all monies accruing into the government's coffers through various agencies and ascertain the actual revenue.
"For us, if you work on the figures from the Accountant-General's office you have outstanding of N11 billion to pay and I want to reconcile the records with you to know whether it is right or not. This is just for 2018/2019, N11.2 billion for 2 years only.