Reps quiz Fashola over TCN $1.5 billion loan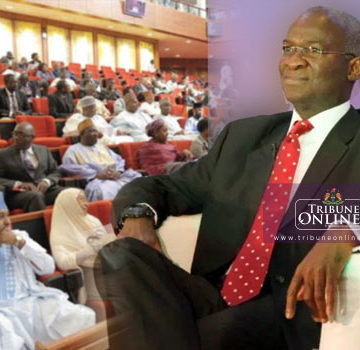 THE House of Representatives on Monday quizzed Minister of Power, Works and Housing, Mr Babatunde Fashola over the $1.5 billion loan reportedly obtained by the Ministry on behalf of the Transmission Company of Nigeria TCN for electricity distribution in the country.
This is coming just as Speaker,  Hon. Yakubu Dogara restated the commitment of the Legislature to tackling challenges bedevilling the power sector.
At a public hearing 
on Monday
 on the matter, Chairman of the House Committee Hon.Daniel Asuquo said that the House has severally been inundated by petitions on activities of the TCN that were alleged to be fraudulent.
He hinted that the House passed a resolution mandating the committee to investigate the matter and report back to it at plenary.
Addressing the committee, the Minister said that the previous administration under former President Goodluck Jonathan awarded the 5-year contract to TCN to revive electricity distribution in Nigeria.
He added that the company had executed a number of the projects and added that "we inherited over 125 TCN projects at the inception of this administration".
The Minister also told the lawmakers that it is no longer debatable that Nigeria is currently generating 7,000.00 megawatts of electricity and added that "we need to work in the office so that we can perform".
He also informed them that TCN had improved greatly in terms of power distribution and regretted that we are not where we are supposed to be in terms of power distribution.
The Minister said that in December 2017 alone the TCN completed a number of projects through regular dramatic review of projects.
Declaring the investigative hearing open, Speaker in his address read by Deputy Minority Leader, Honourable Chukwuka Onyema, "We cannot emphasize enough the pride of place that electricity occupies in the life of any modern nation. Indeed, electricity is the lifeblood of our national economy. This is why any issue that affects the power sector always receives priority attention from the House of Representatives in particular and the National Assembly in general."
"We will continue to revisit the challenges that confront the power sector as that is the only way to fix the sector and get our country firmly on her way to unleashing her enormous industrial and developmental potentials."