Reps approve N13.588trn budget for 2021
• N5.642trn on debt servicing, N4.125trn on capital projects, N379 exchange rate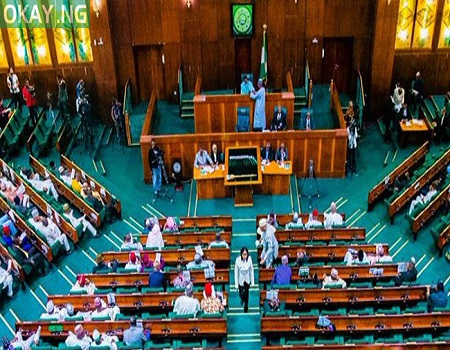 The House of Representatives, on Monday, passed the 2021 Appropriation worth N13.588 trillion, showing an increase of over of N500 billion above the N13.08 trillion budget proposal presented by the Executive.
Breakdown of the proposed Expenditure for the year as approved by the House, showed that the sums of N496.259 billion is for statutory transfer; N3.324 trillion is for Recurrent Expenditure; N5.642 trillion is for Debt Service while N4.125 trillion is for Capital Expenditure.
Also during the plenary, the House approved the report of the Conference Committee on the 2021–2023 Medium Term Expenditure Framework (MTEF) and Fiscal Strategy Paper (FSP) was passed at the Committee of Supply, after the debate led by Hon. Musa Abdullahi.
The parameters approved are; 1.86mbpd of Crude Oil Production; $40 oil benchmark; N379/$ exchange rate; 3% GDP; 11.95% inflation growth Rate; N7.89 trillion Federal Government retained revenue; N13.08 trillion proposed Expenditure; N5.19 trillion fiscal deficit (including GOEs); and N4.28 trillion new borrowings (including foreign and domestic borrowing.
Others include; N484.4 billion for Statutory Transfers; N3.12 trillion for Debt Service; N220 billion for Sinking Fund; N520.6 billion for Pension, Gratuities and Retirees Benefits; total expenditure- of N13.08 trillion; N5.66 trillion for total recurrent (Non–debt); N3.05 trillion for Personnel Costs (MDAs); N3.58 trillion for Capital Expenditure (Exclusive of Transfers); N350 billion for Special Intervention (Recurrent) and N20 billion for Special Intervention (Capital).
ALSO READ: Drama over multi-campus as Oyo Assembly passes LAUTECH bill
Breakdown of the budget showed that the sums of N110 billion is for National Judicial Council (NJC); N63,506,151,945 is for Niger–Delta Development Commission (NDDC); N70,051,853,172 is for Universal Basic Education (UBE); N40 billion is for Independent National Electoral Commission (INEC); N3,920 billion for National Human Right Commission (NHRC); N31,334,539,570 is for North East Development Commission (NEDC); while N35,025,926,586 is for Basic Health Care Fund (BHCF).
As a sign of departure from previous Assemblies, the breakdown of the approved budget for the National Assembly revealed that the sums of N15,967,404,815 is National Assembly Management; N33,267,001,807 is for Senate; N51,994,511,954 is for House of Representatives; N5,734,166,662 is for National Assembly Service Commission (NASC); N9,602,095,928 is for Legislative Aides; N118,970,215 is for Senate Committee on Public Accounts; N142,764,258 is for House of Representatives' Committee on Public Accounts; N9,134,672,079 is for General Service; N7,373,813,596 is for National Institute for Legislative and Democratic Studies (NILDS); N389,354,934 is for Service–Wide Vote; N275,243,752 is for Office of the Retired Clerks and Permanent Secretaries; while N8,690,000,000 is for Public Complaints Commission (PCC).
From the sum of N752,191,855,311 provided for Service Wide Votes expenditure, the sum of N5 billion is for Payment of Outstanding Death Benefit to Civil Servants/Police; N15 billion for Group Life Assurance for all MDAS including DSS/Insurance of sensitive Assets/Corpers plus Administration/Monitoring; N100 billion for Public Service Wage Adjustment for MDAS (Including Arrears of Promotion and Salary Increases and Payment of Severance Benefits and Minimum Wage Related Adjustments); N100 billion for Military Operations: Lafiya Dole & Other Operations of the Armed Forces; N3 billion for Settlement of MDAS Electricity Bills; N1 billion for IPPIS Capturing/Monitoring; N5 billion for Payment for Outsourced Services; N3 billion for Margin for Increases in Costs and Recurrent Adjustment Costs; N65 billion for Presidential Amnesty Programme: Reintegration of Transformed Ex–Militants; N2 billion for Service Wide Training of Budget/Planning Officers on GIFMIS Budget Preparation System (BPS) as well as Monitoring and evaluation of all Projects Nationwide; N350 billion for Special Intervention Programme (Recurrent) –NSIO; N20 billion for Contingency (Recurrent); N3 billion for International Sporting Competitions; N1 billion for TSA Operations; N4 billion for Employee Compensation Act–Employees Compensation Fund N30 billion for Contributions to International Organizations and N45,191,855,311 for GAVI/Immunization.
According to the report, the sums of N205,153,707,813 is expected from Asset Sales/Privatization; N709,685,716,725 expected from Multi-Lateral/Bi-Lateral Project-Tied Loans and N5,196,007,992,292 estimated as Aggregate Financing Items.
As approved by the Parliament, Economic and Financial Crimes Commission (EFCC) and National Financial Intelligence Unit were empowered to change and defray from all monies standing in credit to the units as revenues or penalties or sanctions at 10 per cent for technical set up and operational cost at the units in the financial year.
President Muhammadu Buhari had on October 14, 2020, presented a budget proposal of N13.08 trillion to the joint session of the National Assembly, out of which N3.85 trillion was for capital projects in 2021, including; N1.80 trillion for MDAs' capital expenditure; N745 billion for Capital Supplementation; N355 billion for Grants and Aid-funded projects; N20 billion for the Family Homes Fund; N25 billion for the Nigeria Youth Investment Fund; N336 billion for 60 Government-Owned Enterprises; N247 billion for capital component of Statutory Transfers; and N710 billion for projects funded by Multi-lateral and Bi-lateral loans.
Meanwhile, the House resolved to set up an Ad-hoc Committee that will identify and verify duplicated projects in the budget to be chaired by Hon. Abubakar Yalleman.
The resolution was passed after the adoption of a motion sponsored by Hon. Yusuf Gagdi stressed the need to conduct a detailed investigation and that the relevant Committees should report back to the House for further legislative action and in the spirit of proper accountability to Nigerians.
Reps approve N13.588trn budget for 2021