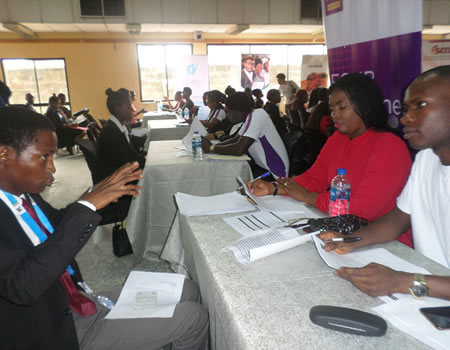 Graduating students of all the eight tertiary institutions in Lagos State including the University of Lagos, UNILAG, Akoka and the Lagos State University, LASU, Ojo, say Ready Set Work, RSW, really opens their eyes to the reality of life after school.
The students made this known at the internship fair where they approached over 200 companies partnering the state government under the scheme for possible six-month internship programme as this year's edition winds down.
The fair, held on Saturday at UNILAG, which is one of the three centres dedicated for the 13-week intensive training programme has 5,000 students in all, as participants.
RSW is initiative of Lagos State government designed to sharpen entrepreneurial and employability knowledge and skills of final year students and their immediate juniors in both the public and private tertiary schools in the state ahead of their graduation. Other six participating schools are Caleb University, Imota; Yaba College of Technology; Lagos State Polytechnic, Ikorodu; Adeniran Ogunsanya College of Education, Ijanikin; Michael Otedola College of Primary Education, Epe and the Lagos College of Heath Technology, Yaba. And the programme which is three-year old with no fewer than 750 professionals across sectors as volunteer trainers, has produced about 2,500 alumni so far.
While interracting with the students at the fair, they told Education Tribune that the programme had really taken them totally out of classrooms (where they concern mostly about theoretical work) and exposed them to practical knowledge that would help them to make career success either as salary earners or self-employed, easily.
Abibat Abdulsalam, a UNILAG sociology female student explained this, thus, "The training has prepared us for real work engagements. It is now that we know that success in careers and other aspects of life required much more than the classroom work.
ALSO READ: AAU killings: Edo police arrests suspects, recover ammunition
"We learn and apply emotional intelligence, self and time management, dignity of labour, effective communication, analytical and problem-solving skill.
Corroborating her, Adewole Nathaniel, a Banking and Finance male student from LASU, said, "We also engage in team and independent work. We learn work ethics and many more. And many of us including my humble self are eager for the outside world to exhibit all these virtues."
In a chat at the fair, the Vice-Chancellor of UNILAG, Prof Oluwatoyin Ogundipe, while commending the state government for instituted the scheme, urged other state governments to key into similar programme for undergraduates in their states, irrespective of ownership of their schools so as to jointly reduce the huge youth unemployment in the country, appreciably.
He said the school could not all alone teach the students all that required to make them succeed in life and in careers.
In his own remarks, the Special Adviser to Governor Akinwunmi Ambode on Education, Mr. Obafela Bank-Olemoh, whose office the programme is domiciled, told Education Tribune that, though, the programme is tuition-free and voluntary, participants must have to demonstrate seriousness and entrepreneurship spirit and pass through rigorous selective process and tranning to be admitted into and graduated from the programme.
He disclosed that only about 2,000 internship slots are available for grasp and that the partnering companies have the sole responsiblity to select those needed based on their individual performance during interviews.