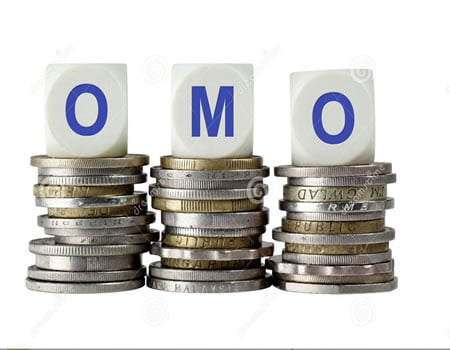 DESPITE an Open Market Operation (OMO) maturity of N109.4billion on Thursday, dealers expect money market rates to remain at similar levels as the Central Bank of Nigeria (CBN) is anticipated to mop-up the liquidity via OMO auction.
In the Treasury Bills market last week, performance was mixed as rates across benchmark tenors trended lower on 2 of 5 trading days.  The week started on a bearish note – due to tighter financial system liquidity – as average rate across tenors settled at 14.3per cent, up 16 basis points (bps) from 14.1per cent recorded the previous Friday as sell offs were recorded in mid-term instruments which fell 49bps while other tenors stayed flat.
On Tuesday, there was increased activity as average rate across benchmark tenors declined 8bps on account of buying interest at the shorter end of the curve. This bullish sentiment according to dealers was largely attributable to the CBN's non-issuance of OMO instruments in the primary market.
Market stayed bullish till Thursday (average rate fell 13bps), driven by buying interest in short and mid-term bills (-28bps). Average rates closed at 14.1 per cent on Friday, implying a 10bps Week on Week (W-o-W) decrease.