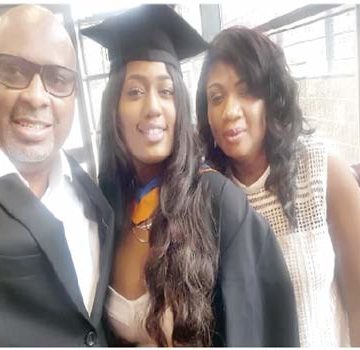 YEMISI Yekini, one of the two daughters left behind by the Nigeria's all-time Super Eagles' highest goal scorer, Rashidi Yekini, last week graduated from Dumonforte University in Leicester City, the United Kingdom with distinction.
She finished as the second best overall student of her graduating set.
The first born of the late goal-king who read Cinematography in the UK varsity was a cynosure of all eyes during the graduation ceremony, according to the legal counsel to the late Yekini, Jubril Olanrewaju Mohammed, who witnessed the event.
An elated Yemisi, when asked of her immediate focus, said she was not ready to put her training into action by joining the fast growing Nigerian film industry for now.
She stated that she wanted to further her studies by pursuing a master's degree in the same field (Cinematography).
Yemisi's mum, Pat Mariam Fabode and her step dad, Oladipo Fabode, were also at the graduation ceremony.
Meanwhile, Yekini's second daughter, Mariam, is also doing well, according to Jubril who disclosed that Mariam is at 200 level studying English at the University of Ilorin.
"Part of the objectives of the Rashidi Yekini Foundation is to ensure that the children Yekini left behind get good and quality education by catering for whatever that might cost," said Jubril who is the CEO of RYF.