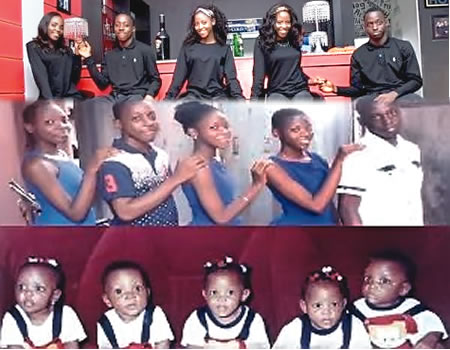 LOOKING at the quintuplets, so full of life and fingering their mobile phones, one will hardly believe that they were the tiny tots of yesteryears who took turns to suck at their mother's breast. Like the legendary gold fish without a hiding place, the 17-year-old are always the goal of goggle eyes everywhere they go. The sight of the five teenagers littered on the same day, for sure, draws lovely attention from people anywhere they are. They are the object of  curiosity as people want to hear their story.
In a way, their mother, Mama Five as she is affectionately called has no secret shelter too. Sieving her out either in her neighbourhood where she lives or the local school where she teaches is easy. The quintuplets are her indentity. The mere mention of Mama Five leads you to her door as everybody seems to know her. People crane their necks to look at that "Igbo woman wen born five children for UBTH".
Born in the Edo state capital on January 10, 2001, the Nwankwo Five as they are popularly known hail from the small town of Umunze in Orumba South Local Government Area of Anambra State but were raised in Benin. Made up of three big girls and two boys, the teenage quintuplets have no doubt come a long way right from that first day when they arrived at the University of Benin Teaching Hospital (UBTH) blinking.
Their mother, Mrs. Julie Nwankwo confessed that it has been tough but for the Grace of God which saw her through the years. Everything she does for the children is always times five and for a public school teacher, it has certainly not been easy. To her, their conception, birth and up bringing so far is like a dream come true.
Looking back, she said that it all started in 2000 when Mrs. Nwankwo, a mother of four, was ordered to do a scan during one of her visits to the ante natal clinic at the University of Benin Teaching Hospital (UBTH). Thrice she went for scanning at three different hospitals in Benin and on each occasion, the result was the same: she was heavy with quadruplets, a set of four babies.
When she first visited the radiologist on a wet Wednesday morning in October of 2000, when she was 22 weeks pregnant, the Anambra State-born woman, did not have any unusual feeling. To her total amazement, the radiologist hit her with the news of having four babies in her womb, after taking a hard look at the result of the examination. The news had her knocking on her feet.
She said that so many questions popped into her head when she was told. How was she going to cope with labour pains at the minute of delivery? Against the backdrop of the stark reality of the economic situation in the country, how will she be able to take care of the new additional mouths, considering the fact that she already had four children? Now, she was going to double that figure at one stroke. Even then, she was still happy but agitated. It was joy spiced with anxiety.
She recalled that the journey from the clinic to her husband's shop which was at Third East Circular road which ordinarily would have taken about 20 minutes took a long time in a taxi which she immediately flagged down as she stepped out the door. Without much ado, she promptly broke the news to her husband, Echezona. He was glad. He perished thoughts of the economic implications of taking care of the new additions to the family. After all, children are gifts from God.
He was stoic. Down in supplication, he muttered: "My Father in Heaven will provide for them. The God who gave us the children will provide the means to provide for them. Good things come from God. These children will usher in blessings to us. We will never beg to take care of them because my God is able."
When she was wheeled into the theatre on that fateful January morning, she emerged with five bundles of joy, the first recorded at the hospital and via a Caesaran Section, proving the radiologists who saw  four babies wrong. The day, a dry harmattan morning finally came with a surprise and drama. With a team of doctors and midwives headed by Dr. Tunde Ande, the cute little babies started coming out, shrieking.
First was a girl, aptly named First Lady weighing 1.8 kg; then a boy weighing 2kg; another girl who weighed 1.65kg. When the last baby, a girl who measured 1.7kg came out, blinking, Ande and company heaved sigh of relief.
"It will soon be over," the Oyo born obstetrician and gynecologist said to himself, as he firmly held on to the surgical blade.
A close examination however revealed that there was another baby lurking in the womb. At 2.05kg, last born chose not to be the least as he was the heaviest. Mission Accomplished.
With four hungry children made up of three boys and a girl, she swore that she was not desperate and couldn't have taken fertility drugs which most childless couples are wont to take. The children came naturally but then twinning runs in the family as her mother had twins who died at infancy.
Over 17 years on, Mrs. Nwankwo confessed that it had been very challenging but the family's unconditional faith in God, the help of close family members, friends and fellow Nigerians made them soldier on against all odds. Even though times have been rough and tough, she kept the faith of a glorious tomorrow.
She said: "You must agree with me that taking care of five children all at once is not easy. I had four children before the arrival of the quintuplets for a total of nine children. That would have made normal men to crack but we just managed to keep our head above water. Everything we do, everything we buy, everything we pay for is times five. You can imagine that!"
Out of job, years after she took a certificate in English/Social Studies from the College of Education, Agbor, Delta state, ex-Governor Lucky Igbinedion promptly offered her employment as a teacher shortly after the multiple birth. Also, the children were offered scholarship at the state owned FSP Nursery and Primary School in Benin.
Resuming her teaching appointment shortly after weaning, the deeply grateful mother joked that with nine hungry mouths, whatever she earned was like a drop of water in the great Sahara Desert. Then, the family had to learn to carry the weight on its own but her silent prayers were again answered when the immediate past Oba of Benin, Omo N'Oba Erediauwa offered to pay an undisclosed amount of money every month for the upkeep of the children.
She initially employed a house maid to help in the upkeep of the children. Her mother was also up and of tremendous help. She relocated from her native Anambra to Edo to help in taking care of the home front. Even then, breastfeeding the children and attending to their every minute need as a mother was still a mighty challenge.
She said: "If not for my mother, I don't know how I would have been able to cope. She came and took charge. I initially employed a maid out of desperation. I couldn't cope alone but we could not afford to keep her long but when my mother came, she took charge and made the difference."
After primary school, it was time to go to the high school. To a private school with it astronomical fees they were herded and had to dip their hands deeper into their pockets to pay their way through. Without the cover of a scholarship, it was a big challenge, coughing out the huge amount of money needed as school fees. Whatever money the parents gathered was sunk into the payment of fees, buying books, uniforms and transportation to and from the school.
After six hard years of labour, burning the mid night oil, the children recently graduated from the World of Faith School in uptown Benin. During the recent graduation ceremony at the school which is owned by the Church of God Mission, the proud parents were on the moon. The five children came out in flying colours. They savoured every moment of the ceremony as the children's names were reeled out
With senior secondary school conquered, their gaze is now firmly set on acquiring a university degree. Always out for people's welfare, First Lady, Ebube, is aspiring to be a nurse while Oyinye keeps dreaming of being a pharmacist, Ifeanyi wants to be an engineer while Ebuka is all out for Political Science. For Fechi her aim is to be a gentleman of the robe.
At the recent Joint Admissions and Matriculation Board (JAMB), examination, three of the teenagers scored above 200 and are warming up for the post University Matriculation Examination.
Though not going about town with a begging bowl, the mother of nine appealed to kind-hearted Nigerians who have stood thin by the family to still stand thick with them. She is deeply appreciative of the prayers and support by kind-hearted Nigerians.
She grows goose bumps each time she thinks of the huge amount of money that will be needed to pay their way through tertiary school. Taking a deep breath, she passionately pleaded that if there is a way, either the government or public spirited individuals can help in form of scholarship, it will be a huge relief.
Ebube said that she made lifelong friends during her time in primary and secondary schools. For Ebuka, his big brother is his role model and yearn earnestly to be like him.
Fechi said that they were the toast of their mates and teachers. All eyes were always on them as they expect so much from them and so could not afford to engage in acts of indiscipline which most youths of today do.
Ifeanyi confessed that they had problems growing up. Like little kids growing up, they had tiffs and occasionally tore at each other but learnt to settle themselves. They all, however, agreed that their parents have been wonderful, sacrificing so much for a brighter tomorrow for them.
The gangling teenager summed up: "We will like to seize this opportunity to thank our parents for bringing us to this world and taking good care of us. They sacrificed so much to take us to good schools. Thank God, we passed our School Certificate Examination. If not for our loving parents, I wonder how we would have been able to make it. We are lucky for such wonderful parents who are always there for us. God will continue to bless them."
Mrs. Nwankwo noted: "I am deeply grateful to Edo people. They took us like their own even though we are from Anambra. My husband has been to Anambra severally to solicit for help from the government but no response. He met the Commissioner of Women Affairs just when they were born but until now, there has been no positive response. All the help and support we got are from Edo people."
Sounding optimistic, the Anglican said that as Christians with deep faith in the redemptive power of God, the Nwankwos will never beg for food. The God of miracle, their Father, with His watchful eyes up above will see them through every kind of weather. They will never give in. No matter how high and hard., they will soldier on. After all, it is nothing that they say that a camel must wade through no matter how bulging the hump is.
Time, no doubt, flies. 2001 seems like yesterday but the kids have no doubt come a long way. The shining stars are no doubt destined for the stars