With an escalating youth population, Nigeria commands a gaming industry with an overwhelming daily turnover. Data report from Klynveld Peat Marwick Goerdeler (KPMG), a few years back, revealed that a leading sports betting company in Nigeria makes an average monthly turnover of $10 million dollars. Without doubt, this remarkable feat is attributed to increased access to the internet which makes betting easily participatory. FAVOUR BOLUWADE reports the prevalence, addiction and reasons behind this.
Kenneth arrived the betting shop at exactly 8.30 in the morning. His gaze was straight and intent. His mien was business-like; there was no mistaking the fact that he had a lot at stake. As others, whom he had met at the shop, contested their opinions on some irrelevant matter, Kenneth busied himself with the thought of going home with a N2 million win, after staking some money the previous day. Kenneth's friend, who made a major win few years, had introduced him to it.
It was observed that the tension is usually high with many people gazing at a large screen TV where they monitor their games.
These games could be a live virtual football or dog race. In most cases it is virtual football game where one could lose up to the tune of N1million naira in 20 minutes and could also win if he stakes on the winning team. Unfortunately, it was not Kenneth's day as he lost. He left demoralised, hoping to try another day.
A cab driver, who gave his name as Baba Oloko, was seen at one of the shops along Ring Road visibly shaking. He had staked about N1,500 on a virtual game but he lost it all in less than a minute.
"He is a regular player and would not mind coming again the next day," says one of the managers of the shop, who gave his name as Ade
From one shop to another, betting keeps attracting new patrons daily. Many young and old people believe they could get lucky someday hence their resolve to keep staking.
To some of them, you don't win when you haven't lost. The more you play and lose, the higher your chances of winning and understanding how to win and what to stake.
How LAUTECH student won N10 million
While many may have sad tales to give, in May, 2019, a 22-year-old student of the Ladoke Akintola University of Technology (LAUTECH) Ogbomoso, reportedly won a whooping sum of N10, 000, 000, in Ibadan, Oyo State, following an online sports betting deal. Opadeji Qudus reportedly placed a hundred naira wager on the platform. Qudus consistently won all the predictions leading to his eventual clinching of N10, 000, 000.
An elated Qudus stated that he never believed he could win but that he was glad that all his predictions were true and that he became N10, 000, 000 richer. "I am very grateful to God that I won this amount. I am a computer engineering student atLAUTECH. I hope to invest the money appropriately," he said.
Baba Onifade was at home in his office, a pool shop that has been sustained for almost thirty years. He held a cup of drink, later discovered to be palm wine, and bounced around in his sneakers, which matched the red polo shirt he wore on black jeans, as he made to welcome his visitor. He seemed excited and willing to answer all questions.
After the pleasantries were exchanged, he got down to business.
"I have been in the business for over thirty years, but what pushed us then differs from now," he started.
Mr Onifade started his pool betting business in 1987, and has "proudly" watched the business grow over the years. Family expenses, children's fees, among other needs have been catered to by his business' profits. At the time of the report, preparations were underway for his last child's wedding.
In the beginning
Speaking on his knowledge of the betting business, he said: "The white people started this betting way back in 1827, and they started it to get results; it was a trial. But once things like this come to Nigeria, we end up weighing the cons than the pros, we start to add religious and identity factors, which was why people ran away from it at first in our days. But I remembered that time, someone won N1.5 million in my pool shop, and the news spread like wildfire. It was worth celebrating. That was years ago. But now, the rate at which youths have taken this game seriously, I believe it is because of unemployment.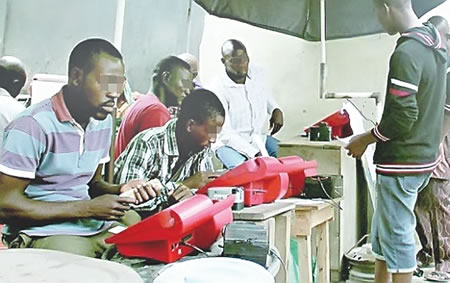 "In those days, there was nothing anyone wanted to do than just get extra cash for festivities and fun activities; they just wanted to part with money, so it wasn't that serious. But soon, people discovered the luxury the game could bring if set up as business, and when the economy got worse and people could barely feed themselves, this is the idea that progressed into the online betting of this age. Betting with N25,000 could get you N1million. Everyone who bets wants to multiply money; that's why you see wealthy people still trying to stake. I am addicted to betting, I am not ashamed of it, because it sorts my finances for me. But we can't overemphasise that betting addiction is seriously influenced by poverty, which is now a menace in this country."
I used part of my 'allowee' to stake a bet but it ended in tears –NYSC member
One look at Akin Bolanle showed mixed emotions. Narrating his experience, he said: "My friend told me I only needed N100 to play and that would make me smile to the bank. I was delighted and thought to use a part of my monthly allowance of N19,800 as a corps member. I earned N5,000 with N1,000 the first time and it encouraged me so much. Before I knew it, I got the application and it was after counting my allowance, I realised I had spent N15, 000 on stakes and earned only that N5,000. I was so sad and it got me desperate to make my money back. I kept trying, but it ended in tears, so I stopped."
Another punter, who simply identified himself as Audu Christopher, started betting in 2015, because of his roommate's win.
He said: "My roommate had won about N70,000 with just N100 or N200 in two weeks, and that was when I got interested. But depending on the odds I picked, I spent between N10 and N10, 000 on football betting. But I stopped when I realised I had to do other things with my life. I am a civil engineer now and the best thing ever is really being employed and knowing that you have something to fall back on in the long run. I bet sometimes – virtual, horse racing, and sports. However, I had to stop when fortune didn't shine often."
The betting industry
With technological advancement, a blessing for both the companies and the game players, at the comfort of the office, living room, on a journey and even in places of worship, many are simultaneously clicking betting sites, staking and hoping to get lucky enough to win cool cash.
As at 2014, a report by the News Agency of Nigeria claimed Nigerians spent N1.8 billion daily on sports betting. This is a nation tagged the poverty capital of the world, where a citizen is said to spend an average of less than one dollar a day.
According to Alexa reports, for the most visited website in Nigeria as at January 2020, Bet9ja, a leading betting platform, was second on the list.
A typical bet shop opens as early as 8am, with young men, who are often between the ages of 18 and 30, already trying to see if their stakes would yield their expectations.
The mouth-watering offers
Tolu Oludara explained how he almost got into the betting addiction. He said the mouth-watering rewards would make anyone want to give it a try with such adverts as "it's just N100 naira and you stand a chance to win a whooping N25 million," anyone could be a winner.
Betting platforms sourcing for needed connection with their fans and customers, have taken steps ahead, using celebrities as ambassadors, just to thrive in the rising competitive industry.
Akeem Alabi, who bets once in a while, said: "One very unique condition about staking one's money is that both parties are consciously happy to trade with the utmost target and a chance to take home the possible payout of about N34 million with just N100 stake. I bet once a while, hoping to be a lucky."
"I am employed but I hope to get more money, so I stake"
Ajani Abiodun, an information technologist, spends his major hours in the office, building on his career, yet finds a way to get his hands on the various betting apps splattered on the internet in the hope of making more money.
According to him, "I am an IT guy; I earn monthly. But I thought to find more through betting to help with my finances. But this betting takes the money away and you are not sure you would get returns; thee loss can be really great. Betting can solve a little problem."
Mr Ishola Olanrewaju, a stockbroker, said he funds his stakes through his bank account so he doesn't visit the betting centres.
According to him, "I only do sports betting and I get lucky a few times. Life itself is a game of chance. But because I have other sources of income (I am a stockbroker and a freelance writer), I just use betting platforms to see if I can get more money. The economy is not smiling anymore. Prices increased three-fold, yet our money didn't increase in value. So, why not another means of cash if I can get?"
Joshua Ige, a logistics officer, also attested to the fact that money was the main reason he joined the fray.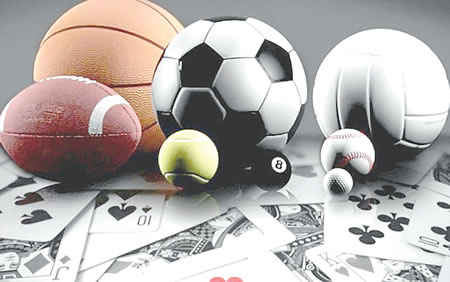 "I'm unemployed, which is why I take betting seriously"
"I began betting years back because of my love and knowledge of sports. I felt it would be a good idea to use it to my advantage. I had started betting at an early age, and the reason I did was the passion for my club then. I was thrilled that I could predict a match and it was often correct. It was not because I had a job at that time. I still got money from home. So I used some for the games, especially sports. And when I got older with no source from home anymore, I had to take betting more seriously," said a punter who chose anonymity.
Mobile and web platforms have made it very convenient to accommodate all varieties of players on various game platforms. There is also the risk of addiction.
"I bet because I don't want to steal"
Mr Ayo uses the lotto bet because he is used to how it works and with a minimum of N50, he could go on to win any amount above N25, 000.
"I don't do pools; I do lotto. There are weeks when the stakes will be high and other times, low. We don't use phones for this betting. The terminal machine helps to make calculations of the numbers and the winnings. With N5 or N50 in the lotto business, you could win up to N25, 000. And I do this because it is legal; I don't want to steal."
When religion says no
Chief Imam of Aanuoluwapo Central Mosque, Oke Ado, Ibadan, Alfa Ishaq, says he believes betting is never profitable.
According to him, "The Quran is against betting. Betting, in Quran chapter 5:90, is not supported by Allah. Due to this, we do not agree to the act, even if it's gaining prominence. I'm worried that more youths are getting involved, with the excuse of unemployment and economic hardship."
Akinbowale Ogunbakin, a graphics designer said the love of money, desperation of unemployment, helplessness, and laziness result in addiction.
"The major reason is the anger of losing versus the joy of winning. There are a lot of big men who bet to hopefully increase their money or just for the fun of it. But you cannot compare the hearts of people who know that if they don't win a stake, they will go hungry for a day or more. Hence, they keep trying and before you know, they have become addicted," he stated.
'We worry over our children, spouses' addiction to betting'
Mrs Morenikeji Hassan was not okay with the idea of betting and said she hoped job creation would save the day. She said working in a canteen all day long wasn't proper at her age anymore. Her children are yet to get good paying employments
According to her, "Even though betting is legal from a particular age, it is still not ideal. How can someone who has been trained in school feel that gambling away is the only channel to settle their needs financially? There ought to be real jobs, not betting. I have graduates in my family. A person, who bets, especially these young people, will steal. How else do they source their upkeep without a job? I implore the government to look into creating jobs."
Mrs Ronke Peter in an interaction with Nigerian Tribune stated that "Many women worry about their children and even spouses who are addicted to betting. It is true that even ladies and men alike are into this addiction. Even if it is legal, it has destroyed many financially."
Breaking free
Miss Tolulope Adeyewa, a psychologist, said addiction to betting is often encouraged when a player thinks he cannot quit or survive without the money from the stakes.
According to her, "Breaking free from betting addiction starts from the addict's consciousness to stop. When people fight against addiction, such as drug addicts and betting addicts, there are withdrawal symptoms that the body displays. Betting is often coupled with drinking. The euphoria from winning cannot be same when they lose. So as to solve the problem of losing, they drink; they don't think straight, because there is a craving for excitement.
"Antidepressants or anxiety medicines work for addicts, so it can be used to cure the disorder. Really, betting addiction is a disorder as any other addiction is. While trying to break free, the gambler should be taken away from the source of betting, by deleting the applications from his phones and avoiding betting centres or friends that influence the push to stake; talking to a counsellor they are comfortable with; going for rehabilitation; speaking with people who care, and Cognitive Behavioral Therapy (CBT). The psychologists try to make the addict unlearn from the betting habit."