Public school academic enhancement: Oyo NEXUS Club pleads for private initiative's assistance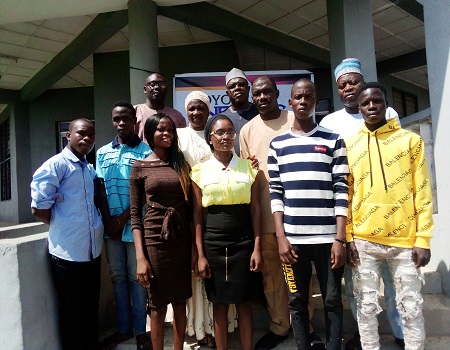 President, Oyo NEXUS Club, based in Oyo town, Mr Muyideen Olatunji, has appealed to all private initiatives and supportive associations in the country and other non–political based Clubs in the state to channel their social responsibilities to the academic advancement of indigent but brilliant students in all our public schools in their immediate environments.
He made the appeal on Saturday during the club's official presentation of scholarship awards to nine students drawn from 20 public senior secondary schools in Oyo town for the registration of their United Tertiary Matriculation Examination(UTME), and as well as for the registration of their Senior Secondary School Certificate Examinations(WASCE) for the next academic session.
According to him, financial support becomes inevitable to help some of the brilliant but indigent students to continue their academic programmes beyond secondary school education level.
He noted that there were many brilliant students who struggled to complete their secondary school education but would need financial support to further their studies of their choice.
ALSO READ: Sokoto: Appeal Court reserves judgement on suit challenging Tambuwal
He said: Oyo NEXUS Club is a non- governmental, or non-political association of a group of friends with the aims of giving back to the society where grew, Oyo town. In view of this, we organise annual quiz and debate competitions among public secondary schools in all the local governments in the areas.
"The essence is to identify best students who have flair for education to have access to scholarship programmes. The competition is also designed to bring them together to foster unity and improve learning skill, as it will promote academic excellence among them.
"From our series of test and examinations for this year's programme to select best for our scholarship which form third of its kind in the history of the club, not less than 9 students drawn from 20 public secondary schools in Oyo town, that did well, especially in the CBT test was given money to register for their WAEC, NECO and UTME examination.
"If they are able to gain admission into the university, they will continue to enjoy our university education scholarship programme. Presently, we have three students in the university that already enjoining our scholarship. We are encouraged by their academic performances in their various universities. We are still waiting for four more of them to join our scholarship scheme, immediately they secured admission in this ongoing admission process. The Club paid for their WAEC and UTME registrations and they did well in WAEC," he said.
Mr Olatunji called on the state government under governor Seyi Makinde administration not to relent in its ongoing secondary school education reform process to ensure quality education in public schools in the state.
The chairman of the occasion, Dr Dupe Nihinlala Olayinka, commended the club for its initiatives efforts and contributions towards education development in the state. She described the development as well as a development setting pace for other clubs in the town to follow suit.
Some of the recipients of the scholarship, Master Benjamin Oludayi from University of Lagos Department of Accounting and Miss Badmus Faidat from Lead City University, who spoke with Tribune Online confirmed the scholarship. According to them, scholarship has been a great assistance to their academic pursuits, as they pledged to join the club after their graduation.