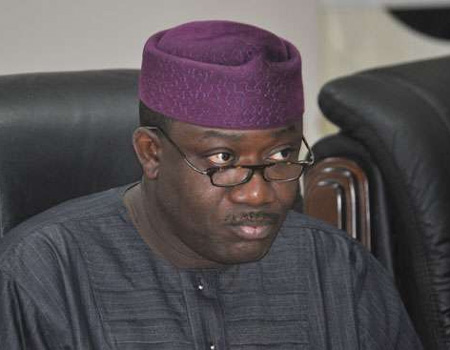 MINISTER of Mines and Steel Development, Dr Kayode Fayemi, on Tuesday, asked the Social-Economic Rights Accountability Project (SERAP) to make public the proof of pension and any other remuneration he was alleged to be enjoying from Ekiti State Government since he left office as Governor of the state in 2014.
He further told the group to publicly apologise to him for including his name in the list of serving public officers who were earning pensions, failure to which might lead to legal action.
Dr Fayemi said the group should be prepared for legal consequences of the defamatory statement should it fail to retract the allegation or show concrete evidence of the alleged pension payment.
In a statement endorsed by his Special Assistant on Media, Mr Yinka Oyebode, a copy of which was made available to Tribune Online in Abuja, the minister said he had not received a kobo either as pension (as passed by the State House of Assembly) or as severance package (approved by the Revenue Mobilization Allocation and Fiscal Commission) from the State Government since leaving office on October 15, 2014.
The minister said while he subscribed to public scrutiny of public officials, such an endeavour should be done with due diligence in order to avoid making wild allegations that were capable of misleading the public.
According to the statement, "Contrary to SERAP's statement, the fact is that Dr Fayemi does not enjoy any pension from Ekiti State government neither has he received any severance package as approved by RMFAC."
"All SERAP needed to have done in this case was to place a call to the Minister or carry out a thorough investigation at the Ekiti State Ministry of Finance, before going public on such a sensitive matter."
"The leadership of SERAP is urged to do the needful – substantiate the allegation with proof or retract the highly embarrassing statement and offer a public apology to the Minister within seven days or be prepared to defend it in the law court," it stated.