Private universities crucial to Nigeria's educational development — Osinbajo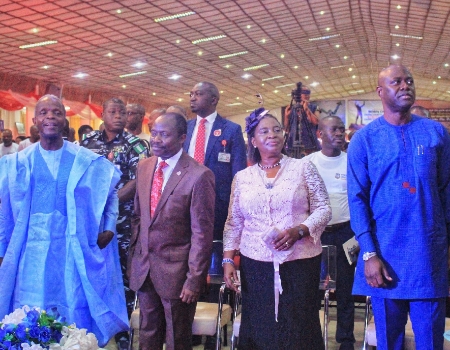 NIGERIA'S Vice-President, Professor Yemi Osinbajo, has said that existence of private universities in Nigeria is crucial to the educational advancement of the country.
Osinbajo, made this assertion while speaking with journalists after featuring as a special guest during a proclamation service for the newly-approved Dominion University, which was held at Victory International Church, Oluyole Estate Extension, Ibadan, on Saturday.
ALSO READ: Osinbajo is not corrupt ― Bishop Wale Oke
The Vice-President posited that government cannnot provide adequate number of private universities needed to take care of tertiary education's requirements, adding that establishment of private universities will complement government's efforts targeted at making tertiary education available to Nigerians.
"Private universities are absolutely crucial as you know the government cannot provide the number of universities to meet the demand of university education in Nigeria.
"So the private universities are so crucial in ensuring that we get as many as possible the number of universities needed to meet the demands of university education in the country.
"The quality of private universities is something we can see in many universities around. And all over the world, private universities have demonstrated that they are in fact many times better than government-funded universities. So, we are expecting the best from Dominion University and we are all excited about the success," Osinbajo said.
Also speaking at the event, Governor of Oyo State, Mr Seyi Makinde, stated that the proclamation of Dominion University, is the beginning of a journey to produce the kind of leaders needed for the development of Oyo State and Nigeria as a whole.
"I want to use this opportunity to pledge the support of the state government towards the success of this university, while I also want to thank the Vice-President, Professor Yemi Osinbajo, for being part of this memorable event."
Answering question on why private universities are more expensive than government-owned, Presiding Bishop, Victory International Church, Bishop Taiwo Adelakun, attributed it to the fact that government-funded universities get subvention, while their private counterparts do not.
"The reason it looks like that is that there is no Federal Government funding of private universities. Private universities are not getting subvention and yet they have to pay the same salaries lecturers in government universities are getting. How do you get the money other than charging the commensurate fees?"
Bishop Adelakun further, hinted that academic activities at Dominion University commences on 29th of October, 2019.