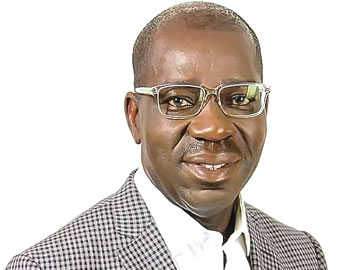 EDO State Governor Godwin Obaseki Today at Okada, Ovia North East local government area of the state tasked corps members on the need to make sacrifices for the interest of peace and unity of the country.
Obaseki who spoke at the swearing-in ceremony of 1,543 for the 2018 batch "C" stream II orientation course held at the National Youth Service Corps Orientation camp, Okada advised them to take their service seriously and be prepared to make sacrifices that the national service demand from them.
Represented by the Chairman, NYSC Governing Board and Commissioner for Youth and Special Duties, Mr Mika Amanokha, he remarked that as patriots, they should be involved in the fight against economic crimes, women and child trafficking, drug trafficking and other vices.
He said: "The orientation course will certainly prepare you for the daunting challenges ahead of you. So, I urge you to take the NYSC Scheme seriously and be prepared to make sacrifices that national service will demand from you."
The governor showered encomiums on the corps members for their courage and doggedness in answering the clarion call, noting that they should see their posting to the state as an act design by God Almighty and an opportunity to selflessly serve their fatherland.
The state coordinator of the scheme, Mr Adebayo Ojo, thanked him for his support to the scheme particularly as reflected in the commencement of the fencing of the NYSC Permanent site.
Ojo said he is confident that with their pace of work at the camp, construction works would soon be completed and thus laying all challenges at the temporary camp to rest.