Prelude to peace: Trump, Kim Jung Un sign historic document after meeting in Singapore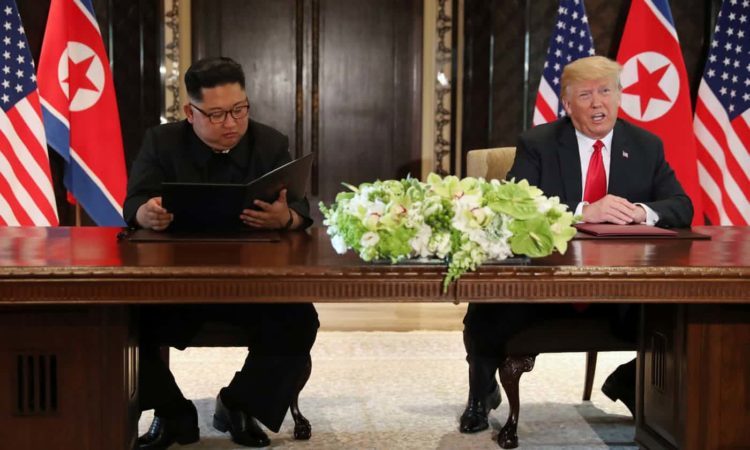 President Donald Trump and North Korean dictator Kim Jong-un concluded a day of talks in Singapore by signing what the U.S. president described as a 'very comprehensive' document.
Trump did not go into further detail about the contents of the agreement that was likely a framework for further talks.
'People are going to be very impressed. People are going to be very happy, and we're going to take care of a very big and very dangerous problem for the world, Trump said at the signing. 'And I want to thank chairman Kim. Spent a lot of time together today, very intensive time.'
The U.S. president said he would 'absolutely' be willing to host Kim at the White House after today's talks, telling a room full of journalists representing American and North Korean outlets, 'This is going to lead to more and more and more and it's an honor to be with you a very great honor.'
'We'll meet again. We'll meet many times,' he said.
Trump earlier said as the summit commenced that 'it's an honor' to be with Kim today to open a direct line of communication that he expects to blossom into 'a terrific relationship' with the longtime U.S. antagonist.
He told journalists later, after a working lunch that he had a 'really fantastic meeting' with Kim and that he believes was 'really, very positive.'
'I think, better than anybody could have expected, top of the line, really good. We're going right now for a signing,' he said.
The Mail Online says talks were apparently going so well on Tuesday afternoon that Trump showed Kim his limo, opening a door so he could inspect the car that travels everywhere with the U.S. president and flies in the belly of his plane when he's abroad.
Trump and Kim began the summit with a hearty handshake, exchanging pleasantries for the cameras and meeting one-on-one for 38 minutes with only translators present while the world watched with anticipation as the first-ever meeting between a U.S. president and a North Korean leader unfolded.
The U.S. president said they would be 'signing' an unspecified document at the conclusion of the discussions.
President Donald Trump says 'it's an honor' to be meeting with Kim Jong-un, whom he expects to have 'a terrific relationship' with now that they've been personally introduced.