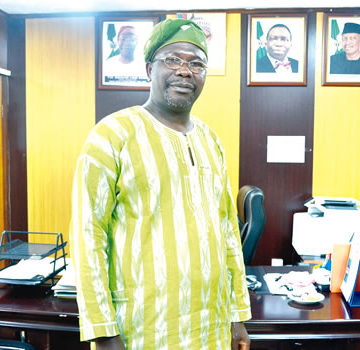 Professor Babatunde Salako, the Director General, National Institute for Medical Research, in this interview by Sade Oguntola, talks about the dearth of funding for medical research and how this may affect the health of Nigerians.
SOME had linked the exodus of staff out of Nigerian Institute of Medical Research (NIMR) and Training to some scientists wanting to be promoted and called professors. What is really the situation?
To start with, NIMR as a research institute does much more than research. Our researchers are also involved in training. We train people running Masters and PhD programmes as well as students on industrial training.
Since researchers in the institute do research, get grants and train, especially the brilliant ones among them will not want to stay in an institute where after everything they cannot become professors. So, they do not see research institutes as a place for them and so want to move out.
But in similar research institutions all over the world, there are scientists that are professors. The researchers have adjunct positions in the university and so when the university's promotion is being done, they also apply to be promoted even though their primary appointment is with the research institute.
Currently, we are looking for a very credible process to ensure this in NIMR. We had contacted four universities, including University of Lagos. The idea was well received by the University of Lagos's vice chancellor and his team and we are awaiting feedback on this soon.
The attraction is that the university gets extra hands at no cost, since they will not be paid another salary. But other allowances that the post-graduate school is giving, like supervision allowance, the post-graduate school is at liberty to pay them.
How about those claiming they were marginalised, stigmatised or victimised?
I do not know what is meant by people saying they were marginalised, stigmatised or victimised. Of course, if the environment is not conducive, they may leave for where they think they can blossom and grow.
But if your question was what the situation was when I got here, then I will say that I met an environment where people had a lot of disaffection for management; an environment that was not supporting things that will improve on their status.
These are things that we have addressed; we are also trying to change the culture of the institute to fit with what is expected of a research and academic environment. Before, the institute was running a "ministry kind of culture."
That we are supervised by the Federal Ministry of Health does not mean that it should be so. It is for this reason also that researchers end up as directors rather than as professors.
So these are some of the things that made people to leave because that is not what they have as their vision. As a result, we had lost brilliant, young individuals that we trained to universities. But all those corrections we are trying to do.
What was your first day in office like?
When I got the appointment, I felt that it was a new challenge to make one's contribution to research in Nigeria. That really is not a joke, it is big job, especially in an environment where funding is an issue.
Getting here, and hearing all sorts of complaints, we have doused a lot of tension, giving back to workers their confidence, and make whatever they need to do their work available in a free and fair environment, as much as we can.
Contributions to research this past year in office?
We are supposed to be producing research to provide evidence for policy. Howbeit, for us as an institute to do this, we need proper funding. The government needs to provide fund to tackle Nigeria's health challenges.
Looking at our research priorities in Nigeria, we are not doing too well. But, there is a limit to what the institute can do when it seeks for funds elsewhere.
When you could seek for such fund, you may not get funding for what your own research priority is but rather the funder's research priority. Yes, you are doing research, but really it is not answering your own challenges. So, whether we like it or not government must fund research on our peculiar issues.
This is not to say that we are not looking outside for assistance; but we are not getting enough. We need to be trained better to be able to get more done and this also requires money.
In Nigeria, the private sector is not funding medical research. Many companies do promos and dash away things. This can only serve individuals. They should put money into courses that will serve the majority of Nigerians. And research is one of these. This is not happening.
So as an institute, we are discussing with Welcome Trust in UK, to fund for us a stakeholder's meeting to discuss the Nigerian situation and how research can be funded such that we can really be able to deliver on our mandate as an institution and also help Nigerians, through research, answer several of our health challenges.
We believe that after that we might be able to get private sector individuals, companies, and NGOs involved in funding research in Nigeria.
Now, since one year in office, the institute have sent to the health ministry, reports on highly resistant bed nets and HIV drug resistant.
We found that mosquitoes are actually resistant to the insecticide impregnated bed nets in certain states, making it appear that the nets are not working. As such the people are not using them.
In the report, we have suggestion on the type of insecticides that they can use in areas where there is resistance by mosquitoes to these insecticides.
On HIV drug resistance in patients, we discovered that the virus was changing or mutating from what the drug already know to something else and suggested what can be done to prevent these changes.
This work, done in conjunction with other researchers at the Universities of Jos and Ibadan, is already part of evidence that the committee on HIV treatment in Nigeria is using to formulate policy on HIV treatment, both in Nigeria and outside the country. Certainly, there are other little studies, but these are the major ones.
The institute started off on yellow fever research. With the disease threatening a comeback what are you doing about it?
It is threatening to come back because people are not getting vaccinated against it. The Ministry of Health needs to step up awareness campaign on yellow fever vaccination and its availability.
Before it was conquered with vaccines, at that time, it used to be as bad as Ebola or Lassa fever. As a research institute, we can help in carrying out surveillance on the disease. We have the capacity to do this if we have money.
Nigeria's state of health and exodus of health workers
You will be surprised that Nigeria's state of health is actually better off than those of other West African countries. We are better off in every way. That does not mean that government is doing well enough when it comes to health. We cannot be compared with developed countries like America and UK. We do not fund health as much as they do. It is a challenge.
On exodus of doctors, people naturally will move to where their vision and ambition can be realised whether they are well paid or badly paid.