Poor facilities: Oyo-Ita hints on renovating MDAs, address power challenges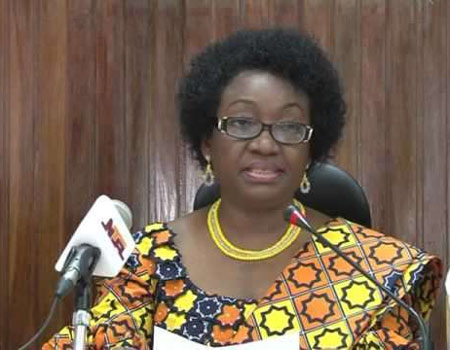 THE Head of Civil Service of the Federation Mrs Winifred Oyo-Ita has hinted that the poor state of federal secretariat will be addressed as the reports of the Peer Review meetings between the HoS and Ministries Department and Agencies (MDAs) are presented to the Federal Executive Council for action.
Speaking during her visit to the Ministry of Niger Delta Affairs, Mrs Oyo-Ita said the Peer Review Mechanism meeting has brought out issues affecting the running of MDAs in the view to addressing them.
According to her "The Peer Review Mechanism has brought out important issues which in making our report, we have made reports to Council and also made suggestions on how some of these issues could be tackled.
"One reoccurring issue we have observed in almost all the MDAs we visited is the issued of accommodation, the issue of settlement of utility bills, the issue of the state and condition of facilities in the secretariat, these are things that have come as a reoccurring issues and of course the power supply, generator and cost of maintenance the facilities in the various MDAs.
"Also, the issues that have come up in the past, the issues of vacancy, promotion have come up' and that's one of the reasons why we always encourage the unions executives to be at this pear review meetings because it gives opportunity for stakeholders to ventilate themselves in an organized and dignified environment, and I can tell you that this has gone a long way to reducing a lot of the staff tension in the MDAs."
ALSO READ: Police arrest robbers, kidnappers of Rev fr, Kogi chief
She added that the essence of the Peer Review Mechanism was to enable Permanent Secretaries in the various Ministries, together with the Head of the Civil Service to interact on their mandates, levels of budget implementation, responses to the Executive Orders and the efforts they are making to achieve the Economic Recovery and Growth Plan (ERGP) of the Federal Government.
In his address, the Minister of State for Niger Delta Affairs, Prof. Claudius Omoleye Daramola called for the cooperation of all career civil servants for the Federal Government to achieve its goals.
The Minister noted that the advice to the civil servants became necessary to enable people in authority to carry out policies that will benefit Nigerians.
While commending the Head of Service for posting the new Permanent Secretary, Aminu Aliyu Bisalla to the Ministry of Niger Delta Affairs, he said the coming of the Permanent Secretary has stabilised the Ministry despite its daunting challenges.
In his remarks at the Peer Review, the Permanent Secretary in the Ministry of Niger Delta Affairs, Aminu Aliyu Bisalla revealed that the Ministry had recorded a lot in delivering on its mandate as well as building synergy among various stakeholders in addressing the development challenges of the Niger Delta region.