Pollution, devalued properties, failing SMEs: Residents forced to cohabit with tank farms amidst dangers (I)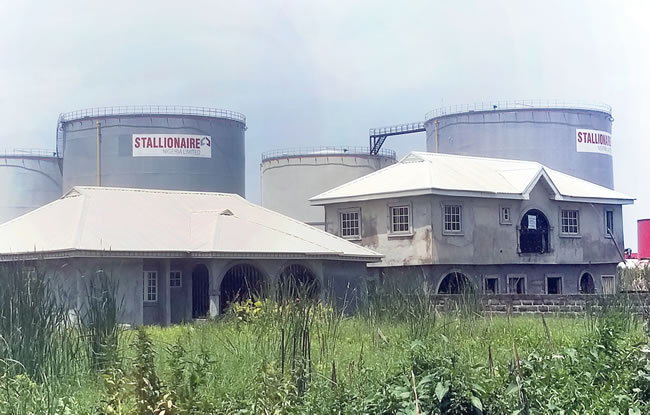 For almost a decade, host communities of tank farms across Lagos State, have repeatedly called for the relocation of tank farms away from residential areas due to the danger they pose to public health and properties. ADETOLA BADEMOSI writes on the daily struggle of satellite town residents in Lagos.
Roads lined up with petrol trucks, vehicles, motorcyclists trapped in the middle of fuel tankers, beautiful but empty houses, crippled businesses, residents compelled to cohabit with massive tank farms. These are the realities of Satellite Town, a community in Oriade Local Community Development  (LCDA) in Lagos State.
The story of the late Maurice Eboh remains very pitiable. He died just a week before his wedding. Until his unfortunate death, he was a resident of Shalom Estate along Navy road, Satellite Town, Lagos. "He was crushed to death by one of these trucks on this road," says Mr. Gabriel Omoh, a resident, during an interaction with this reporter.
"The roads were not like this when I came to Satellite Town in 2006, the roads were free but for the trucks; most of the trucks they are using now have 60 to 90, 000 metric tonnes capacity. They are not meant for any of the roads in Nigeria," he added.
Satellite Town is a community and state housing estate located along the Lagos-Badagry expressway. It was in the early 60s allocated by the state government to help low income earners own their own houses, with some of the areas allocated to oil workers and private buyers.
However, over the years, the once serene and conducive town has become a shadow of itself with the presence of tank farm projects cited within the heart of the town.
"In 2007 when they were making surveys, they deceived people here that they were going to build housing units, fish ponds, only for them to turn round and turn them into tank farms," Mr. Gabriel stressed.
Tank farms which are also referred to as oil depots or oil terminals, according to Petropedia are used to store crude oil in large volumes at a location to ensure the pipelines and refineries are always running. Once the crude oil is refined into various petroleum products, these products are stored at Product Tank Farms.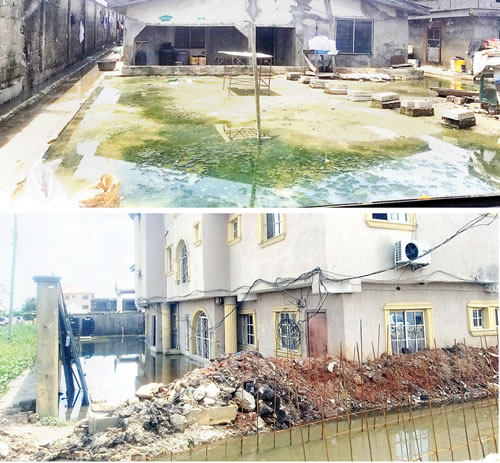 A tedious journey into Satellite town
Negotiating through the narrow and already damaged road, the motorcyclist boarded from Alakija junction, maneuvers through the congested Marwa-Navy road. It had just rained, the already bad road, muddy and slippery, vehicles lined up behind tankers as they competed for space.
To a visitor, it is a journey that puts one's heart in one's mouth, considering how motorcyclists carelessly weave through small available spaces between tankers and other heavy duty vehicles. "This is what we face every day," says Mahmud, a commercial motorcyclist who conveyed this reporter. "On a normal day, the entire place would be entirely blocked so much that people would be trekking."
Why the day appeared unusual, this reporter later gathered, was that a tanker carrying 33,000litres of PMS had fallen the previous day along Fin-Niger Abule-Ado road, close to satellite school. This had somewhat reduced traffic flow along the route hence the road, became a bit congested.
A journey through the road showed the presence of several estates, notable among them is the Nigerian National Petroleum Corporation (NNPC) Estate situated along the road. Ironically, like every other Estates, the NNPC estate is not spared from the challenge that had befallen the town. The roads spread out in their deteriorated state, barely accessible to commuters. It was a bumpy ride.
For years, residents within the town agitated for relocation of tank farms within the area, citing threat to public health, lives and properties. However, this has yielded little or no results. Apart from bad roads, residents are also left to contend with air pollution, devalued properties, flooding crisis, failing small scale businesses, among other challenges.
A visit to some areas within the locality revealed some houses on the verge of collapse caused by flooding. Due to the impact of this, among other reasons, occupants are forced to vacate their homes. For instance, an on-the-spot assessment of the buffer between the community and the tank farms shows the presence of some uncompleted drainages whose passageways were already blocked by a border fence. As a result, water, which ordinarily should flow through the drainages into the water channels and into the river, flows back into the community, thus flooding residents' houses and roads.
Already, some uncompleted drainages that were sighted, were filled with stagnant water while some houses close to the buffer point were already sinking. For instance, a visit to some parts of Shalom Estate, along Navy road, showed several beautiful but vacant houses and because it had rained prior to the visit, some residents were seen pumping out flood water from their various houses.
Structures of some storey buildings were already sinking while others looked as though they might soon cave in. "One of the things happening to residents here is flooding. They (tank farm owners) blocked all the water channels. "In a sane clime, these infrastructure will not be tampered with," added Gabriel.
Just at a distance were the tank farms, but of more concern were their proximity to residential houses. Some were about three to five metres from the farm. "You can see these houses? They are vacant!" Exclaimed Mr. Governor Imitini, a resident. "Most of them are on sale but no one to buy. Who will buy them?," he queried.
Aside this, small scale business owners also lamented how the effect of bad roads and heavy traffic has impacted on their businesses. A resident, Mrs. Ginika Obasi, who runs a provisions store, recounted how they readily could not get vehicles that would be willing to convey their goods from the market to their respective destinations.
"I have crates of soft drinks in the depot for more than two weeks because when the road is filled up with tankers, it will be hard for you to see a vehicle to convey goods to this place," says Obasi.
"Yesterday for instance, I went to the market. I trekked and trekked because the roads were congested, vehicles could not move so I was under the rain for many hours," she sadly narrated. Obasi, who claimed to have lived in the community for over 18 years, said the situation was rather frustrating as many now look older than their exact age.
Maria Akinsote, another female resident, and business owner along Navy road, recounted how she was forced to resign from her paid job due to incessant traffic congestion on the road and failing health. Miss Akinsote who was met at a roadside mini gas distribution plant, wore an exhaustive look while simultaneously attending to this reporter and another customer.
"The experience has been bad, look at me I am aging. How old am I?" Maria queried. "I worked with MTN before now but had to stop because of traffic congestion, bad roads and health issues. I woke up as early as 3:30 to 4am everyday for work and at the end of the day, I got to the office 7am -8am, I close by 6pm but got home as late as 12am. I had to resign."
"As a motorist, when you are going, you will sweat, when also coming, you will sweat. They have damaged the roads that following any little rainfall, flood will take over the entire streets and this people don't care about doing the needful," says Mr. Kolawole Ariyo another resident who spoke with this reporter. He narrated how hoodlums take advantage of parked tankers at night to attack unsuspecting passersby.
We don't sleep with our two eyes closed—Residents' association chairman
In an interaction with the chairman, Satellite Town Community Development Forum, Mr Governor Imitini, it was revealed that several engagements have been made with relevant stakeholders even to the National Assembly on the issue but no lasting solution has been proffered.
According to him, residents daily live in fear of eventualities. He said over the years, the tank farms have not only expanded but have multiplied in number even as he alleged that no Environmental Impact Assessment (EIA) was conducted before approval for such operation within residential areas was given.
"I can tell you categorically that there was no Environmental Impact Assessment done but they claimed it was conducted. There are some houses still within and these houses have been there before the tank farms came but because they acquired the land and fear of unknown, people started selling their properties and moved out of the place and that is the opportunity they have in acquiring more land," he stated.
He maintained that repeated engagements at both state and federal levels had failed, stressing that:" NNPC's position on movement of the tanks and the position they are giving that we should rather co-exist with them is not an answer that will stop our agitation.
"We have shouted it everywhere you can think about on the dangers of these things!" cuts in Mr. Ndubuisi Okafor, the forum's communications officer, "but it appears that they are not listening to us. The mistake they made is approving these people to be in our midst."
Ndubuisi posited that the tankers daily release carbon monoxide, thus polluting the air.
"They are lined up from morning till midnight and till morning. There is no time for rest. So we are talking about inhaling carbon monoxide; we don't breathe in fresh air anymore," he sadly stated.  "Secondly when they discharge these products, they release poisonous chemicals into the air and these things affect our health."
This story was produced under the NAREP Oil and Gas 2021 fellowship of the Premium Times Centre for Investigative Journalism.