Police Operatives attached to the Federal Capital Territory, FCT, Abuja Command of the Nigeria Police Force have nabbed 23 suspected criminals terrorising residents of Abuja and its suburbs including one suspect who escaped from Niger State during the 2018 jailbreak.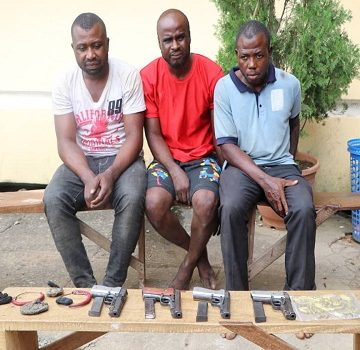 Addressing newsmen in Abuja on Thursday, the Deputy Commissioner of Police,  in charge of operations in the Command, DCP Sunday Babaji stated that the suspects were picked up at different locations within the Command following tip-off while various arms and ammunition, charms were recovered from them.
DCP Babaji while parading the suspects before the newsmen enjoined the members of the public to collaborate with the Command as it was working round the clock to fight crime and reduce criminality to the barest minimum, with a stern warning to criminal-minded people to relocate from the command or be smoked out of their dens.
ALSO READ:  LASG commences maintenance, rehabilitation of public buildings
He also assured the residents and the public that the Command would work in collaboration with other security agencies in the Territory to reduce crime and criminality to the barest minimum during the "Ember Months" comprising September, October, November and December.
The DCP disclosed that during the period under review, the Command smashed a notorious criminal gang that posed as soothsayers to defraud their unsuspecting victims following a complaint from a victim after she had lost over N11m to the gang.
He explained that the shrines being used by fraudsters had been located and destroyed while four members of the gang were arrested and others went underground.
Babaji also disclosed that detectives, in addition, arrested a suspect and one other for arranging his kidnap and demanding ransom from his father
According to him, " the suspect who wanted to use the medium to extort money from his parents was arrested at Katampe extension where he had gone to receive the ransom."
He assured that all the suspects would be arraigned in court upon the conclusion of the ongoing investigation of their cases.