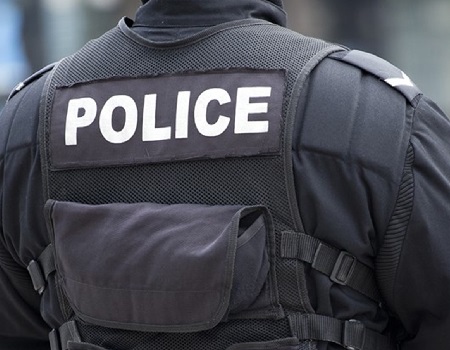 A combined team of the Department of State Services (DSS) and the Police in Enugu on Monday arrested the Self-acclaimned Leader of the Biafra Zionists Federation (BZF) Benjamin Onwuka over the alleged attempt to declare an Independent State of Biafra as well as hiost Biafran flag at Government House, Enugu.
The pro-Biafra agitator was nabbed alongside some other members of his group along Bisalla Road, Independence Layout, Enugu while they walking to Government House to carry out their threat.
They were arrested after another failed attempt to enter the Enugu Government House for the inauguration of Biafra republic in May, this year.
A source hinted that they had marched from the Presidential Road, through Rangers Avenue, but were stopped at the Bissala Road entry to the Government House by security operatives.
The Deputy Leader of the group, Mazi Ambrose Ugwu, who confirmed the arrest to reporters said whereabouts of their members remained unknown.
ALSO READ: Biafra: IPOB threatens fresh mass protest over detained women by Army in Owerri
"Our people left this morning (Monday) for the Enugu Government House to hoist the Biafra flag, but they were stopped on getting to close to the road to leading to the place.
"DSS operatives stopped them from entering the Government House. They told them to stay within the Bissala Road axis and do whatever they wanted to do.
"However, our leader refused, insisting that he must be allowed to enter the Government House. After a while, they brought vehicles and told them to enter, claiming that they were taking them to a place for a dialogue.
"As we speak, we have not heard from them. As far as we are concerned, this is abduction, because they were taken to unknown place. We have gone to the State CID but they are not being detained them.
"We are, therefore, calling on the international community, especially, US President Donald Trump and the Prime Minister of Israel to intervene for their immediate release.
"From the information I have, over 50 of them were arrested; they were not armed; they are just freedom fighters. Should anything happen to them, we will hold the South-East Governors responsible," Ugwu said.
As at the time of going to press. both the Police and the DSS were yet to issue official statements on the arrest.