Police arrest 80 suspected criminals, recover 49 firearms in Bayelsa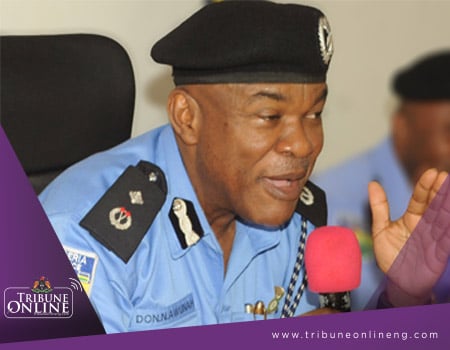 AUTHORITIES of the Bayelsa State Command of the Nigeria Police Force says with the support of the Inspector General of Police, Mr Ibrahim Idris, it has arrested 50 suspected cultists, 15 armed robbery gangs, 15 drug peddlers and recovery of 49 firearms.
The Commissioner of Police in the state, Mr Don Awunah, while briefing newsmen at the Police Officers' Mess in Yenagoa, said the support from the Inspector General of Police boosted the morale of policemen enables the command record the success in its war against criminality in the state.
According to Awunah, "the Inspector General of Police has remained an ardent believer in principles and core values of community policing, who has ensured a paradigm shift from reactive policing to proactive."
On the achievements of the Bayelsa Police Command since the launch of the Operation Safer Bayelsa (OSB) in the state, Awunah said the command has been able to reduce the menace armed robbery, kidnapping, cultism and drug peddling to the barest minimum.
Awunah noted that in the renewed onslaught on cultists in the state, the anti-cultism Unit of the command has arrested over 50 confessed membership of different cult groups and that some have been charged to court, while others are undergoing investigations.
According to him, "the proliferation of small arms and light weapons in the country has fueled internal insecurity in the country. It is against this background that the Inspector General of Police directed commissioners of Police to mop up arms and ammunition in the country. In Bayelsa, despite the intervention of Amnesty programme, considerable numbers of illegal arms and ammunition are in circulation in Bayelsa.
"In compliance with the IG directive, the command has been able to mop up 49 illegal firearms in the hands of criminal elements in the state. Similarly, the command has equally, deliberately targeted and smashed a cluster of 15 armed robbery gangs and arrested suspects, recovered arms and ammunition and stolen properties. These directly led to the reduction of crime rate in the state to a tolerable level."
ALSO READ: Driver docked for allegedly bolting with employer's N170, 000
The Bayelsa Police Commissioner also said that, due to the outcry of residents and stakeholders in the state that drug abuse is contributing to rising wave of crime, the command through intelligence gathering and with the cooperation of members of the public, has dislodged about fifteen drug peddlers in the state.
According to him, "the dislodgement led to the disruption of their supply chain and twelve firearms of different calibre, narcotics, weeds suspected to be Indian hemp, were recovered from the drug peddlers."