Poland visit: Trump promises to fight Islamic terrorism •Says future of West's survival is at risk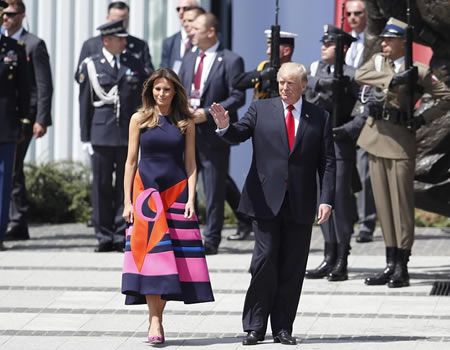 Donald Trump said the survival of the West was at risk, as he lashed out at hostile forces ranging from Islamic terrorism to Russia, statism and secularism, during a speech in Poland.
The president said he had called on Muslim nations to drive out the menace of terrorism.
"We must stand united against these shared enemies to strip them of their territory and their funding, and their networks, and any form of ideological support that they may have."
At the start of a four-day trip to Europe, the United States president gave a highly nationalist address in Warsaw suggesting that a lack of collective resolve could doom an alliance that had endured through the cold war.
"As the Polish experience reminds us, the defence of the west ultimately rests not only on means but also on the will of its people to prevail," Trump said at the site of the 1944 uprising against the Nazis. "The fundamental question of our time is whether the west has the will to survive."
Guardian said Trump, who delivered the speech on Thursday before flying to Hamburg for the G20 summit and bilateral meetings with the leaders of China, Russia and Germany, painted a picture of the West facing existential challenges in the effort to "defend our civilisation" from terrorism, bureaucracy and the erosion of traditions.
Trump pointed to Poland, which in the last century endured Nazi and Soviet occupations, as an example of resolve. "The story of Poland is the story of a people who have never lost hope, who have never been broken, and who have never forgotten who they are," he said.
In a nod to the conservative values he shares with Poland's controversial ruling Law and Justice party, Trump also called on the west to defend its traditions.
"Americans, Poles, and the nations of Europe value individual freedom and sovereignty," he said. "We must work together to counter forces, whether they come from inside or out, from the south or the east, that threaten over time to undermine these values and to erase the bonds of culture, faith and tradition that make us who we are."
According to Polish press reports, Trump was enticed to Warsaw by promises of a rapturous reception. The Polish government, which paid for supporters to be bussed in from provincial areas, appeared to have delivered, as the president was greeted by a boisterous, highly partisan, crowd in Krasinski Square, one of Warsaw's smaller public spaces.
The crowd expressed its sympathies ahead of Trump's address, chanting the name of a Law and Justice politician as he took his seat and chanting "thieves" and "traitors" at opposition politicians as they entered the event's VIP area.
The US president's address was regularly interrupted by chants of "Donald Trump!" and "USA", though he hit a less popular note when he praised the contribution to Poland's freedom of Lech Walesa, the former dissident, president and Nobel Peace Prize winner, who has long been denounced by Law and Justice leaders as a traitor and Communist informant.
For the first time Trump said he "stood by" article 5 of the Nato charter – the provision requiring members to defend each other from attack – but he coupled that much-sought promise with a fresh attack on unnamed Nato states for "failing to meet their full and fair financial obligations on defence spending".
He claimed his tough criticism of those states that had not met the Nato target of raising defence spending to 2% of GDP was paying off, with billions more being committed to defence across Europe.
Trump made repeated references to threats posed by Islamic terror. "Our borders will always be closed to extremism and terrorism," he said. "We cannot accept those who reject our values and use hatred to justify violence."
He made a rare criticism of Russia, accusing Moscow of "destabilising activities in Ukraine and elsewhere", and claiming Vladimir Putin was supporting "hostile regimes including Syria and Iran."