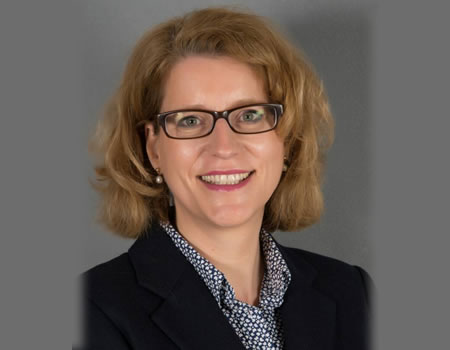 After serving in Uzbekistan, Ukraine and the United Arab Emirates, Friederike Möschel resumed as the new director of Goethe Institut Lagos, the German cultural centre in Nigeria, four months ago. In this interview conducted in her office at City Hall, Lagos Island, she shares her early impressions of Nigeria and her plans to further grow Nigerian arts and artists amongst others. Excerpts:
What are your early impressions of Lagos?
It really sounds like a cliché now because a lot of people say it but I guess it's true. It's very vibrant; you have certain parts or streets that are extremely ugly and then just beside it, you have something which is really beautiful. You have a lot of opposites very close together. In Lagos Island, for example, there are a few historical sites and they are so beautiful. If some institutions would really care to renovate them, we could really have a bit of treasure.
I did a walk with Ed Keazor, when I arrived and it was really fascinating. We started very early in the morning, at 7am from Freedom Park and just walked for hours on Lagos Island. Because he grew up here, he could tell me a lot of things about Lagos Island. On the other side, it's so dirty. It's always about this contrast. I think this is really what I like about Lagos.
Do you have any favourite spot in Lagos yet?
Let me answer you in several months. It's too early now. There are still a lot of things on my list because most times, I'm in the office and in the evening, I go to events. Though I did a bit of walk as I told you; I went to the Lekki Conservatory and the Lekki Market, I still need more time to explore more places. Then I can make a list of what I really like most.
But have you gone outside Lagos?
Yes. On Saturday and Sunday, I went to Oyo.  We visited the palace of the Alaafin and some shrines. We visited a small village; they had a festival there. It was my first time outside of this megacity. I also, in the beginning went very briefly to Abuja. I didn't sleep overnight; I had a meeting at the Embassy so I'm not able to say that I know Abuja. It was quite the opposite of Lagos because everything seemed to be very quiet, organised. The trip to Oyo, I really enjoyed it because the people were open and so friendly.
You have been here for about four months and the Institut has been actively involved in visual arts, literature, film and music. What's your impression of each field?
Starting with literature, before I came to Nigeria, Nigerian literature really helped me to get information about the country; about the situation, problems and challenges. You are blessed with so many amazing writers who are also internationally known. About literature in Nigeria, there's not a lot one has to do.  Of course, you always have the new talents that need space and support to be visible. But I think otherwise, you also have the advantage that most books are written in English, so you immediately have a big market which is not the case in a lot of other countries where they don't have international readership.
What we want to do is to focus a little bit more on young readers because we have a feeling that there are not so many Nigerian books for young readers – children and teenagers. So, this is a field that we would like to do something in the next year and years; to make reading attractive for school children and to publish books that really deal with the normal life of a normal Nigerian child; not about folklore or very dramatic things like migration, war; let's say an eight years old boy or girl in a city like Lagos; topics that are interesting to them.
Visual arts, I should say I need more time because I haven't been in Africa before and there are lots of very talented artists who have been exhibited worldwide; this is now a market where other countries also look at. But to talk about it now, I don't feel able enough to do that.
Music, we are also very interested. Two weeks ago, we talked about young musicians and the problem a lot of countries face is (the problem of) distribution. So, it's not easy for young musicians when you don't earn money when you produce music. And if you're not one of the big names, then I guess it's really difficult. On the other side, I think festivals such as Felabration, gives a very good platform for new talents to be heard.  So, I think there's a huge potential here.
My predecessor, Marc-André Schmachtel was very much into film, also documentary film and he also did a lot with photography. These are definitely things we would continue. We just had a joint workshop with the French, there's a German-French cultural fund that each year we do events together and this year, it was on animation film making. Talking about feature film, I think Nigeria has a lot of potentials. I mean Nollywood; it is very visible but if you talk about animation film, making one will take much more time than just taking a camera and making a feature film. Of course, it's extremely expensive. This is also something we will continue to support with the French next year; to show to the public what animation filmmaking is because I don't really think people have an idea of how time-consuming it is. Everybody thinks if you have computer software, you can make your own film; no it's not like that.
We would definitely focus next year on exchange; we will have residency programmes with artists and curators; an exchange between Germany and Nigeria. Until now, we usually send Nigerian artists and curators to Germany, mainly to Berlin but next year, we will focus also on bringing German artists and curators to Lagos so that they also see the cultural scene here; explore it. Also in the field of visual art, we want to do a project together with some colleagues in West Africa; to bring artists from small West African countries to Dakar. One of the topics I would like to focus on is this exchange.
I was going to ask if you have outlined your own programmes or you are going to run with what you met on the ground?
Every four or five years, we choose three or four main topics which are then relevant for all Goethe Institut worldwide or in one of our regions. But of course, it always depends also on the interests of the persons heading the Institut and I think this is not bad because art is such a huge field. If you focus on just one, it would not be fair to the others working in other fields. I think it makes sense that every four or five years when a new head of the Institut arrives, he or she will choose new topics.
The challenge with Nigeria is that our Institut here is very old, so that means we have a lot of connections to a lot of different artists. It's a very wide field, so you need to look at what other fields you need to come in and which would be helpful. And again, this takes time. I don't like just to arrive somewhere and immediately start to change. I always think it's better to take some time, to talk to a lot of people, to go to a lot of places and then decide what should be the project we would like to do.
For example, next year, we have a lot of institutions and initiatives that have approached us with project ideas but we want to make it a little bit more transparent. We would have a kind of open call so that people who need support financially or getting content from institutions in Germany, they can apply with their project ideas. We will have a jury and we will decide which project we are going to support in 2018. A lot of our partners, with whom we have worked for years and even decades as the case may be, they know of course that we can offer some support but there are always new initiatives coming up and we want to give them the opportunity to present us their ideas. So, I think it will help a little bit to channel all these requests.
In your initial statement to the press when you resumed, you said you were going to reach out to the grassroots, what do you mean by that?
The importance of an institution like ours is to see where there are potentials and to help these initiatives grow. People have a great idea; they want to develop something for their country but, the idea itself is not usually enough. You need to know how to execute and a lot of people don't know this. They go to ask for money, support and they are not able to communicate the mission statement in one or two sentences. We would like to help these initiatives get these tools, know how to use them and to get some financial funding. I don't see our role in supporting festivals, events that already have a lot of traditions; but for the others who just started; it's usually difficult for them to get funding. This is what I meant by grassroots.