Pius Adesanmi: Outpouring of love, appreciation at Lagos literary rites
AKINTAYO ABODUNRIN, who was at a Lagos event, where Nigerians volubly celebrated the life and time of the late Professor Pius Adesanmi on Thursday, March 14, 2019, reports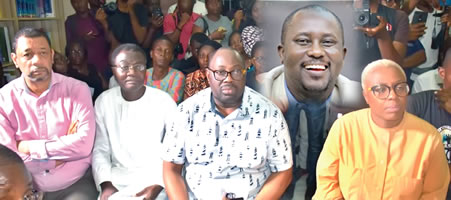 THOUGH he died on Sunday in the crashed Ethiopian Airlines' Boeing 737 Max 8 Flight 302, the consensus among people who attended the 'Evening of Reminiscences' in his honour on Thursday, March 14 is that writer, teacher, mentor, public intellectual and humanist, Pius Adesanmi, lives.
The venue, Ouida House, Ikeja GRA, Lagos couldn't contain the friends, associates, old school mates and fans who all came to celebrate the life of the inimitable Adesanmi. In fact, several people didn't mind that they stood in the aisles, on the staircase or watched proceedings through the window for the over two hours the evening lasted, as long as they were able to celebrate the stellar Professor of Literature and African Studies at Carleton University, Ottawa, Canada.
Writer and CEO of Book Buzz Foundation, Lola Shoneyin, got the event underway by explaining that it was celebratory rather than mournful. The evening, she further noted, was to reflect on what Adesanmi meant to people and what he gave them.
Shoneyin said: "I believe in the randomness of things; we have no control over the things that happen to us. I am completely moved by the outpouring of love and appreciation for what Pius stood for. He was a gift to us; that's how I remember Pius.  This is a collective loss; it's not something we are going to get over. I will remember Pius' laughter. It's in my head right now. Almost all our conversations started with some faux passive aggression. If he hadn't been in touch for a few weeks, he would initiate an exchange by accusing me of being a bad person. But the laughter that followed! Even when it was a WhatsApp audio call, I could imagine the torso-quaking, head jerking and body swinging that accompanied his signature contagious, high-pitched cackle. I can only imagine how dull the last 25 years of my life would have been without Pius. I feel so blessed to have known him."
Executive Editor of The News/PM News, Kunle Ajibade, in his tribute titled 'I'm deeply saddened by his passing', recalled: "On 23 November, 2013, Pius Adesanmi autographed his wide-ranging collection of essays, You're Not a Country, Africa, published by Penguin for me in the following words: 'For my dear brother Kunle Ajibade. That together we may scribble this country out of stagnant trajectories.' He took Nigeria seriously and spent his prodigious talent working tirelessly to scribble it out of its stagnant trajectories. He was always willing to do this with others, which was a special gift, for most talented writers basically prefer to work alone.
"He succeeded in affirming the role of the writer as an agent of social change. He belonged to the amazing group of clear-eyed, courageous, broad-minded, brilliant essayists in the world. With his tragic death, this group is now sorrowfully depleted. He understood the nexus between human agency and historical materialism and determinism. To him, the role of the public intellectual is to encourage new ideas, deep thinking, challenge norms and forms of debate to enrich our discourse. With impressive command of his subject, Pius Adesanmi analysed brilliantly with a moral voice and beautiful prose. He was an educator who was truly and profoundly educated."
One of Adesanmi's classmates at Titcombe College, Egbe, Kogi State, Ms Juliet Ajamofua, drew laughter from the audience while recalling how troublesome he was back then. She disclosed how he always disturbed her in school and in church. "We were both Catholics, and he was an altar boy. In church when he's carrying the Holy Water and was following the priest, he would still find a way to pinch me," she said to laughter from the audience.  Adesanmi, she further disclosed, was the darling of all the girls with his playfulness. Despite this, he was a brilliant and compassionate soul. "He was great in life and greater in death," she concluded.
Ogaga Ifowodo had trouble controlling his emotions but managed to do so before reading For Christopher Okigbo by Professor Wole Soyinka. "I can't bring myself to say 'rest in peace', and yet I must wish your restless, fecund, passionate and patriotic soul eternal rest. Well, then, rest. You did more in your short life than many can living the fullness of their days. Rest in peace, my friend, my brother," he added.
Kayode Olubode, a politician and activist who met Adesanmi through social media, told the gathering how he impacted his life, while Ambassador Ayo Olukanni mourned his passage and that of Ambassador Abiodun Bashua who died in the same crash. Olukanni added that Adesanmi had proved with his life that art can't be for art sake.
The linguist and writer, Kola Tunbosun, read a tribute from the US-based Akin Adesokan titled Forgetting is hard.  Adesokan disclosed that the carefree humanity of Adesanmi's "shattering laughter" in December 2003 when he treated him to a marathon screening of 'Ti Oluwa Nile' was what he chose to remember. "That laughter, the ebullient spirit of which it was an expression, is a beautiful way of understanding the humanity that propelled Pius to most of what he chose to commit his time and intellect. As in those days of late December, when you must leave, Pius, I hate to see you go. Yes, the whole gathers here because we couldn't see you taking leave of the living and now it sings to soothe the sting of your forced departure. Sleep soundly, Payoọmọbàbán'Ìsànlu."
In her tribute to the author of Naija No Dey Carry Last writer and editor, Molara Wood recalled how they both belonged to the list serves, Krazitivity and Sentinel on Yahoo! platform. She disclosed how they clashed on Sentinel because he used the word 'infelicity' to describe one of her poems he didn't like. She hit back, naturally. "It should have been the end for us, but one enduring lesson of those list serves this: it was never personal. Or at least, it really ever was. It is something that the Nigerian civil space could learn from; the notion that in a contest of ideas, you can express yourself forcefully without being held in contempt for life by the opposing party to the argument," disclosed Wood.
The writer, who disclosed that it was her memory of Adesanmi's laughter that pulled her out from the pall of despair that enveloped her upon hearing of the crash, added: "Pius was that rarest of persons, his heart was filled to bursting with love and affection for those around him. He was thoughtful and insightful, brimming with kindness and decency. Had that plane not dropped out of the sky, he would have gone on to become a juggernaut of African thought. I had no doubt about this. I already had a measure of his searing intellect, his intimidating achievements."
Author of Nights of the Creaking Beds and The Carnivorous City', Toni Kan, recalled his first meeting with Adesanmi around 1997/ 1998 after a meeting of the Lagos chapter of the Association of Nigerian Authors in Surulere. Before that physical encounter, Adesanmi had come to Kan's aid when he did a piece on Postmodernism and Nigerian Literature that Odia Ofeimun and Ogaga Ifowodo had taken offence with. "Two great poets had reduced my intellectual treatise to nothing. Then I looked up, and a young knight in shining armour was galloping to my rescue. I was a damsel in distress, and I was mighty glad to find help. Pius, who was younger than me but had graduated earlier and made a name for himself as a scholar, took on Odia and Ogaga," he disclosed.
Media entrepreneur, Kadaria Ahmed, was among those that succumbed to emotion after her short speech. "Despite his acerbic speech which he deployed with precision in his satirical pieces, his writing never came across as malicious or cruel. His sense of humour and ability to find the 'funny' in debacles unfolding across Nigeria on the daily, enabled many to engage with our most complex and often disturbing problems," she said. Ahmed also touched on Adesanmi's other skills, noting that "mentoring and nurturing came naturally to him. His abiding sense of humanity meant that he cared deeply about people and wanted everyone to achieve their potentials."
Writer and visual artist, Victor Ehikhamenor also shared fond memories of Adesanmi. He recalled the visits of the public intellectual to his New York home and how Adesanmi had called him two weeks ago that he would design the cover of his latest book. The artist regretted that they didn't discuss the cover design in-depth before they moved to other life issues.
Some of the other speakers at the event attended by people from all walks of life were the publisher of Ovation, Dele Momodu; a lawyer, Gbenga Demola Ojo; another of Adesanmi's schoolmates, Ojo Olukayode and Oladeinde Ariyo among others.