A mother and daughter were injured earlier today at 12, Hassan Adejobi Street, Papa Ashafa, Orile Agege, as a result of flooding at about 6:00 am.
Today's floods which collapsed a fence on the 6 rooms bungalow boy's quarters, was also responsible for dislodging occupants of a 10-room bungalow domiciled in the same compound when it was submerged.
Preliminary Report on the Flood/Partial Collapsed Building at Orile Agege has it that, "upon arrival of the Agency's officials at the incident scene, it was observed that a fence fell on a bungalow boy's quarters with 6 rooms located in the same compound with a 10 rooms bungalow that was submerged by water as a result of flood at about 6:00 am on Thursday, June 18, 2020.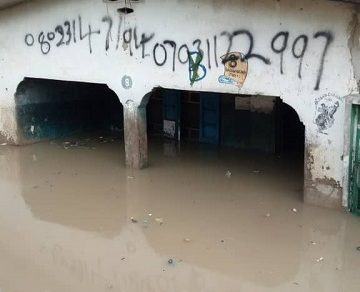 "It was further revealed to the Agency's officials at the incident scene that two victims (an adult female and her female child) living in the affected building (boy's quarters) sustained minor injuries and were taken to a hospital before the arrival of the Agency's LRT.
"It was also observed that three other compounds were also affected by the flood. Presently, about 20 families have been displaced by the flood.
"Furthermore, the LRT conducted a post-disaster assessment of the affected areas and also sensitized the residents on general safety measures."
Photos by: Sylvester Okoruwa
YOU SHOULD NOT MISS THESE HEADLINES FROM NIGERIAN TRIBUNE
COVID-19: Nigeria Records 587 New Cases, Total Now 17,735
The Nigeria Centre for Disease Control (NCDC), on Wednesday, announced that the country has recorded 587 new cases of Coronavirus (COVID-19), bringing the total number of infections in Nigeria to 17,735… Read Full Story
FG To Concession Benin – Asaba, Abuja – Lokoja, Kaduna – Kano Highways, Others
The federal government is determined to outsource repair and maintenance of certain Federal highways, Minister of Works, Babatunde Fashola, dropped the hint on Wednesday at the National Assembly Joint Committee on Works. The concession arrangement which he called, "Highway Development and Management… Read Full Story