PHOTO NEWS: How students, workers groups protested over fuel, electricity price hike in Ibadan
• As legal practitioner leads another four-man protest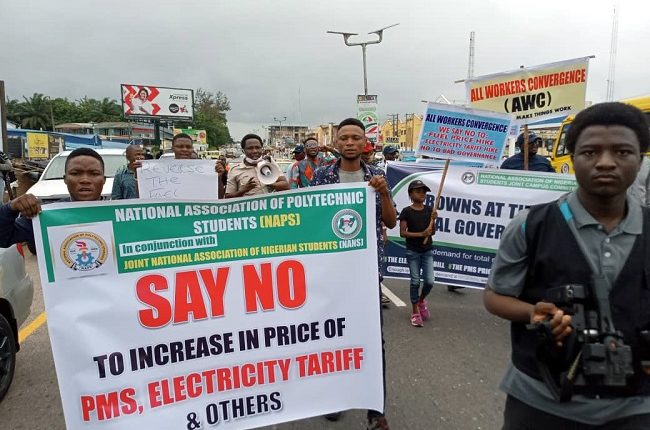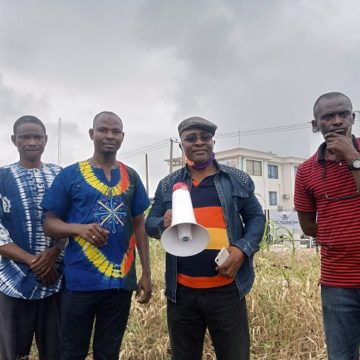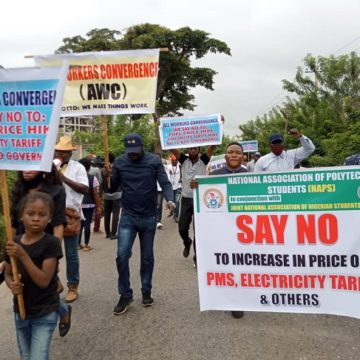 Students associations, workers unions, civil society groups took to the streets of Ibadan, the Oyo State capital, on Tuesday, to protest the recent increase in pump price of Premium Motor Spirit (PMS)and electricity tariff.
The protesters decried the spiral effect of the hikes in increased cost of commodities and high cost of living, asking the Federal Government to revert to statusquo or face a nationwide protest that will shut down the nation's economy, in the next seven days.
The protest which spanned Awolowo junction, Bodija to Federal Secretariat, Ikolaba had representatives of the National Association of Nigerian Students (NANS), National Association of Polytechnic Students (NAPS), All Workers Convergence, National Association of University Students (NAUS), Joint Action Force, Nigeria Labour Congress (NLC), Trade Union Congress (TUC).
In his address, National President, National Association of Polytechnic Students (NAPS), Mr Olalere Adetunji, it was inconceivable that the price of fuel and electricity tariff was increased just at about the same time that President Muhammadu Buhari said he was concerned about increment in the prices of food stuffs.
Rather than removing fuel subsidy, Adetunji tasked the Federal Government to cut down on the cost of governance, the salaries and allowances of political appointees to have money to run the nation's economy.
He noted that the masses will mostly bear the brunt of the increases in fuel price, electricity tariff and DSTV price, especially as they still grappled with hard times occasioned by COVID-19.
ALSO READ: Malawi judge rules that academic qualifications obtained while married is marital property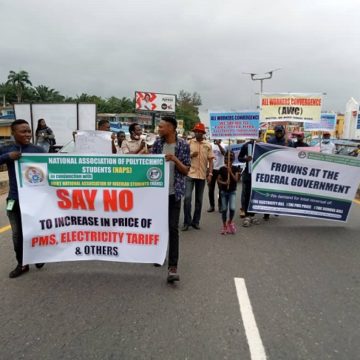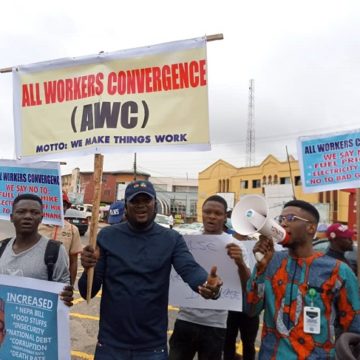 "What we are having today is a genuine struggle. What happened in 2015 is not a genuine struggle, it was an hired struggle. We are not been hired; we are struggling for ourselves and for the freedom and liberty of Nigeria.
"We are doing this genuinely to stampede the wicked act and policy makers because they are not being considerate.
"It is only in Nigeria that the law of Isaac Newton does not work. Whatever goes up always goes up. During COVID-19, transport fares, food prices increased and will never come down. There is always a ripple effect of hike on the price of fuel on other commodities. The masses are suffering.
"I do not see President Buhari as a wicked father. We say no to fuel price hike and all other increments like electricity, DSTV. We are giving the federal government a seven days ultimatum that if they it refuses to revert the fuel price to statusquo, we will move massively nationwide to protest and stampede the economy of the nation," Adetunji said.
Also speaking, Chairman, Joint Campus Committee of the National Association of Nigerian Students, Opakunle Oluwafunmibi described the removal of fuel subsidy as ill-timed.
He noted that the woes of several students with small scale businesses will be worsened by the increase in fuel price and electricity tariff.
He stressed that a seven days ultimatum had been given to the federal government to return to statusquo, or the nation's economy will be shut down.
"The agitation is about bad governance in Nigeria. Increment in fuel price, electricity tariff at this time does not augur well with us. We have several students with small scale business that they fund themselves. Electric supply is epileptic yet it is increased.
"They also use fuel when electricity fails and this has also been increased. Government should look for an appropriate time to remove the subsidy. We have given seven days ultimatum to do a reversal or we will shut down the Nigerian economy," Opakunle said.
Also speaking, immediate past Chairman, Trade Union Congress, Oyo State, Andrew Emelieze condemned the increment as one that will further impoverish the Nigerian masses.
In another protest, a group of four Nigerians led by a legal practitioner, Yomi Ogunlola said the Federal Government erred in removing fuel subsidy without requisite social security to cushion the attendant effects of the removal on Nigerians.
Addressing passersby at Idi-Odo junction on Molete-Challenge road, Ibadan, Ogunlola also condemned the increase in electricity tariff despite poor quality service delivery by power distribution and generation companies.
Ogunlola, a legal practitioner, decried that increment in pump price of fuel and electricity tariff was ill-timed as it further strained the lives of already stressed Nigerians.
According to Ogunlola, the fuel subsidy removal compounded the woes of Nigerians currently grappling with unemployment, poor finances, poor infrastructure, failing power sector and inadequate social securities.
Compared to the protests that greeted similar fuel hike during the tenure of former President Goodluck Jonathan, Ogunlola said it was baffling that Nigerians were drawback about taking to the streets in protest against the hikes.
"We are not happy with the timing of the deregulation especially when government has made no provision whatsoever to ameliorate the pains of the people.
"I have been an advocate of removal of subsidy but we are saying that government should have cushioned the effect of the removal on the lives of the people.
"All over the world, deregulating the oil sector is the trajectory all over the world. In Nigeria, our case is peculiar here because there is nothing like social security.
"Transportation is in a mess; power is in a mess; there is homelessness and joblessness. So, why the removal? COVID-19 appeared in March; Nigerians have been at home not earning an income, yet you remove fuel subsidy.
"The new policies of government and their programmes are anti-people and inhuman.
"Also, we not happy with the increment in electricity tariff especially when we are not getting quality service from the respective DISCOs," Ogunlola said.
YOU SHOULD NOT MISS THESE HEADLINES FROM NIGERIAN TRIBUNE
TOUGH POLICIES: IMF, World Bank Take Over Nigeria's Economy •More Pains Ahead For Nigerians
ALTHOUGH this seems a difficult period for Nigerians, Sunday Tribune investigations have, however, revealed that it  could actually be a signal to the beginning of more unbearable pains in the form of economic policies as the Federal  Government continues to implement the stringent conditions of its international creditors…
What I See Around The Villa — Primate Ayodele
In this interview by KEHINDE OYETIMI, founder of Inri Evangelical Spiritual Church, Lagos, Primate Ayodele speaks on both global and local issues…
students workers groups protest
High Cost Of Fuel, Electricity Will Ruin Our Lives — Market Leaders, Business Owners Lament
CONDEMNATION of the hike in petroleum products and electricity went notches higher at the weekend as more  Nigerians flayed the decision of the Federal Government to take such a decision not minding the fatal blow dealt the economy by the coronavirus pandemic…
students workers groups protest