Petroleum Minister urges Dangote to deliver on refinery project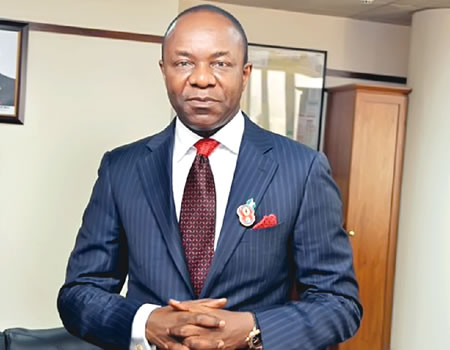 The Minister of State for Petroleum Resources, Dr Ibe Kachikwu, has urged Dangote Group to deliver timely on the ongoing $18billion refinery and petrochemical plants.
Speaking during a facility tour of the project on Monday, he said the government will provide the much needed incentives to support the projects.
According to him, "Federal Government will incentivise support through policies that will liberalise the market. I urge you to speed up completion of the refinery to come on stream before 2019 to promote effective downstream sector."
He charged the management of Dangote Group to involve tertiary institutions in its operations in a bid to build capacity among students studying oil and gas related courses in order to have hands on experience on refinery operations.
The Minister said despite the private sector's intervention and investment in the oil and gas sector, government still have a lot of role to play in terms of setting the right policies for a robuts and investment friendly atmosphere.
''For the fact that the private sector is taking up some interventionist role does not mean government will fold its hands.
"We will still have to continue to churn out policies that will help stimulate growth in the sector. For instance, we have to ensure that the right tariffs are set for those laying gas pipelines and other assets," he said.
He said the refinery is indeed a massive and gigantic project which needs to be supported by government and investors.
"I will tell my colleagues all over the world about Dangote refinery and the investment capacity," he said.
In his remark, Alhaji Aliko Dangote, the President of Dangote Group, said that the Dangote Refinery will save the country over $7.5 billion annually through import substitution.
According to him, "we will be adding value to our economy as all these projects will be creating about 4,000 direct and 145,000 indirect jobs. We will also save over $7.5billion for Nigeria annually, through import substitution."
The Dangote boss lauded the resolve of the Minister for his efforts towards ensuring availability of petroleum products and championing a comprehensive overhaul of the energy sector in Nigeria.
''As you are aware, we are currently building the world's largest single line Refinery, Petrochemical Complex and the world's second largest Urea Fertiliser plant.
"The Refinery will have the capacity to refine 650,000 barrels of crude oil per day while the Petrochemical Plant will produce 780 KTPA Polypropylene, 500 KTPA of Polyethylene while the Fertiliser project will produce 3.0 million metric tonnes per annum (mmtpa) of Urea," he said.
It would be recalled that Kachikwu had stated that he would resign if Nigeria is not self sufficient in local refining capacity by 2019 and non-completion of the Dangote refinery may put his job on the line.