Niyi Oyedeji writes on the challenges many Nigerian ladies face in having access to sanitary pads for their menstrual cycle. He highlighted the high price of the commodity, the country's harsh economy and the negligence of the society towards girl-child as factors spurring the problem. 
Affording menstrual pad has not been easy for Chioma Ukwuoma, as she laments on how it has been difficult for her to get money to buy sanitary pad with the current harsh economy plaguing Nigerians.
"I don't even go to school once I'm having menstrual period; what I do is to cut part of my mum's abandoned wrapper and use as pad instead of wasting money on sanitary pad," the 18-year-old senior secondary school (SSS 2), student of a public secondary school in Ebonyi State narrates.
In some poor countries like Nigeria, women of ages 15 – 49 face a lot of difficulties in affording sanitary pads. The dwindling country's economy has further worsened the crisis, as most families struggle to make ends meet, sanitary pad thereby considered as an unnecessary commodity, thus, leaving the teeming women between the ages that menstruate alone with their crosses to bear.
A United Nations' Human Development report in 2006, estimated Nigeria as the most populated in Africa with an estimated 130 million inhabitants ― one in every five Africans is a Nigerian.
It further puts Nigeria at 159 out of 177 African countries, with 70.8 per cent of the population living on less than one dollar a day and 92.4 per cent on less than two dollars a day.
Majority of Nigerians are living in abject poverty, as they strive to eat, find shelter and live a healthy life but yet, the prices of goods and commodities are on the wheel. The price of both local and foreign sanitary pads has skyrocketed and some mothers have prioritised, expectedly so, food provision for their children rather than buying sanitary pads for their menstrual cleanliness and protection.
Mrs Iyabo Afolabi, a 65-year-old woman, who stays in a low-income suburb in Ibadan, Oyo State said she has never purchased sanitary pad for any of her three daughters owing to the cost of the commodity.
"My own is to provide them foods to eat, so they won't be hungry but I can't afford to buy them that thing called sanitary pad. When I was young and within the age that experiences the monthly visitor called menstruation, I use rag cloth from towel or from my old wrapper and that's what I have taught Feyi and her two younger sisters. Perhaps they now buy pads by themselves now that they have grown up," she said.
The sanitary pad remains an essential commodity for every woman within the age that uses it. Regrettably, the draconian increase in the price of the commodity in Nigeria has made it difficult for the concerned women to purchase, especially young girls and low-income earners.
There exist different brands of sanitary pads in the Nigerian market, sadly, these popular sanitary pads now have their prices doubled the amount people purchases them few years ago; this has forced many Nigerian women to resort to rags, tissue paper, towels and sanitary pads of uncertain quality.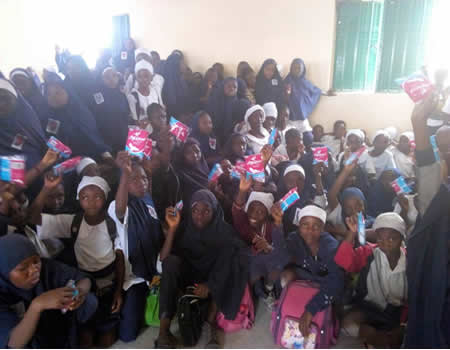 Subair Haleema, a National Youth Service Corps (NYSC) member, serving in Ekiti State disclosed that although she uses sanitary pad but the price has affected the number of times she changes it.
"Normally, whenever I'm having my period, I change my sanitary pad at least five times a day but since the price has increased and the money I use to buy two to three sanitary pads before can only get me one, I have resorted to changing my pad just three times a day," she lamented.
Also, a teenage girl, Adekola Folasade, said that her mother is the one that supplies her sanitary pad she uses for her menstrual period, but her mother often "warns her against the abuse of the pad because of the price she purchases the commodity."
Meanwhile, according to a publication by United Nations Educational, Scientific and Cultural Organisation (UNESCO), one out of 10 girls in Sub-Sahara African countries misses school during their menstrual period.
Many girls drop out of school once they start experiencing menstrual period. In fact, some Nigerian ladies are married out once they start having their menstruation ― no doubt, this is rampant in the northern part of Nigeria.
Shuaib Abdulrahman, a native of Kaima, in Kwara State of Nigeria has revealed that ladies are married out once they start seeing their period in his village.
"In Kaima village, where I hail from, it is part of our culture to give our ladies hand out in marriage once they start menstruating although the culture is gradually going into extinction due to civilisation."
It is established that girl child education is necessary for any country that wants to progress and that is why the United Nations, through the Sustainable Development Goal number four has advocated for all-inclusive and equitable quality education and promotes lifelong learning opportunities for all. With a vision to ensure that all boys and girls complete free and equitable primary and secondary education by 2030.
However, Nigeria is threatened with low girl child education. This was validated in a report by the National Bureau of Statistics (NBS) that 40 per cent of Nigerian children do not attend school with northern region recording the lowest school attendance rate in the country, particularly for the girl child. The research has shown that when girls could not access sanitary products, they resort to staying out of school.
Mrs Adebayo, who is a Primary Six class teacher in a public primary school in Ikire, Osun State, lamented how some female students in her class do choose to stay at home during their menstrual period.
"I know when each of my female students is having their period that is when you will not see them in school and if you challenge them whenever they return, they will admit to the fact that they decided to stay away from school because of their menstrual period. I don't know if there is anything the government can do to help us keep our female students in school at all time," she said pitifully.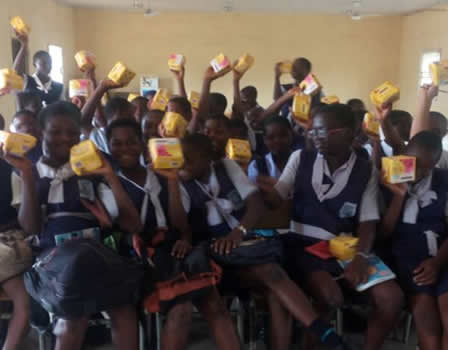 Blessing admitted she uses some of her old clothes, which she cut into small sizes and then wet them with a little water before using in place of the sanitary pad.
"I ensure I don't go out during this period or do not go far to avoid any stain on my cloth," she added.
Apart from the girl child education, the health and general wellbeing of a girl with poor access to sanitary pad is also at risk. A United Nations Children Fund (UNICEF) supported report revealed that when girls lack access to sanitary materials, they are more likely to suffer from health issues such as vaginal and urinary infections.
Similarly, Dr Adeyemi Olayemi of General Hospital, Moniya, Ibadan, Oyo State, Nigeria, has said that impoverished materials such as fabrics cotton wool, tissue paper and other hygienic materials Nigerian ladies use in place of sanitary pad can cause fungal infections, urinary tract infections, reproduction tract infections and studies have shown a link to cervical cancer
"Just last year December, an 18-year-old girl who lives with her grandmother was brought to our hospital, she complained of whitish vaginal discharge with vaginal itching, a chronic disease she got due to the usage of tissue paper wrapped with clothing materials. She was however given vaginal cream, antibiotics, counselling and follow up," she narrated.
For some ladies, relief is coming through the help of some non-governmental organisations that often go about distributing free sanitary materials in some schools and communities.
Just in April 2017, Mr Nefe Onohwosa and his crew under the Supporting Her Prime campaign phase one have distributed free sanitary pads to some girls in some schools in Lagos, Owerri, Port Harcourt, Abeokuta and Kaduna parts of Nigeria.
According to the convener, Mr Nefe, "Supporting Her Prime is a non-governmental initiative, borne out of the need to ensure that the average Nigerian girl has access to sanitary pads and also has the knowledge necessary for proper menstrual hygiene.
Also, Mr Oluseyi Odewale, a prominent Nigerian philanthropist through his Facebook page called Kbkonline has disclosed that sanitary pad remains the third most requested item in 2017 by Nigerian women. He further reiterated his intention to aid more Nigerian ladies with sanitary pad this year.
­­­­­­­