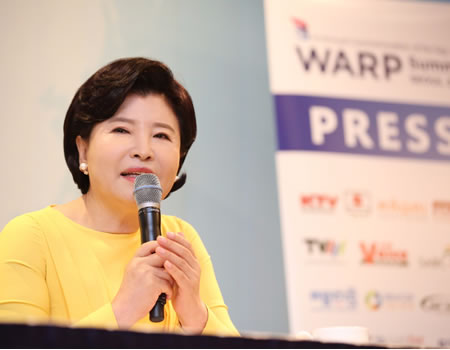 CHAIRWOMAN Nam Hee Kim of International Women's Peace Group (IWPG), an arm of HWPL, speaks on the role of women in entrenching peace in the world. Tunde Ogunesan who attended the press conference to commemorate the 3rd Annual Commemoration of the World Alliance of Religions' Peace (WARP) Summit held by Heavenly Culture, World Peace, Restoration of Light (HWPL) in Seoul, South Korea, in September 2017, reports.
How can women's ability to raise and protect children from extreme violence be improved?
Maternal love, the heart of mothers, is the noblest value, which protects people from every threat. As an example, when I visited a refugee camp in Zaatari refugee camp, Jordan, I talked with every woman there. What I came to know is that the power that sustains themselves in the face of the deathly desperate situation in the refugee camp, displaced, and separated from their country and family comes from the maternal love that made them feel responsible for protecting their family.
I said to them that they will overcome every challenge and go back to the arms of their homeland again. At that time, I thought the fundamental spirit of IWPG is to protect our children from wars with mother's hearts. I delivered a message saying with confidence that peace can be achieved in our generations when women become one with the motherly heart and advocate international law for peace. When I said this, the people were full of hope. The power to protect from extreme violence and wars and all kinds of difficulties is the heart of mothers. With this slogan "the hope of humanity is mothers" as a weapon to achieve peace, I have met women leaders and appeal to them to have one voice for peace.
What is the standard of a culture of peace? Is there a way to spread peace culture in the most effective way?
I think the standard of a culture of peace is having a passionate heart with the love of peace that can embrace everything transcending nationality, ethnicity, religion or a specific culture. As the light shines and rain comes down to everyone without discrimination, peace should also be permeated naturally in our lives. We ourselves should be the reality of peace. We do the work of peace with the conviction that we accumulate efforts step by step so that a world of peace comes.
When it comes to ways to spread a culture of peace, you are the ones who play a significant role. Rather than just watching, you yourselves should take the leading role with the mission to deliver the news of peace. The best news that people desire to see is the news of peace. Such a work is the most valuable thing to do.
I hope that you who are gathered here today understand the answer to peace and deliver the news to the world. Methods include social media, campaigns, and other tools. But all these things can be delivered by people, which is why we as people should be the reality of peace. I ask you to have the spirit of peace and work for peacebuilding by delivering messages of peace to every individual in the globe.
What is the most important thing for women representatives to promote HWPL's peace education globally?
Chairman Lee's work for peace is the real example of peace education. He is alive material for peace. When you look at the spirit of peace, thoughts and achievements that Chairman Lee has, you feel education should be based on the real example (of Chairman Lee's work). Many educational institutions around the world have been designated as HWPL Peace Academies. I suggested four action plans. To become a member of society, peace must be the number one requirement for a basic education.
People from early childhood should understand the importance of peace. Through mothers, an environment of peace should be made to teach children. This is why Chairman Lee emphasized the role of 3.6 billion women in peacebuilding with motherly hearts. Peace education should start from family to government and be the required course from elementary school to university. International organizations like the UN and UNESCO should cooperate with HWPL to carry out peace education to end wars in our lives.