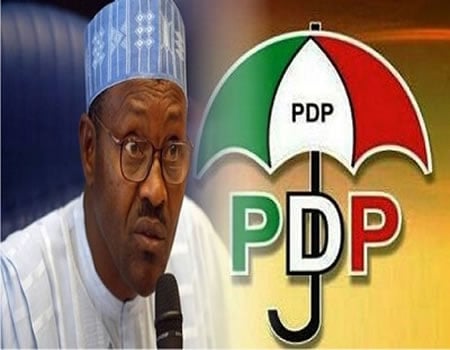 The Peoples Democratic Party (PDP) says it welcomes President Muhammadu Buhari's renewed declaration to jail treasury looters but challenged him to show integrity by starting with immediate investigation and prosecution indicted members of the ruling All Progressive Congress (APC).
In a statement issued by Kola Ologbondiyan, the National Publicity Secretary of the party in Abuja on Sunday, it called on the president to show commitment to his word by prosecuting the National Chairman of All Progressives Congress (APC), Adams Oshiomhole and a host of others in the presidency which it observed had been indicted but which according to the party were being protected by the president.
The party challenged President Buhari to also  allow an investigation into the alleged stealing of billions of naira by his allies and party chieftains, including the sacked former Director General of the Department of State Services (DSS), Lawal Daura, his former Secretary to the Government of the Federation (SGF), Babachir Lawal and the Executive Secretary of the National Health Insurance Scheme (NHIS), Prof. Yusuf Usman.
The main opposition party maintained that President Buhari should immediately allow the Economic and Financial Crimes Commission (EFCC) to commence Oshiomhole's investigation, which has been stalled despite his indictment for allegedly stealing billions of naira belonging to Edo state.
The PDP further challenged President Buhari to allow an investigation into the alleged frittering of over N11 trillion in the petroleum sector, under his direct supervision as minister, including the alleged N9 trillion illegal oil contract as detailed in the leaked presidency memo, the alleged N1.4 trillion corrupt subsidy regime and alleged diversion of N1.1 trillion worth crude oil using 18 illegal companies allegedly linked to Presidency cabal and APC chieftains.
The statement added: "President should also allow the investigation of his ministers, who as former governors, were indicted of stealing billions of naira belonging to their states, particularly, a former governor, who was indicted by his state for allegedly diverting over N40 billion to finance APC's 2015 Presidential campaign.
"Mr President must also investigate how billions of naira allegedly moved from parastatals under his Petroleum ministry to finance the failed attempt to change the leadership of the National Assembly as well as the certificate scandals among his ministers and special advisers and jail all those involved.
"These are the people Nigerians have been expecting President Buhari to investigate, prosecute and if found wanting to be sent to jail. Unfortunately, Mr President has been pursuing perceived political enemies, and innocent opposition members while dining and wining with corrupt persons, a development that has completely called to question the integrity of his anti-corruption fight.
"Since President Buhari came into office, he has not allowed any investigation into the corrupt activities under his Presidency, instead he has been attracting to himself, all manner of corrupt persons and giving them the perfume of sainthood, once they identify with his APC."