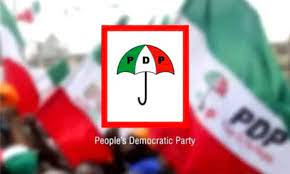 Isaac Shobayo, Jos 

Stakeholders and supporters of the People's Democratic Party (PDP), Plateau state chapter, have called on the Independent Electoral Commission (INEC) to declare the results of the national assembly election for the Plateau Central senatorial zone held on February 25, 2023.

Addressing newsmen after the submission of a letter of protest to INEC in Jos, Plateau State, the former Speaker of the state House of Assembly, Hon. Titus Alams, who led the protest to the INEC office in Jos on Wednesday, said, "The protest became necessary having waited for four weeks for INEC to declare the results."

"It is no longer news that the national assembly election has come and gone, leaving us with an outright denial of our senatorial mandate, having scored the highest number of lawful votes. This is seen by the deliberate refusal of INEC to obey the electoral law.

"After a careful study of the petition written by the agents of the PDP in the senatorial election, the following flaws were highlighted: mutilation of election results, over-voting in nine registration areas in Kanam LGA, non-usage of BVAS in Kanam, and casting errors in Mangu LGA.

"It is our expectation that INEC, as an independent umpire, should not allow itself to be coerced into compromising the position of the law, thereby leading the people of the zone into anarchy."

"We are, by this protest, giving INEC 24 hours to declare the results; otherwise, we shall take the necessary legal action to compel INEC to declare the results."
He demanded that INEC take a critical look into the issues raised by the PDP agent, go ahead, and declare the PDP candidate the winner of the senatorial election.
The protesters carried placards with inscriptions such as "We will resist any attempt by a group of individuals to subvert the will of the people" and "Justice delayed is justice denied."
---
---