The Peoples' Democratic Party (PDP) in Edo State has called on citizens of the state to prevail on Governor Godwin Obaseki not to hand over the reconstructed Benin Central Hospital to private partners, declaring that such move will make the hospital inaccessible to majority of the people of the state.
Governor Obaseki had earlier this month dropped the hint that the state government cannot afford to run the hospital due to lack of manpower and huge resources needed to equip it, informing that his government would partner a private firm to run the hospital.
However, at a media briefing on Saturday shortly before the start of a stakeholders' meeting of the Edo PDP, state chairman of the PDP, Dan Orbih, who regretted that the hospital has not been put to use about one year after it was commissioned by President Muhammadu Buhari, blamed former Governor Adams Oshiomhole for the non-functioning of the hospital.
He stated that Oshiomhole succeeded in building a hall and called it hospital, while alleging that the former governor diverted money meant for the hospital to build a private house for himself in Benin and a hospital in Iyamho.
He said, "Now (Governor) Obaseki has come out publicly to say that he could not fund the Central Hospital and that they will get private partners to run the hospital.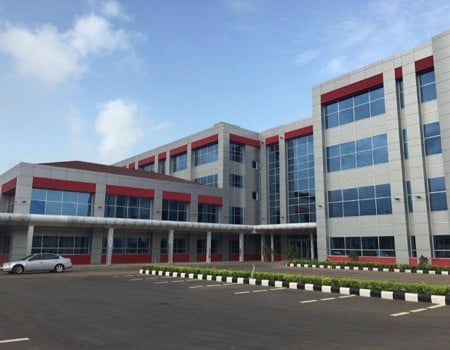 "Recall that during the commissioning of the hospital by President Muhammadu Buhari, former governor Adams Oshiomhole described it as a first in Africa five-star hospital that was fully equipped to answer the health needs of the people."
He accused Governor Obaseki of acting Oshiomhole's script, saying he had long uncovered a plot hatched by the duo to bring in "companies run by their children as partners to run the hospital."
Speaking on the party's governorship election petition that was thrown out by the Supreme Court on Monday, Orbih said the party still has a pre-election case in court challenging the qualifications of Godwin Obaseki, saying "we shall pursue it to a logical conclusion".
Orbih reacted to a statement credited to Obaseki that his government would not consider any PDP member for appointment in his government, saying the Edo PDP family was not interested in any appointment from the governor because he is not the right person to occupy the office of governor amongst other reasons.
He charged members of the party to bury their differences and start preparing for the 2019 general election, remarking that Edo people and indeed Nigerians are tired of the All Progressives Congress (APC).
Orbih said, "This is the time for stocktaking. As a party, we must learn from our mistakes and move forward stronger than we were."