PDP kicks off battle for Edo on shaky note •Wike pulls out of reconciliation
•No member of NWC sponsored media publication against Wike –PDP •Court restrains PDP, INEC from excluding Obaseki, others from primary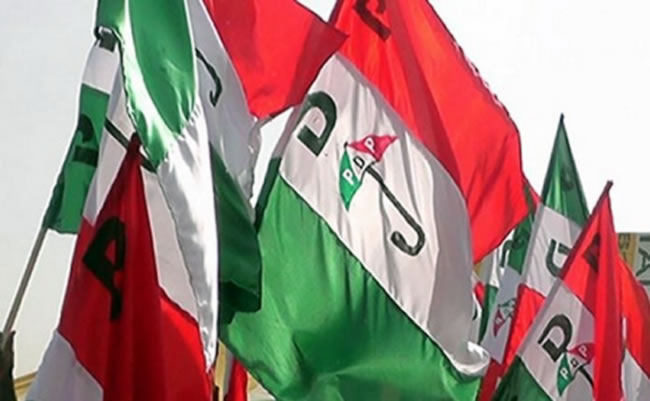 THE People's Democratic Party (PDP) kicks off its battle to win Edo State in the upcoming gubernatorial election on a shaky note as Rivers State governor, Nyesom Wike pulls out of the reconciliation efforts of the Edo State chapter of the  Peoples Democratic Party (PDP).
Similarly, a Federal High Court in Port Harcourt, Rivers State, on Monday granted an order of accelerated hearing in a suit seeking to stop Edo State governor, Godwin Obaseki, from participating in the governorship primary election under the auspices of the PDP.
Wike, on Tuesday, told newsmen in Port Harcourt that some members of the National Working Committee (NWC) of the PDP are sycophants and tax collectors who will never tell the truth. According to him, instead of the NWC to carry everybody along in Edo state, they resorted to using the media to blackmail him.
He said; "I told them that in Edo State, we must handle the issue carefully and carry everybody along; that they must respect human beings and not behave like tax collectors.
"They said because an order was obtained from a Federal High Court in Port Harcourt, then I am responsible. "As a  result of this senseless accusation, I have pulled out of Edo State settlement. My integrity matters," he stated.
Wike added: "I know the members of the National Working Committee of PDP who connived with a national newspaper to publish the story. They are tax collectors.
Let them challenge me and I will come out with more facts.  "Nobody will rubbish me by raising false accusations against me. I will fight back."
Wike said he would no longer participate in any reconciliation and wondered why the NWC now wants to consult governors of the party.
He questioned why the NWC did not consult with governors in the case of Bayelsa State warning that if PDP was not careful, the crisis in the All Progressive Congress (APC) would be a child's play.
"I am brought up not to accept injustice, and that is why I keep speaking out on national issues. Nobody in PDP can intimidate Rivers State. "Nobody can threaten me because I said things must be done constitutionally. I will always continue to satisfy my conscience. From now on, I want to concentrate on the development of Rivers State", he added.
Reacting, the party said no member of its NWC sponsored any media publication to castigate and malign the person of  Wike.
In a tweet on its Twitter handle, @OfficialPDPNig, last night, the party described such publication as the handwork of external forces and enemies of the party who are bent on sowing seeds of discord within it.
The party appreciated the efforts and sacrifices of its governors, adding that it would not allow enemies of the party to have their way. The statement read: "The PDP remains one indivisible family and our members are at alert and will  continue to resist every attempt by external forces to divide our ranks at this critical time."
Ruling on a motion ex parts application brought by one Omoregei Ogbeide-Ihama against the governor's participation, the court presided over by Justice E. A. Obile directed the plaintiff to serve the nine defendants in the suit through substituted service he proposed.
The judge said judiciary leadership has consistently warned judges against ex parte application endorsement and many judicial officers had been sent packing since Justice Wilson Egbo Egbo of an Abuja High Court on Tuesday, July 22,  2003, granted an ex parte application sacking Chris Ngige as Anambra governor.
Apart from the approved substituted service, Justice Obile also granted an order abridging the time within which the defendants may enter an appearance and file their respective counter-affidavit or other processes in reaction to the plaintiffs' claim.
However, the matter was adjourned until today for hearing of the motion on notice. Parties are, however, likely to be back in court on Tuesday for the hearing of the prayer in the motion ex parts. In a related development,  a High Court in  Ekpoma Judicial Division has restrained the PDP, the Independent National Electoral Commission (INEC) and others from removing, preventing or purporting to exclude Obaseki or any of other aspirants who has been cleared by the party from participating in the gubernatorial primary slated for tomorrow.
Justice, J. O. Okeaya-Inneh, ruling in a suit filed by Felix Irioh and Tom Irehobhude, said; " I find in my humble view that the applicants have satisfied the guidelines for the grant of the orders sought as enjoined in the celebrated landmark case of Kotoye v CBN (1989), 1 NWLR PT. 98, 419 at 441."
YOU SHOULD NOT MISS THESE HEADLINES FROM NIGERIAN TRIBUNE
No NEC Meeting Will Hold On Thursday ― Ajimobi-Led APC Faction
Senator Abiola Ajimobi-led faction of the All Progressives Congress (APC) on Tuesday dismissed reports that a meeting of the APC National Executive Committee (NEC) will hold at the Presidential Villa on Thursday… Read Full Story
Edo Poll: INEC Worried Over Conflicting Court Orders, Litigations
The Independent National Electoral Commission (INEC) has expressed worry at the spate of litigations, conflicting court orders ahead of the Edo State governorship poll, warning that such was harmful to the smooth conduct of primaries and the September 19 poll at large… Read Full Story
Ghanaian President Apologises Over Demolition Of Nigeria's High Commission Building
President Nana Akufo-Addo of Ghana on Tuesday spoke with President Muhammadu Buhari, expressing his sincere apology for the demolition of a building on the premises of Nigerian High Commission in Accra… Read Full Story
APC, PDP Scramble For Yoruba Land
THERE is a gradual buildup to replicatiing the 2003 scenario that existed in the South-West. It will be recalled that the ruling Peoples Democratic Party (PDP) from May 29, 1999, had mustered all resources towards routing the Alliance for Democracy (AD), the main opposition party from Yoruba land. Leading the PDP forces … Read Full Story