PDP honours women leader Salome Abuh who was burnt alive during 2019 election
• Governors donate N10 million Salome Abuh Foundation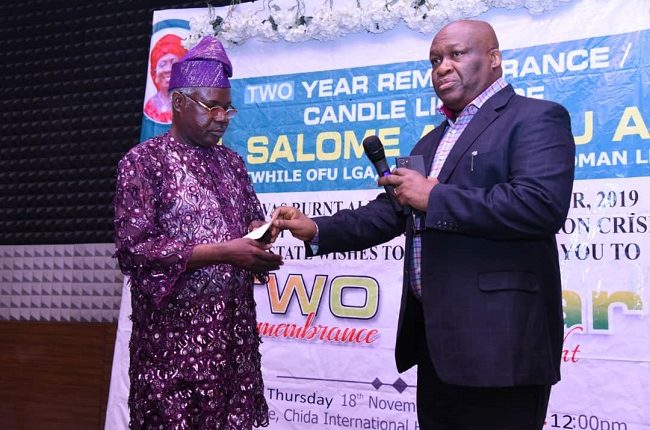 The Peoples Democratic Party (PDP) has honoured Mrs Salome Abuh, the Kogi State women leader who was burnt alive in her house during the 2019 general elections.
Tribune Online reports that Abuh was gruesomely murdered on November 18, 2019.
Director-General of PDP Governor's Forum, Cyril Maduabum, said the party has donated N10 million to a foundation established in Salome's honour to help rebuild houses destroyed during the period of the ugly event.
He stated that "we decided to show presence here because we feel that the impunity as represented by the event that we are commemorating today has continued.
"It has continued because there is no serious response by the government in power to tackle impunity. Impunity is perhaps the greatest problem we have in Nigeria. Impunity has led to massive bloodshed on a daily basis in Nigeria. People are killed wantonly, people are killed whimsically.
"Impunity leads to all sorts of things. Her blood cries to heaven for vengeance because the mastermind has not been brought to book. Those who promoted the atmosphere of violence, those who think that they are God on earth and can do anything they like and get away with it, have not been brought to book. And that is why the country is where it is today."
Maduabum said "yes we have state governors who can do their best, but the security architecture is such that governors are powerless to act.
"The PDP governors have repeatedly called for the rejigging of the security architecture of the country in such a way that policing can be decentralized. But of course, there must be proper safeguards because if you have some governors that promote violence, then it is also very dangerous to leave such security in their hands. We believe that there should be proper checks and balances to ensure that security prevails in Nigeria."
On his part, the widower, Simeon Abuh said "my wife was 60 years old, mother of 4, a grassroots politician, mobilizer and community leader of a repute. She was an outstanding woman leader for the PDP in Kogi State, since the early years of her political career.
"We are here, two years down the line, to hold a memorial/fundraising in her honour and to use this opportunity to make a passionate appeal to deliberately consider our homelessness as an emergency to enable us own dream home again."
YOU SHOULD NOT MISS THESE HEADLINES FROM NIGERIAN TRIBUNE
We Have Not Had Water Supply In Months ― Abeokuta Residents
In spite of the huge investment in the water sector by the government and international organisations, water scarcity has grown to become a perennial nightmare for residents of Abeokuta, the Ogun State capital. This report x-rays the lives and experiences of residents in getting clean, potable and affordable water amidst the surge of COVID-19 cases in the state.