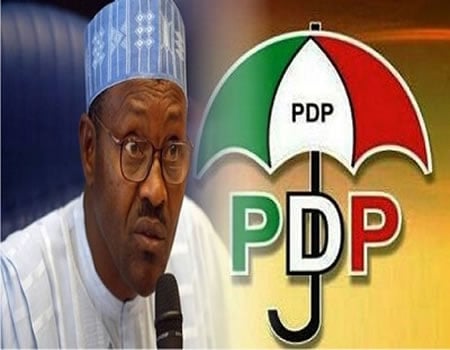 THE Peoples Democratic Party (PDP) has given President Muhammadu Buhari a 24-hour ultimatum within which to arrest the leaders of the Miyetti Allah Cattle Breeders Association (MACBAN) or be held accountable for their actions.
This followed the reported threat by the leader of the MACBAN, Garus Gololo, for Senate President, Bukola Saraki, to resign from office or be forced out by the group.
According to the main opposition party, Gololo's outburst echoes the threats by the All Progressives Congress (APC) and agents of the Buhari Presidency, to force out the President of the Senate, Senator Bukola Saraki, from office, as ominous and revealing.
In a statement issued by Kola Ologbondiyan, the
National Publicity Secretary of PDP in Abuja on Wednesday, it added: "If anything, this unguarded statement by Miyetti Allah has exposed the synergy between the ruling party and some troublesome elements, who are being used to stoke division and create violent crisis that had resulted into daily bloodlettings in various parts of the country.
ALSO READ: We have no capacity for nuclear power plant now — FG
"It is now abundantly clear to Nigerians that those fomenting crisis, including the bloody clashes in Benue, Taraba, Zamfara, Nassarawa, Plateau, Kaduna, Edo, Borno, Yobe, Enugu, Kogi, Adamawa and other states in our country, have political backers, who now want to channel them to achieve their unpatriotic quest to subvert our constitution and forcefully take over the National Assembly.
"Before now, to majority of Nigerians, the Miyetti Allah has always represented the military wing of the APC and the Buhari Presidency. It is incontrovertible that they have now become the fourth arm of government that can determine when and how to forcefully remove the number three citizen, the President of the Senate.
"It is common knowledge that Mr. President has come under heavy public criticisms on how his body language has condoned the unguarded utterances and actions of these characters.
"However, in the light of these treasonable and inciting utterances by Miyetti Allah, we demand that President Muhammadu Buhari, should within the next 24 hours, order the arrest and commence immediate trial of the leadership of this group, otherwise Nigerians will henceforth hold him directly responsible for the utterances and actions of the Miyetti Allah."
The PDP maintained that it is aware that Miyetti Allah does not represent the views and interests of the vast majority of cattle breeders or even any ethnic group in the country.
It, therefore, urged all good spirited Nigerians to rise in condemnation of the actions and utterances of these misguided elements, "who are being used to attempt a constitutional breach that portends grave danger to national cohesion and our hard-earned democracy."