Partner my govt to promote Osun Osogbo festival, Oyetola charges indigenes
•As Gani Adams promises to end insecurity in South West within four months
As adherents of Osun Osogbo deity converged on the groove at Osogbo for the grand finale of this year's festival, Osun State governor, Mr Gboyega Oyetola on Friday charged indigenes of the state and those in the diaspora to collaborate with his administration in promoting the annual festival.
This is just as the Aare Ona Kakanfo of Yorubaland, Otunba Gani Adams promised to end insecurity, kidnappings, banditry and other forms of criminality in the South West within four months.
The duo made these known while addressing a mammoth crowd of adherents, traditionalists, local and international tourists who thronged Osun Osogbo groove for the festival.
According to Adams, who said he was coronated as generalissimo of Yorubaland, "parts of my duties among others is to defend and protect the Yoruba people against any criminality and to ensure that Yoruba people are protected against any forces."
"I am a warrior and I'm ordained to ensure that Yoruba people are protected. I am assuring you that I would use everything within my reach to make sure problem of insecurity becomes the issue of the past. I  will make sure I crush the insecurity", he stated.
In his remark, Oyetola contended that Osun Osogbo festival, having been the most popular and recognised in Nigeria by UNESCO needed to be elevated to a world standard.
He further maintained that "Osun Osogbo festival has blossomed into an international event witnessed by about a million tourist all over the world.
"The festival is abounded between Osun the river goddess and the people in need and the lesson in this festival is faithfulness which we need to imbibe for peace and development of the state".
"This festival is very important to the government and the people of Osun as it is our cultural heritage and remains the most popular and the most regonised by UNESCO. The government has done the renovation of the groove and we are   constructing a car park to  conform with the UNESCO standard."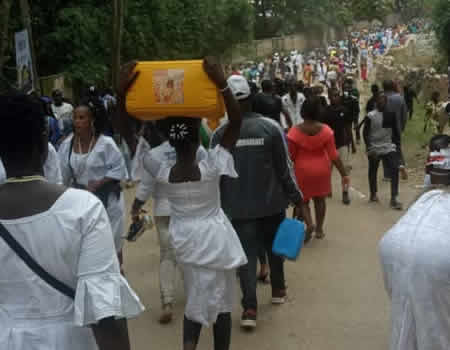 "We urged our indigenes in the diaspora to partner with the government to promote and project the festival for global recognition", Oyetola concluded.