Parents have to educate themselves to meet up with their children —Ogunlana, marriage counsellor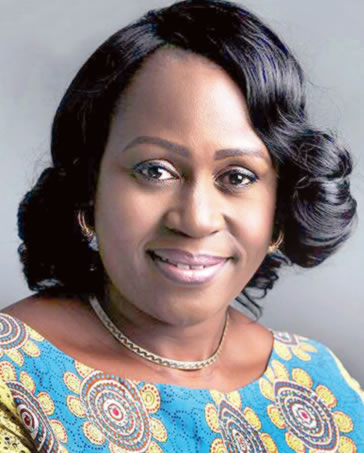 Dr. Bosade Ogunlana is an entrepreneur, a family programme host on Splash105.5Fm, the publisher of Family Impact Magazine, founder of Family Impact Ministry, a marriage counsellor and the wife of Reverend Gbade Ogunlana popularly known as Paito Wa. In this interview by TAYO GESINDE, she speaks on how she has been able to carve a niche for herself in business, her passion to educate and transform individuals in the homes so that they can have blissful marriages.
From Veterinary Medicine to entrepreneurship
Like a lot of youths in this age and day, you study a course that is available. I was persuaded to study Pharmacy but because I didn't take physics at my A levels, I was told the only option available was Veterinary Medicine so, that was how I ended up studying that course though I didn't even like dogs. When I finished, I did a bit of small animal practice then went ahead to do a Masters in Veterinary Public Health and another in Managerial Psychology. I worked briefly for Western Project Consortium after which I went into business. I have passion for all I am doing. I was raised by a mum who happened to be a serial entrepreneur before she passed on so, I guess it is innate. I am into catering and events, I have a couture where we make clothes and I have other chains of businesses.
Challenges faced
Starting off, staffing was a major challenge. Getting the right and honest hands to work with you was quite challenging. After some time, I was able to groom some people. Now I have people who have been working with me for years. Recently, I took a course at the Lagos business School; Certificate in Entrepreneurial Development and it has opened my eyes to a lot and helped me to re-strategise and be better off in all that I am doing.
Secret of success in business
I have been in business for over twenty years and I believe the secret of my success is God's grace ; I must acknowledge that. He has given me the strength and a supportive husband. My husband has been supportive in every way you can ever think of. I have his shoulders to rest on at all times. I also thank God for my family and children; they are very understanding and supportive. I remember going through some photo albums and there they were at a young age cutting chin chin, in those days so they were always there for me. Also, I believe very strongly in integrity and I preach it to everyone I mentor. Integrity is key in business. Putting your action where your word is, I think that has helped too. Till date, I have had to rely on families and friends for the funding of my business. I believe the reason that can work is that when you collect a stipulated amount, and you return it, you can go back to them when the need arises again. I also get a lot of referrals. I have committed clients that have been with us for 15, 20 years and recommend us to others. Finally, I don't give up easily, I am a very focused person and I do what I enjoy. I believe that is the bottom line and I am well trained in every area I have dabbled into and i am still learning. We have made profit and we are now empowering other people to become successful entrepreneurs.
On doing business in Ibadan
Contrary to people's belief, business is not slow in Ibadan. It depends on your attitude. In life, attitude determines your altitude. Who says you can't have a business in Ibadan and be operating in Lagos. I go to Calabar, Abuja, Lagos and so on for my catering business. Ibadan is just your base, you can spread your tentacles everywhere. We take our clothes to South Africa, Gambia and even the UK. Our attitude in this city should change. You can start small but always think big and spread out your tentacles.
Coping with competition
The first time I heard about competition was when I was filling a form for a course and was asked; who my competitors were, I couldn't think of any because prior to that time I was just doing my own thing but now I understand that you need to find out what others are doing around you. I have always been competing with myself. What I aim at is that I must get better every day. But at the Lagos Business School we were taught to find out what others are doing, improve on it so that one can be on the cutting edge.
Combining the home front with my business
It is challenging but when you have support at the home front it makes it easier. You don't feel the stress as much as you should. Initially when I started I didn't know how to strike a balance between the two but later on I discovered that as women, we juggle a lot of balls in life; career, business, health, life and relationship with other people but in all of these, family is key , it is a glass ball that should be well gaurded, because once it falls it is difficult to pick.
How to have a successful marriage
The rate at which marriages are crashing is not only alarming but disheartening. I am really wondering at the message we are passing across to generations after us and what will become of them. We need to have a shift in our attitudes and certain values. It is high time we all retraced our steps and start giving priority to what is important. A lot of people prioritise making money over their homes because of the economic situation of the country. That shouldn't be so because of destinies that we have to hand over proper legacies to. Also, the traditional and ethical beliefs about marriage are a hindrance to success in a lot of homes today. Failing to realise that things have changed is another one, so if we base our home on culture alone, it may fail. I believe so much in the principle of what I call the marriage manual, the Bible. The principles there will help us. For instance, if you hold on to the principle of love your neighbour as yourself, when you and your wife go to work and come back, you won't go and cross your leg in front of the TV waiting for your wife to do the cooking and also take care of the children. All these things have to be taken into consideration. We need to retrace our steps to what the word of God says. Also, these days people are becoming ephemeral. When people want to get married, counselling is not even priority meanwhile they don't know anything or what they learnt are vices from their parents and all they are interested in is making a statement with the wedding ceremony but after making a statement, the expenses incurred won't help your home but it is the knowledge you are armed with that will help you. That is why my passion is helping people with the knowledge they need, to build healthy homes. Knowledge is power, the more you know, the more you grow, and the better your life will be. Even the Bible says my people perish for lack of knowledge not the devil. A lot of people are going ignorantly into marriage. We need to change strategy and get knowledge, especially Biblical one. There are too many ideas flying around about marriage but marriage is an institution ordained by God and He has the manual to ensure that the institution does not fail.
Why we are organising Couples' Conference
The Family Impact Ministry is organising a couple's luncheon with the theme: Marital Bliss, in August. That conference will serve as a clinic for marriages, it is going to be a time of refreshing where you can relax in a conducive environment and learn. We have seasoned speakers like Bishop Felix Adejumo, Reverend Funke Adejumo, Reverend Gbade Ogunlana, myself and a lot of others. We will have different sessions and there will be raffle draw. No home will remain the same after the programme, they will be better off.
My views on parenting
The Bible says train up a child in the way he ought to go; when he is old he will not depart from it. There is what is called sowing and reaping. It is a law that will always be in existence. Charity begins at home. Raising children is not just by words it is by example. What examples are parents setting for children; a parent that buys examination question papers for his child or who lies in the presence of his child, how does he want the child to turn out? We can't do one thing and say another, children learn more by what they see. Parents who are into pornography, their children are into it too no matter how the parents try to hide it. It is a fast moving world; parents have to educate themselves on how to meet up with their children. Parents need to go for courses, attend conferences and read if they must succeed and do well.
Advice to young girls
They are the future. They should get close to God. They should know that they are not just a nobody so they need to zip up and not be loose. They shouldn't grow up thinking they are going to become liability on two legs to the man that will marry them. They should be empowered in every way, form and fashion so they can make meaninful impact. Of course they should know that they should submit to their husbands when they get married but marriage doesn't mean you can never be relevant in life.