Palpable fear envelops aviation sector over spread of coronavirus
• As agencies struggle to uncover how Italian patient entered Nigeria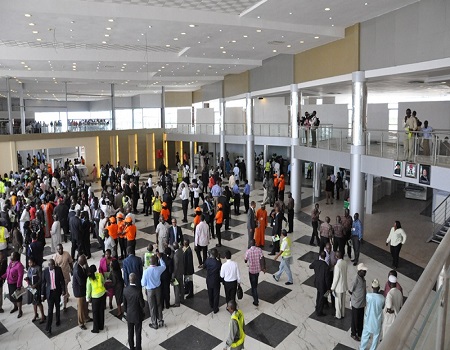 Palpable fear has enveloped the entire aviation sector over the confirmation of the importation of the coronavirus into Nigeria.
The fear is coming out of uncertainty over which airport the Italian came through into the country and those who must have come in contact with him at the point of disembarking at the airport.
Investigations reaching Tribune Online indicated that confusion has enveloped the airport authorities and other agencies that have things to do with inbound flights as they are now running around to call for the manifest of the foreign airlines to identify which airline flew the patient into the country, his seat number, passengers that must have mingled with him, airport officials that must have handled his profiling on arrival and other necessary information that may help nip the spread of the disease around the country.
Presently, the atmosphere around the Lagos airport, in particular, is that of uneasiness, a tearing down the ground handling company whose workers may have cleared the baggage of the Italian as a way of putting them under surveillance.
ALSO READ: NGO adopts first primary school in Ilorin with N100m development fund
Management of other agencies like the aviation authorities, port health officials of the ministry of health at the airport, immigrations, customs and others have been meeting to actually identify the activities of the patient on landing at the airport.
Meanwhile, contrary to the insinuation that the index patient of the coronavirus in Nigeria was discovered to have the disease in Lagos, indications emerging has revealed that it was in Ogun State where he travelled to after landing in Lagos airport that he was discovered to have been a carrier before he was transferred to Lagos Infectious Disease Hospital at Yaba for testing and treatment.
As the aviation authorities continue to struggle to uncover the airline that flew in the index patient, the source who did not have the permission to speak on the sensitive issue to avoid sending panic, confirmed that all relevant authorities have been collaborating to get details of how the Italian entered Nigeria with a view to ascertaining how he underwent screening procedures at the airport.
Key players in the sector are describing the bad news as a trying time for the aviation sector in Nigeria just as they demand investigations to unravel the root cause of how the patient entered the country.
However, the Regional Manager, South West, Murtala Muhammed International Airport, Mrs Victoria Shin – Abah has said screening efforts were ongoing at the airport to detect any suspicion of the Coronavirus infection.
Shin – Abah said thermal body scanners and infrared equipment deployed at the Lagos Airport and other terminals were activated to detect inbound and outbound passengers.
According to her, FAAN has continued to work with relevant Port Health Unit personnel on nationwide containment measures put in place since the Coronavirus disease outbreak.