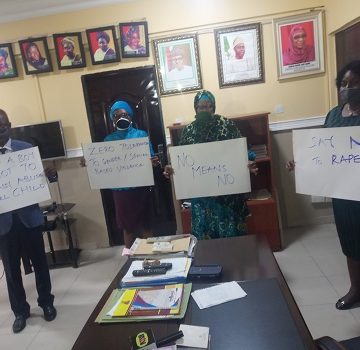 The Oyo State Commissioner for Women Affairs and Social Inclusion, Alhaja Faosat Joke Sanni, says the state has zero-tolerance for rape and all other forms of sexual abuse.
Sanni stated this on Tuesday while reacting to the cases of rape and killings recently reported in the state.
"It is quite disheartening to see our girls been raped and killed. It is on this regard that we decided as the Ministry of Woman Affairs to address the public and to express how saddened we are about the event," she said.
Tribune Online had earlier reported that a student of the Institute of Agriculture, Research and Training, Ibadan, Barakat Bello, was recently raped and killed in Akinyele Local Government, Oyo State.
A few days later, Shomuyiwa Azeezat, a pregnant postgraduate student at the University of Ibadan, suffered the same fate.
The Commissioner said: "We have visited the families of Barakat and Azeezat and we commiserated with them. The ministry has been fighting against all forms of violence against women and children and we have been working with other ministries such as Health, Education and Justice. The police and all other agencies are fully cooperating with us.
"We also have in place our Rapid Response Team inaugurated on March 5, 2020. They make sure that they respond immediately there is any cat of violence or molestation.
ALSO READ: APM Terminals, NRC restore rail services back to Lagos Port
"I will like to inform the general public that there is zero tolerance to rape and all forms of violence in Oyo State. The Oyo State government under the leadership of Seyi Makinde is leaving no stone unturned to make sure that the culprits of these acts are brought to book."
She disclosed that law is been considered by the Oyo State House of Assembly to make sure a severe punishment is given to culprits.
She also advised the general public, NGOs and security agencies to continue to cooperate with the ministry so the offenders are caught.
"The general public especially our students should remain calm as all hands are on deck to arrest the perpetrators of these evil acts," she said
On how the ministry is sensitizing and enlightening the people, the commissioner explained that jingles on radios, television has commenced not only on rape but also on child trafficking and child labour.
"We have also collaborated with the office of the first lady of Oyo State to sensitise, provide survival empowerment and educate the society not to stigmatise victims.
"We advise the victims of rape and other sexual abuse to come out and speak up so we can assist them in getting better," she said.