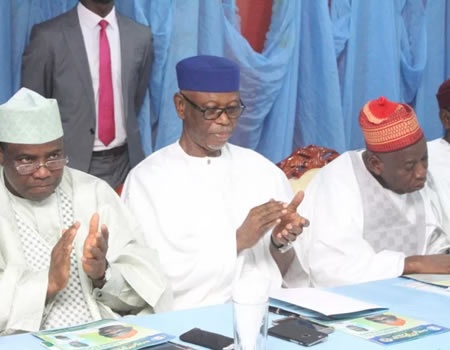 FOR several hours on Friday, the John Odigie-Oyegun-led National Working Committee of the All Progressives Congress and governors elected on the platform of the party met behind closed doors in Abuja.
The meeting, which was hosted by the chairman of the APC Governors Forum, Governor Rochas Okorocha of Imo State, it was gathered, deliberated on the tension in the country following the long absence of ailing President Muhammadu Buhari.
Answering questions from reporters after the meeting, Oyegun, who said Buhari was recovering fast in London, declared that the party used the meeting to reaffirm its confidence in Buhari and support for his continued leadership of the country.
He also disclosed that the ethnic and political agitations threatening the country were analysed and measures to curtail them mapped out.
"We used the opportunity to restate our implicit confidence in President Muhammed Buhari. We are glad to inform you that he is recovering in a very robust manner. We hope he takes it easy when he comes back. We have no doubt at all that we will have an active period in the nation," Oyegun said.
The APC national chairman said the focus of the meeting was the growing resurgence of ethnic nationalism and the attendant incendiary statements which, he noted, were a threat to national unity.
"We discussed issues affecting the nation and the impact of the current agitations across the country. On each of these, we decided to strengthen the party. We decided that the kind of verbiage and incendiary statements by different groups are not good for the health of the nation and we decided that they had to stop.
"For that reason, we have take certain measures, which I will not disclose here to ensure that the basic and fundamental unity of this country is preserved while at the same time listen to whatever grievances anybody has to say," he added.
The APC chief refrained from commenting on the claim by the Ekiti State governor, Ayodele Fayose, President Buhari was on life support in a London hospital.
Fayose had declared in a press statement that "the President does not only have voice impairment, he has been on life-support since June 6, 2017 at a West-End, London Hospital."
Asked by reporters to comment on Governor Fayose's claim, Chief Oyegun said, "If I respond, I will be dignifying him, because the kind of politics he plays is not for decent people. The appropriate people will answer him at the appropriate level and at the appropriate time."
But prodded further on the likely date of the return of President Buhari, he said only Buhari's physician could offer a definite date.
According to him, "it is for his doctors to decide but all we know that he is recovering fast."
He, however, said the party leadership was optimistic that the President would soon return to the country.