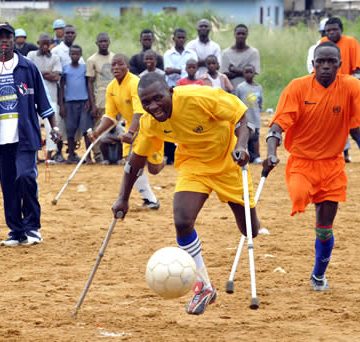 THE Executive Director of Centre for Citizens with Disabilities, Mr David Anyaele, on Thursday disclosed that over 25million Nigerians are living with disabilities, suffering all forms barriers and discrimination in the society.
He, therefore, appealed to President Muhammadu Buhari, to without delay assent into law the Nigeria Disabilities Bill, 2018 already passed by both chambers of the National Assembly.
Speaking as the Convener of a coalition of disability organizations at a news conference in Abuja, Anyaele, commended the Senate President, Bukola Saraki and Speaker of the Federal House of Representatives, Right Honourable Yakubu Dogara, for heeding to the demands for the urgent completion of action on the bill that lasted for several years in the National Assembly.
ALSO READ: Stop the killing of Nigerians, CCD urges Buhari
While stressing on the imperative for President Buhari to assent to the bill urgently, Anyaele said Nigeria's population of persons living with disabilities is currently hitting the mark of more than 25 million people, yet there is no comprehensive law or institution set up to specifically cater for their needs as required under the United Nations Convention on the Rights of Persons with Disabilities.
He said the Convention was signed and ratified by the Nigerian Government almost eight years ago, but is yet to be domesticated to bring it under the Nigerian statute books as required under the provision of Section 12 of the 1999 Constitution.
He added that persons with disabilities in Nigeria face countless discrimination daily on account of their disabilities, particularly challenges in mobility, healthcare, education, physical and emotional abuse and neglect and so are in dire need of a law with an appropriate institutional framework to protect them.
He said the provisions of the Bill, if assented to, could be progressively implemented within the moratorium period by the Federal Government deploring certain policy measures to enable persons with disabilities to access the benefits provided by the Convention in Nigeria.
We call on President Mohammadu Buhari to sign the Nigeria Disability Bill before December 3, 2018 which is the International Day of Persons with Disabilities.
He said: "Recall on Saturday March 21st 2015, President Muhammadu Buhari, the then presidential candidate of the All Progressives Congress (APC) pledged during a Town Hall Meeting in Lafia, Nasarawa State, to end discrimination and stigmatisation against persons with disabilities in Nigeria if elected into office.
"We urge the President to fulfill his promise by signing the Nigeria Disability Bill into an act.
"To achieve the above, the Coalition will partner with stakeholders to mobilize Nigerians to demand the assent of the President on the Disability Bill.
"Signing the Bill into law would maximally boost human capital development by encouraging indigenous and foreign participation of persons with disabilities in economic, social and political development of the country," he said.