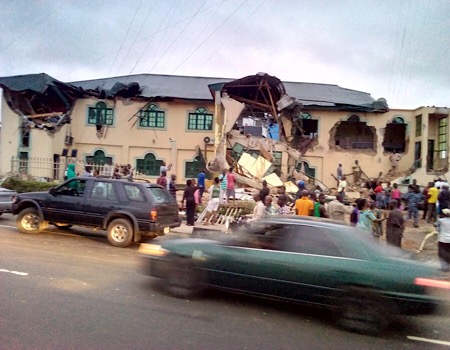 THE demolition of Yinka Ayefele Music House housing his Fresh FM radio station, Ibadan, the Oyo State capital, in the early hours of Sunday, has attracted outrage among the people of Ekiti State.
People discussed the demolition in Adebayo area of Ado Ekiti, on Sunday, with obvious feeling of resentment, with many of them questioning the timing of the demolition.
Also on the social media, especially through Facebook, many Ekiti citizens expressed dismay at the demolition of the business premises, saying they believed that the demolition by the Oyo State government was "insensitive" and "an act of wickedness."
A cleric, Àpóstélì Onès Kayode-Daramola, had been posting on his Facebook wall about the development since the demolition notice became public knowledge, and had hoped the building would not be demolished.
ALSO READ: APC Govs, power brokers at loggerheads over Direct Primaries
On Saturday, August 18, he posted: "What Ajimobi is doing in Oyo State is not democracy, it is tyranny. Pulling down Ayefele's radio and studios and destroying the 'wheelchaired' man's life will now make Oyo people to love APC more."
However, on Sunday morning, apparently after he and others had learnt of the eventual demolition, Kayode-Daramola wrote:
"Now that Ajimobi has done his worst, let him go to Abuja and become the president. Let his son go to UN and unseat Ban Kii Moon."
Also, nearly all the callers to a programme of a private radio station in the town, Voice FM, on Sunday morning, lamented the demolition and contended that Mr. Yinka Ayefele should relocate the station to Ekiti State.
Call after call into the programme, the callers lamented the development and decried the action of government of Governor Ajimobi, describing the demolition as in bad taste.
The variously charged Ayefele to relocate his station to Ekiti State, with one of them saying "let him relocate his radio station to Ekiti State. We will support and protect him."