Our revenue can fund budgets without loans if… —Urhoghide
Matthew Urhoghide is the senator representing Edo-South Senatorial district in the National Assembly. He speaks on the country's budgeting culture and the decision of the Muhammadu Buhari-led government to take fresh foreign loan,
among other issues, with OSARETIN OSADEBAMWEN.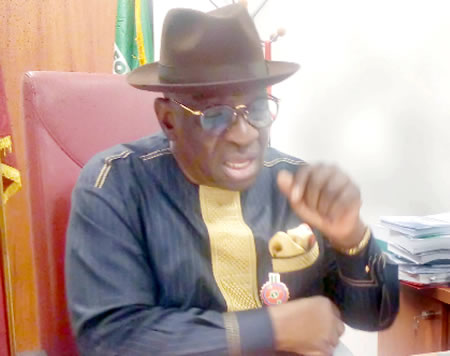 YOU have said some agencies have not had their accounts audited for about 20 years and have been engaging in extra budgetary expenditure. What do you think should be done about this?
Yes, they have not audited their accounts at all. Section 85 of the Nigerian Constitution empowers the Senate Committee on Public Accounts to demand accountability in the expenditure of public funds, including courts, federal courts offices of whatever description. We have the right to check their finances. If you check the Attorney-General's report, there are many agencies that are misappropriating our funds in millions.
The truth of the matter is that, we gave ultimatum. You in the media witnessed it. You published the reports nationally. Nobody has called them to order. It breeds impunity. We really have no business borrowing money. The finance bill that has been passed is largely for revenue generation. The major part of it is for revenue generation. If all the revenue generation agencies pay all their money to the consolidated revenue funds, we will have all the money to fund our budgets.
If we are not able to get what Customs bring from duties and rates or Company Income Tax (CIT), we will not boost the revenue of the country. It does not help us. There are agencies that generate a lot of money and they spend the money against laid-down laws, Acts or financial regulations.
The teaching hospitals are supposed to be generating money; they sell drugs, keep other accounts for surgery, laboratory and dentistry activities, etc. They have all those ones and the revolving loans. These revenues are small independently, but in their cumulative loggings or account, you would be amazed at the total.
What they do is that as they collect the money, they spend it. And the law says they should pay 80 per cent of such revenue generated into the Federation Account. Some of the leakages are in the agreements that Immigrations and the Federal Ministry of Finance have entered into with some private firms. Even the data capturing for biometrics, you only see those men wearing uniforms, most of them are with the private firms that were contracted.
Since they have trained the Immigration personnel, why didn't they deploy them? Yet, they will go and pay money running into N37 billion to these vendors, money that is supposed to be paid into the coffers of the Federal Government.
We told them that if you have these contracts, bring them in so that we can review them. Just like the contract sharing formula, it succeeded because there was synergy between the executive and the legislature. We have brought the thing down now. About $150 billion came into government coffers because of that law. That agreement has been in for some years, but nobody wanted to review it. The same thing is happening here; if agencies of government collect the same thing they are supposed to collect, we have no business with borrowing.
Oversight is one critical instrument of the legislature to checkmate excesses of the executive. Only recently, the Independent Corrupt Practices and other related offences Commission (ICPC) revealed gross abuse of constituency projects to the tune of N1 trillion by lawmakers since 1999. Many believed this has robbed the legislature of any power to challenge the executive. Do you agree with this position?
Inasmuch as one does not want to make excuses for people who undermined public trust, at the risk of playing the devil's advocate, if you take an overview of the whole thing, agencies that cry foul need to examine their expenditure. When I stood in the Eighth Senate, I said the Economic and Financial Crimes Commission (EFCC) has not audited its account since inception. Based on this, what moral justification do you have going about to arrest people when the fund given to you over the years amounting to billions of naira have not been accounted for? That building was built with billions of naira and it has not been accounted for.
The EFCC may have been at fault in the area of account audit, but does that translate to lacking the locus to investigate other agencies of government?
He that must come to equity must do so with clean hands. You must always be free of any kind of accusations. That is how our anti-graft agencies must be. Are you telling me there is no misappropriation in that place? Even if it means using money (meant) for fan to make a door. And the president kept giving them money. Let them come and give account first.
Do we really want to arrest corruption, given the way we go about it? You will wait for people to perpetrate crime before you go to apprehend them; is it not more expensive? If we are doing performance audit and you said you are building the Senate building, knowing it is mandatory for us to come and inspect it right from the Department of Public Procurement (DPP) stage to know how much you have spent, how much you have complied with the building specifications or bills of quantity. If you have not complied, we tell you won't get further fund until you comply with the standard. At that point, we will arrest fraud and nip it in the bud while we ensure value for money.
Why do you want them to complete the building first before you start searching for fraud? They vary the contract sums at various times. What we are now seeing (when the project has been completed) are allegations and observations of failings that could have been corrected through performance audit empanelled by the law.
The same complaint about failure of agencies of government to be audited in accordance with the law has been made over the years. How can the Senate make its resolutions effective to achieve compliance?
That is reason we questioned the annual ritual of the executive bringing in the budget to the National Assembly, when the Auditor-General's office has not audited these MDAs. All establishment Acts for the Nigerian Ports Authority (NPA), Central Bank of Nigeria (CBN), go and check the audit, state that the accounts shall be audited six months into every financial year. By June 2019, they should have audited the accounts of 2018; by June 2020, all the accounts for 2019 should have been audited. So, all the money given to you, we want to see how you have spent it before you are given another one. When you have agencies that have existed for 20 years without auditing their accounts, how do you expect them not to be emboldened to take things for granted?
When we went to the Controller-General's office in the United Kingdom (that is what they call their Auditor-General), the question I asked him was 'is there any condition that would warrant an agency of government that has been allocated public money and has it spent will being given more money without accounting for the previous year?' He was perplexed and looked at me in silence for some time. While he was still dazed, I asked him again, 'does it happen?' He said it had never happened that an agency would not account for the preceding year's fund and get fresh allocation. He said it was impossible.
The Controller-General cleared our doubt by saying that no agency would do that, but that if it ever happened, it ought to be under these two conditions: Either that the agency has become moribund; it does not exist again or there is ineptitude of management, which must be changed immediately once it was observed.
Can you imagine the gravity of the offence we play with here? Auditing does not mean anything to us; we just allocate money to them when they are not supposed to get any money, where they cannot account for the money previously allocated and released to them. I am talking of from the Presidency down. Is it not public money? Everyone should be looked at and we have to live by example, including us in the Assembly who perform oversight on other agencies of government. Oversight is a very serious statutory mandate of parliament everywhere in the world.
You have the power of oversight and approval of budgets for these erring MDAs, but the Senate has kept approving the budgets of these agencies. Are you not culpable?
You know, we do not have our own Army, neither do we have any enforcement agency to follow them up, march the culprits out and have them in handcuffs and bring them to parliament to respond to these issues. That is where the effect of separation of power lies.
For instance, if we are to oversight the Ministry of Transport, all these coaches that they are buying which amount to billions of dollars, we say we want to oversight them and see what is going on; the minister, because of his proximity to the powers-that-be, may not show up. Railway is among the 27 agencies listed to submit their audited accounts. It was invited, but (its leadership) has not answered us. And when we made a call to them, they heard us, but no one is compelling them to come and give account. We have already told them that public money will be accounted for, either today or tomorrow. It will surely be accounted for.
Look at an agency like ICPC which came yesterday: Because of what is going on, ICPC is supposed to be on our list. But if we tell them, we want to see your expenditure and revenue profile now, the public would say 'oh, they are doing this now because of what they are doing.'
Still talking about the ICPC, it has accused the National Assembly of expending N1 trillion on constituency projects that cannot be accounted for. How does that feel?
You know, now in Nigeria, if anybody wants to make a name, you attack the National Assembly, particularly the Senate. I have observed that, and I have no regrets making this observation. Just go and vilify the Senate as an institution, your national visibility will be guaranteed. ICPC itself should know that he who must come to equity must come with clean hands. Let us look at their profile. We want to see their audited accounts.
When the chairman said N1 trillion has been spent since 1999 till date, how many years now? 20 years; isn't it? The assumption is how much a year? You also know how our budgets have been going. Last year's budget performance was 30 per cent. The year before the last was 50 per cent. That is on one side.
Do you know the quantum of money voted for constituency projects? N100 billion. There has not been any time N50 billion was released for constituency projects. This year's budget is N10.59 trillion. N100 billion, to the total budget, is less than one per cent. You see what I mean by seeking popularity through vilifying National Assembly members? One per cent allocation to constituency projects, because of the institution associated with it.
I am from Benin in Edo State. People have called me severally to say that the constituency solar power project has impacted on their lives. Tell me any other project that Buhari has put in place in Benin City, areas like Orhiomwon, Ikpoba Okha, Ore Edo, Urhumwonde, Ovia South-West, Ovia North-East and other remotest villages. I went there to install solar power borehole in Ward 11 in Oredo which has 38 villages. Iyeke Ogba is less than 15 minutes from Oredo, a 76-year old man drank the water and said "this is the first time in my life that I have taken tap water." All his life, he has been drinking from the river.
Do they know who the president of Nigeria is? My constituency, Oben, produces the highest quantum of oil and gas. Oben produces crude oil and it is the only reason Edo State is in the oil producing state. Yet, it has no school. I just completed a six-classroom project for them because bats invade the school seasonally and the children would be sacked from school and remain in their homes for months. I also built six classrooms for the secondary school and somebody would come and tell you that constituency projects failed. Where they did not work, they did not work. Where we worked, we worked. When you just make a blanket statement that all of us did not work, it is unfair and uncharitable.
If not for this constituency project, the billions of dollars my constituents are hearing you are spending on the railway, how does it affect them? From Ofosu to Ologbo, from Iguobazuwa to Ahor, 60 per cent of Edo State, there is no rail line. And I watch the Minister of Transport say they are spending $20 million on rail. The only presence of any federal project is the market, school and maternity I built in Ahor.
For those who say constituency projects are not important, it is tantamount to denying the poor people the opportunity to feel the presence of government. To focus on one per cent of the annual budget and say it is not being done well when you know what was actually released is unfair. However, it is true that all of us may not have been on the same page of delivery to our people, but it is still a fraction, compared to the whole. If we were equally developing our common aspirations like roads, mass transit system, schools, health and power, among others, it would have long made life easier for Nigerians. Oben has never had federal presence, not even Orhiomwon Local Government presence. What you see in Oben is Seplat and NPDC which built a school, health centre and police station in fulfilment of their corporate social responsibility. There was no government project until Senator Urhoghide came.
President Buhari sent a list of board members of the Niger Delta Development Commission (NDDC) which the Senate inaugurated. But while they are yet to take off, the president disbanded them, saying he wanted to send a new list. How do you view this?
You see, no matter how objective one wants to be in this case, it will be given a political colouration. The issue of NDDC is an albatross to the government. I believe the president will correct that anomaly. As it is today, everything about NDDC is stalemated. As a lawmaking body, the contraption of NDDC today is not what exists in the Act. If we have anything to do with it, it will amount to festering illegality. We have since as a legislature cleared them; So, what is the issue? If the whole hullabaloo was on forensic audit, you do not need any insider to do forensic audit for you. External consulting firms are those to carry out this audit for you.  So, even if you have a devil or a saint there, you do not need all these people to do forensic audit. You call for the documents and let these people carry out forensic audit for you.
We have been doing our own investigation on the water hyacinth and we have called for documents, no matter how long they hide it from us, they will still bring those documents. You do not need a particular woman or man to carry out forensic audit for you at the NDDC. All these reports that the president said there is no value for money could be true. We all believe that in the Niger Delta, we should have gotten better deals, if all the money sent in there were properly used. So, it is not commensurate; it is only forensic audit that will show to us to what extent the resources put in by government and those raised by the commission were used to elicit development in the region. This delay of who stays there is not in the best interest of the people of the region and the commission. The way they speak, you do not do forensic audit on a note of hatred or victimisation. I say this because every day, we see all kinds of demonstration for and against rival groups. The father of the nation who is the president of the country, who could cure this kind of issue, I do not know the reason he has for keeping quiet and not coming to the rescue of the commission as quickly as some of us would have expected.