Our ordeals at the hands of foreign embassies in Lagos — Visa applicants
•Want embassies to give partial refunds on declined visas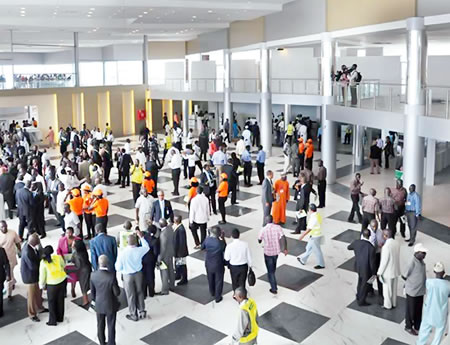 Is Nigeria now hellish? Is elsewhere heavenly? Is entry visa available? CHIMA NWOKOJI went into the heart of the raging bickering between Nigerians seeking exit and 'heavenly' countries over value-for-money claims and counter-claims.
AS early as 4.00 a.m. every weekday, Walter Carrington Crescent, Victoria Island, Lagos, turns to a beehive of business activities. Visa applicants troop in and out of several foreign embassies located in that area.
The crescent is home to six foreign embassies, namely, Embassy of the United States of America, Kingdom of the Netherlands embassy, Deputy British High Commission, Consular and Visa office; Embassy of the Russian Federation, Consular and visa section; Office of the High Commission of India and Italian Consulato Generals d'Italia (Italian embassy).
Driver kills ex-boss' wife for sacking him
A visit to the embassies is an eye opener to the shocking desperation of those seeking visas to leave the country. As they throng the embassies, almost 99 per cent of them are 'bounced' in form of visa denial for reasons that range from serious to pedestrian. Where a reason is given, it could be as ridiculous as "for asking the consular officer to repeat what he or she has said," especially at the Embassy of the United States of America.
Although the US embassy claims that the law requires that almost all visa applicants be informed verbally and in writing, the basis for the denial, experiences have shown that most of these reasons are frivolous.
As such, the rising rate of visa denial has provoked many of the applicants who are now accusing the Donald Trump administration of secretly implementing beforehand, the rule that seeks to clamp down on countries whose citizens "abuse" their stay in that country.
A Wall Street Journal (WSJ) report recently claimed that President Trump is considering imposing travel restrictions on countries whose citizens overstay short-term visitor visa. Nigeria, Chad, Eritrea, Liberia and Sierra Leone, as some of the countries whose immigrants overstay their visas at relatively high rates, were listed as targets.
The White House is also said to be considering a number of other rule changes that would make it more difficult to obtain student and investor visas, as well as visas for spouses of highly-skilled H-1B-visa holders.
Angered by this rising rate of denials to both the aged, rich politicians, musicians, professors and even employees of big companies, most of the disappointed visa applicants who spoke to Saturday Tribune, as well as others who wrote on the US embassy's facebook page are asking for the refund of part of their visa fees since, to them, the US consulate is deliberately denying people entry into their land.
Godfrey Oba had prepared his documents, hoping to secure the visa this time around but his hope was dashed at Walter Carrington Crescent. So, he took to the embassy's Facebook page and wrote:
"It is very painful when you pay for a visa, you get a date. You prepare yourself and wake up very early, leave everything you need to do for that day and sometimes travel a long distance to meet up, and in the twinkling of an eye, your money and all equations go to nothing.
"I think the best way to solve this is simply when a visa is refused, you charge an administrative fee of around 10 percent and refund the balance. With this, it will go a long in reducing the psychological effect on applicants. It will also show the genuineness that you are concerned about applicants doing the right thing and getting visa and not the financial prospects."
Sadistic joy?
As the growling continued, the United States embassy in Nigeria on Monday, last week, attempted pacification. It came out to explain that its visa officers weren't sadists who enjoy deny Nigerians visa with the pains that come with it, adding that some questions are often misunderstood by applicants which earn them a rejection, while also announcing a Facebook live session to talk about some of the commonly misunderstood questions on Wednesday, April 17.
However, during the live Facebook interaction, visa officers only concentrated on the DS 160 application form and the fact that "contrary to popular opinion, the officers do not enjoy handing anyone the 214b refusal letter." They remained adamant on issues around fee refund.
Investigations revealed that most difficult consular officers are Nigerians or Indians and when they are typing their decision during interview, there is always a camera facing every applicant which the officer uses to monitor facial expressions of people seeking visas but applicants are not aware of this. This is perhaps one of the tricks which the consular officers use in their claim of discovering people's "travel plans and intentions," that leads most times to visa denials.
Strange, funny, ridiculous
Narrating her experience, Mrs Ayo Joseph (not her real name), who has a two-year valid visa, said she was given a 12.15 p.m. appointment for her twin daughters.
On the day of the interview, Ayo said the queue to get in was so long it looked like people were running away from an apocalypse in Nigeria. "When it got to our turn, I greeted the consular officer and she smiled warmly. For a minute, I thought that she would grant my kids visas."
She was asked which countries she had travelled to, to which she answered. The officer then asked why she spent only three months and she replied that it was the duration of the course she attended.
Again, PDP calls on Lagos CP to get Segun Adewale arrested
"After that, the consular officer asked if I sought Medicaid while in the US and I said no.  She further asked if I had any other kids and I said no. She then looked at me and said, 'I am sorry, you do not qualify for this visa. Please, feel free to try again.'"
Ironically, instead of feeling disappointed, Mrs Ayo said she felt lucky that at least her visa was not cancelled, because a woman in the next booth had her visa cancelled after she lied about the number of months she spent before coming back to Nigeria.
"All in all, I do not blame the US embassy for denying people visas because the number of Nigerians applying for visas on a daily basis is on the increase. In getting an American visa, there is no rule of thumb. It all boils down to the grace of God. A lady chewing gum because she said it calmed her when she was nervous was granted a visa, while everyone thought she looked so unserious with the gum," Mrs Ayo told Saturday Tribune.
She also said a well dressed man who answered all the questions put to him was deemed not qualified, just like two professors who had been reading through likely questions that they thought would be asked.
"I also discovered that illiterate people who basically needed an interpreter were granted visas. Even the physically-challenged get visas easily because unlike Africa where this group of people is almost treated as hopeless, America believes in equal opportunity for all," she narrated.
To her, it all depends on the mood of the consular officer and probably the quota of visas they have been mandated to give out for that day.
The favoured groups explain the fact that not all visa seekers are in search of greener pasture abroad. Some intend to visit family members, some going for holiday and others going just to use their influence to create opportunity for others.
Mr Nnanna Damian said he had applied for visa six times in the last four years. The fifth visa application and interview took place penultimate week. Damian said if he had someone to report to, he would compel the embassy to refund part of his money.
He told Saturday Tribune that it was a short interview this time and the conversation ran thus:
"Can we have your passport please and why do you want to go to the USA?"
He answered that it was for a leadership conference.
The interviewer asked where in the USA and he said New Jersey.
"Have you applied for USA visa before and why was it denied," the interviewer asked again as well as the name of the organisation where the conference would take place. Then he began to write on his laptop.
The next thing, according to Damian, was that "he handed me a one-page letter and said at this point that I did not meet the requirements for a B1B2 non-immigrant visa and I should try again."
Damian said all these took place in less than two minutes. But before then, he had encountered a challenge in printing the non-immigrant confirmation letter.  Interestingly, to print a page letter just outside the premises of the embassy cost 4,500 instead of the normal N100 or N50 and to get passport photo is about 2,000, instead of N200.
"I had already printed the confirmation letter on two pages but on getting to the gate of the embassy, I found out that it was a page letter that I needed.
"So, it was really tough for me because I was not prepared for such expenditure. Also, the crowd in that morning section was very much and as they interviewed people, you noticed how disappointed people were on receiving that pink paper."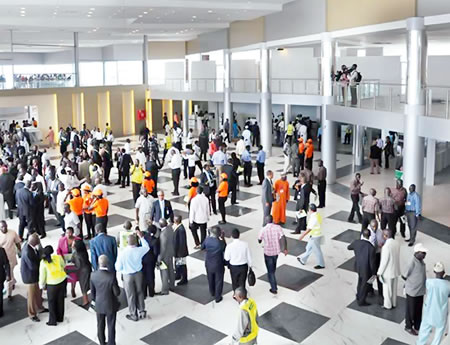 Foreign degrees with tears
For students seeking admission to schools in the United States, the story is the same. Taju's uncle had, according to him, paid about $100 (N36,000) for application fee to the foreign school, $300 (N108,000) for evaluation fee and $91 (N32,000) for the courier service to bring the admission documents to Nigeria. The US had also been paid $200 with an additional $20 service charge (N80,300),  and N57,600 also paid for the visa application to the embassy. In all, about N350,000 had been expended, including other miscellaneous fees.
All Taju got was a letter that read in part: "Dear applicant, thank you for your interest in travelling to the United States. This is to inform you that you have been found ineligible for a non-immigrant visa under Section 214 (b) of the US Immigration and Nationality Act. A denial under Section 214 (b) means that you were not able to demonstrate that your intended activities in the United States would be consistent with the classification of the non-immigrant visa for which you applied.
"Today's decision cannot be appealed. However, you may reapply at any time. If you decide to reapply, you must submit a new application form and photo, pay the visa application fee again and make a new appointment to be interviewed by a consular officer."
Another student, Gbenga Matthew, who claimed to have got an admission to St. Joseph University, Philadelphia, Pennsylvania, said he had been denied visa twice.
"When I got there the second time, I was asked when my school would resume and I told them August 27 and that I should have come earlier if the embassy was not shut for two weeks. Immediately I said that, the interviewer said, 'Sorry, you are not qualified for visa again.' The fault was not mine."
Other students told their stories as well. A prospective aviation student of Epic Flight Academy, Florida, was asked what kind of airplane he would like to fly and he told the interviewer and the consular officer smiled. He asked for proof of the payment of service fee, which was given to him. Then he said, "Sorry, I can't give you a visa."
A 19-year-old girl who got admission to study nursing at Grand Valley State University, Michigan, was disqualified because she was not married. The N345,000 she spent on the process was wasted.
When she said she was not married, the interviewer said she was not qualified to have the visa.
A man simply referred to as Ojo, who claimed to have lived in the US for nine years before returning to Nigeria, said his daughter was denied visa because she asked the interviewer to speak up.
He said, "My daughter went to the embassy for an interview and she was the first person on the line. All she had the opportunity to say was, 'Sorry, I can't hear you.' She said it twice and that was the end of the interview. And it's not the first time that I will hear that people said, 'Pardon' or 'I can't hear you,' and they are denied visas.
"My daughter is not an illiterate. She understands and speaks English. You cannot tell me that the reason you did not go further with the interview was because you thought she would not be able to understand what she would be taught in class. She gained admission to study nursing and we paid some of the money and still, she did not get an opportunity to go there."
According to him, "if this kind of thing happens in America, the person will get a refund. But in Nigeria, things do not work. People pay service fee, visa fee, transport fare and hotel fees and if the person does not live in Lagos or Abuja, flight ticket to travel and the DHL to mail in this and that and within minutes, their hopes are dashed."
According to Mr Peter Morgan, who had five unsuccessful outings at the embassy, whether successful or not, each applicant is always aware that something significant has happened in his/her life before leaving the premises.
A popular musician, he said, was denied visa and out of annoyance, he abandoned his sister that came with him and left.
Adaobi Emmanuella Njoku narrated her experiences, alleging that the embassy actually enjoys denying people visa because the officials act like they know it all and still end up giving visas to people without genuine intentions.
She wondered how it was possible to deny an applicant visa three times for three different reasons at different times when the form was filled exactly the same and for the same purpose, which was a medical trip to help save the applicant's child.
Indeed, many visa applicants who spoke to Saturday Tribune demanded for a change of rules that would enable the embassy refund part of the money applicants spent once denied.
"For me, you get US visa based on which side of the bed the consular officer interviewing you woke up from," an applicant quipped.
Jonathan Chukwumezie said: "How do you explain the fact that I brought documents to back my application and they were not even looked at." Besides, he said he had 14 Chinese visas on his passport, yet the US embassy claimed he would not return if given the opportunity to travel to their country. "What am I absconding to USA to do?" Chukwumezie queried.
Chukwumezie's case raises another issue whereby the embassy states that "demonstrating that you are qualified for a non-immigrant visa is not an issue of having the right papers. While we do want to see the evidence of your ties, including work and salary attestations, bank documents, property titles, and marriage and family documents, simply having all of these papers does not guarantee that you will qualify for a visa."
It clarified that the officer would interview the applicant and determine whether he/she had the sort of strong family, employment, and social ties that will compel him/her to return, after the trip to the United States and "if you satisfy the requirements of the particular nonimmigrant visa category for which you have applied."
Morgan likened the claim to knowing people's intentions as "the act of witchcraft," which has failed many a time when genuine applicants are denied visa.
To him, most of these visa applicants do not spare deep thought about the true meaning of what the embassy meant by "We will use the limited time available for the interview to get as full a picture as possible of your travel plans and intentions."
This probably means that the consular officer is psychologically equipped to know the mental state and plans of the applicant, which may be entirely different from what the person may have supplied in his or her documents as reasons for travelling.
He told further interesting stories about what Nigerians go through in a bid to travel outside the shores of the country.
According to him, gone are the days of special treatment for certain classes of people like musicians, employees of established corporate organisations who could take close to 50 people abroad for one reason or the other without questioning.
The rules are stricter now and only those with diplomatic credentials or established travellers, long before the new rules, are favoured.
According to Morgan, American embassy in Nigeria is the embassy where USA makes the highest amount of money from visa application in the world.
"There is no other country that people are rushing to in the world like the way they do to America. About 1,000 people come here for visa. They pay N57,000 non-refundable visa fee and majority of them do not get it," he said.
When Saturday Tribune visited Walter Carrington Crescent, people were seen wearing different kinds of uniforms. There were school children in their uniforms, men, women and their children wearing one kind of aso ebi or the other, which according to Morgan, the Consular officer has no time to look at.
 Our position –US
Although efforts to get response from the United States embassy officials proved abortive, information available on its website provides answers to important issues raised by frustrated applicants.
On the page explaining visa requirements, the US embassy and consulate-general  explain that even if someone else is bearing the cost of the trip, the applicant must prove that she or he will be compelled to come back to their residence abroad (Nigeria) after a brief stay in the US.
According to the embassy, under the Immigration and Nationality Act (INA), section 222(f), the records of the Department of State relating to visa decisions are confidential, and therefore information may not be provided to third parties about a particular visa applicant.
As mentioned above, due to the confidentiality of visa applications, if you have questions about a friend or relative's application, you should speak with them
"In order to enjoy the privilege of unencumbered travel in the United States, aliens have a responsibility to prove they are going to return abroad before a visitor or student visa is issued. Our immigration law requires consular officers to view every visa applicant as an intending immigrant until the applicant proves otherwise," it stated.
The embassy is emphatic that failure to do so will result in a refusal of a visa under INA 214(b). It says the most frequent basis for such a refusal concerns the requirement that the prospective visitor or student possess a residence abroad by demonstrating that they have ties abroad that would compel them to leave the US at the end of the temporary stay.
"The consular officer will reconsider a case if an applicant can show further convincing evidence of ties outside the United States," it says.
Strong ties, according to the embassy, differ from country to country, city to city, individual to individual. Some examples of ties can be a job, a house, a family, or a bank account. "Ties" are the various aspects of your life that bind you to your country of residence: your possessions, employment, social, and family relationships.
Another element of proving one's ties to home country can be evidence that one has travelled abroad before and returned home. This means that old passports showing travel history with visas abroad are still useful. Yet, many have argued that the embassy does not regard this most of the times.
"Unfortunately, some applicants will not qualify for a non-immigrant visa, regardless of how many times they reapply, until their personal, professional, and financial circumstances change considerably," the embassy warns.
It said student visa applicants must demonstrate three things at the time of the interview: (1) that they are bona fide students; (2) that they have the means to pay for their education in the United States; and (3) that they have strong ties to their country of origin and intend to depart the United States after their education in the United States is completed.
If student applicants cannot convince the interviewing officer of these three facts, the officer is required by US law to refuse the visa.
Similarly, if a person's spouse or fiancé resides in the US, it will be more difficult for the person to convince the consular officer that the applicant is not trying to go and live in the United States of America.
 Other embassies
At the entrance of Danmole Street, Victoria Island is the Consulate Generale of the Republic of China. Nigerians are daily seen in their tens waiting patiently for their turns.
Countries like Australia, the United Kingdom and Canada work on documents submitted and most times they deny visas based on bank statements submitted and the fact that the applicant does not have strong ties in Nigeria that can compel the person to return to his or her country.
There are instances where the British embassy will ask the applicant to appeal their decision if not satisfied.
 Italo connection
At the Italian embassy, some visa seekers said visa requirements to travel to Italy aren't as strict as that of the UK and the US. They said Italy is a country one can go to and walk freely on the street. Their economy is not so strong. There were about 15 girls reportedly from Edo State queuing for Italian visa when Saturday Tribune visited. One of the girls who gave her name as Ese said it was not unusual to see girls at this embassy because that is where they can easily find what to do and make money.
"I never wanted anything to do with traveling abroad but things looked like nothing was going well for my family. We were in abject poverty. No help from anywhere and I have a son. All I want to do is to help the family even if it means sacrificing myself," she said. She said sometimes they get rejected and at other times they are lucky.
Shameful national emergency –Chike-Obi, others
Former Managing Director of the Assets Management Corporation of Nigeria (AMCON), Mustapha Chike-Obi, sees the situation as a national emergency. According to him, another of my young protégés has just relocated to Canada. That makes eight in the last year to various countries. We can't afford to keep losing our young best to developed countries at this rate. This is a national emergency."
For Mr Anthony, "it's a shame though a lot of Nigerians are still facilitating brain drain. With the hundreds and thousands of Nigerians eager to leave the shores with a pitiable N3 million or more in their bank accounts as minimum sustenance money, in Canada, one wonders if there is hope for the nation. Wake up people, look inwards, there are lots of jobs begging to be done in Nigeria. Let's make Nigeria great and leave a legacy."
While some believe that no one can force people to stay, others are calling for collective efforts to make Nigeria a better place than it is now, insisting that it is not a job for the government alone.
Yet, a herd of aspiring immigrants who responded to this issue on social media said the problem is that the "best" are leaving because the country has not only failed them but is getting worse by the day.
It is not a matter of working hard, they lamented. To this group, the system set up by the leadership (government) frustrates every hard work and even does not guarantee the security of the lives of the citizenry. "Nigeria is a death trap and only the leadership has the capacity to cause the radical change required," a respondent said.