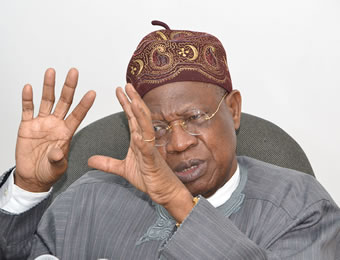 OMO Ibile Igbomina, a socio-cultural organisation of sons and daughters of Igbomina descent, has commissioned its private community radio station, Igbomina Community Radio 90.9FM at Pamo-Isin, in the Isin local government of Kwara state.
Speaking at the commissioning ceremony at the weekend, the minister of Information and Culture, Alhaji Lai Muhammed, stressed the need to reawaken traditional Nigerian culture, which he said has been westernised.
The minister, who spoke through the state chairman of the All Progressives Congress (APC), Alhaji Bashir Bolarinwa, at the event which was also used to launch N150 million development project said that community radio station could help prevent westernization of culture.
ALSO READ: Why history, culture should be part of curriculum —Wike
"Our culture is giving way to western culture. So, having a community radio station is one of the things to prevent westernisation as it will make us project our culture. It will also reawaken our culture.
"Our ways of life has now been westernised. One of the roles that informed the establishment of the radio station in the state is to reawaken our culture, teach our children about our culture, while the values that have been lost in our community can now be regained so that we can live as we are living in the past. This is expected to provide an opportunity for us to regain that", he said.
Alhaji Bolarinwa, who promised continued support of the minister to the development of the station, also solicited the assistance of individuals and corporate entities for the growth of the community radio station.
Earlier, founder of African Broadband and owner of Royal FM 95.1, Ilorin, Engineer Gbenga Adebayo, urged the management of the newly launched Igbomina community Radio 90.9 FM to focus on the promotion of cultural heritage rather than venturing into religious sentiment or playing partisan politics.
Adebayo, who was the chairman of the occasion at the official commissioning, commended the people of Igbomina both home and abroad for their support towards the establishment of the radio.
He appreciated Igbomina elders for ensuring peace in the community, noting that society can not develop without peace.
Also speaking, the national president of Omo Ibile Igbomina, Engineer Timothy Adebayo, commended Igbomina people for their support on the establishment of Igbomina community radio.
The national president said that the radio station was initiated by Chief Cornelius Adebayo and late Hon. Olufunke Adedoyin, adding that the approval by the National Broadcasting Commission (NBC) to Igbomina request led to the commencement of full community radio station at Pamo-Isin local government using the name Igbomina FM.
"Igbomina community radio will go a long way to strengthen unity and peaceful coexistence among the people of Igbomina spread all over the world. It is our belief that the radio programme will improve and re-awaken our people on cultural education, rural development and develop our children's interest in Igbomina dialects", he said.