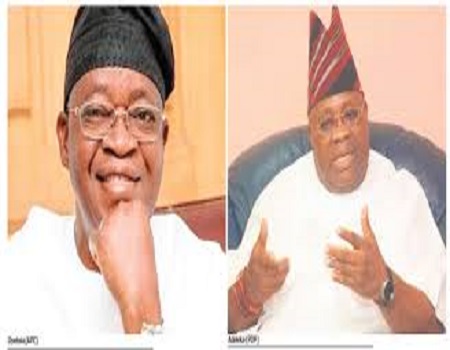 THE flag bearer of the Peoples Democratic Party (PDP) during the September 22 governorship poll in Osun, Senator Ademola Adeleke and his party on Tuesday officially filed a 593 pages petition to challenge the declaration of the candidate of the All Progressives Congress (APC), Mr Gboyega Isiaka Oyetola as the winner of the exercise by the Independent National Electoral Commission (INEC).
It is recalled that after the conduct of the gubernatorial poll on the 22nd of September and the rerun election held on the 27th of last month, Oyetola had polled 255, 505 votes to defeat the PDP standard bearer, Senator Ademola Nurudeen Adeleke, who garnered 255,021 ballots.
The 593-page petition of the Adeleke and his party was filed around 5.55 pm by one of the counsel to the duo, Barrister Niyi Owolade on behalf of the lead counsel to the petitioners, Mr Kanu Agabi, who is a Senior Advocate of Nigeria (SAN).
ALSO READ: Fayemi appoints SSG, Chief of Staff, CPS
Other counsels in the legal team of the petitioners include Dr Onyechi Ikpeazu (SAN), Dr Paul C. Ananaba (SAN), Emeka Etiaba (SAN), Emeka Okpoko (SAN), Kehinde Ogunwumiju (SAN), Edmund Z. Biriomini (SAN) and Wole Jimi-Bada.
Listed as 1st, 2nd and 3rd respondents respectively in the petition titled "The Matter of Election to the Office of Governor of Osun State Held on the 22nd of September and 27th day of September, 2018 in the Electoral Act 2010 (As Amended)" with suit number EPT/OS/GOV/1/2018 are the INEC, Mr Adegboyega Isiaka Oyetola and the All Progressives Congress (APC).
Speaking during a chat with the Nigerian Tribune, the Osun State chairman of the PDP, Hon Soji Adagunodo expressed optimism that the party would reclaim what he turned "the sacred mandate freely given to Senator Ademola Adeleke by the majority of the electorate during the governorship elections."
According to him, "we have just filed our petition in respect of the last governorship election and we believe the declaration by INEC of Alhaji Gboyega Oyetola was wrong and it should not stand. We don't want to talk about the grounds in the petition for now pending when the hearing would start."
Adagunondo continued "our lawyers are in court. The petition was filed by Barrister Niyi Owolade. We have other lawyers in our legal team who are SANs and we have firm confidence in the nation's judiciary to justice and get our mandate back".
"We have high hope that the people of Osun voted massively for Senator Nurudeen Ademola Adeleke and for our party, the PDP. We also have high hope that the judges would do justice to our petition. We have unwavering confidence in the integrity of the judiciary as constituted today as the last hope of the masses. They are going to do justice to our petition", the PDP chairman remarked.
Adagunodo, however, charged all members of the PDP and the generality of the people in Osun to be calm, just as he appealed to be law abiding and patient to get justice at the end of the tribunal proceedings